Column: Palo Alto volleyball's losing percentage increases to six percent as Lady Vikes beat Mountain View
Hang on for a minute...we're trying to find some more stories you might like.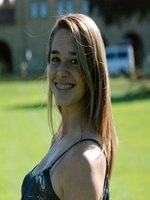 I don't know what is bigger news, the fact that the Palo Alto High School volleyball team (26-0, 8-0) extended its undefeated streak to 26 after a win over Mountain View High School (10-7, 5-3) in Tuesday night's match, or that the Lady Vikes lost their fourth set of the entire season.
The loss came in the third set of the match against the Spartans, who were tied with Los Gatos for second place in the De Anza League coming into tonight's showdown. Paly fell behind 4-3 early in the third set and was not able to regain the lead in that set from that point forward. Paly ended up losing the set 20-25. Nevertheless, the Lady Vikes still won the match 3-1 (25-16, 25-20, 20-25, 25-23).
In other news, the San Francisco Giantsdefeated the Philadelphia Phillies today in game three of the NLCS by a score of 3-0. The Giants' "tortuous" offense, which lived up to its name during the 6-0 loss on Sunday, dug itself out of this slump with the assistance of San Francisco's postseason ringleader, Cody Ross. The "Fear the Beard"cult has reason to celebrate tonight.
But so does the volleyball team. The Lady Vikes have only two league matches remaining until the playoffs. And because they have moved up a division due to Paly's increased enrollment, they will no longer find themselves facing the brick wall that is Archbishop Mitty in the Central Coast Sections championship game.
So my question is this: where is their catch phrase? The Lady Vikes have a .060 losing percentage. In other words, when it comes to losing, they receive a letter grade of F-. The G-men have a cult following of bearded men and women with their renowned shaky, one point victories, while the sturdy Paly volleyball team has nothing but a dedicated group of parent followers.
I have a solution to this problem: a catch phrase that will haunt every Paly opponent's dreams, a slogan that will appear on every piece of Paly memorabilia whether it is for the volleyball team or not. Three syllables that will be mouthed by every Paly fan at the CCS championship game this year: "Evade Wade." Every team's nightmare, a 6' 5" middle blocker, Melanie Wade ('12) leads Paly in kills.
Giants fans all over the world have the midnight black beards, an ode to Giants' closer Brian Wilson, and although the new fad is just beginning to blossom in the public eye, it will have to step aside for the new piece of merchandise accompanying the "Evade Wade" slogan. A timeless accessory, the platform shoe allows ordinary Paly fans (as well as those who are vertically challenged) to experience what it's like to tower over all who they encounter. Although some may argue that platforms are not necessarily the most practical of footwear, especially in the stair-heavy Paly gym, I believe that the entire Paly community will find itself reverting to its 70's roots in no time.

About the Writer
Gracie Marshall, Multimedia Editor
Gracie is a Managing Editor on the Viking Staff. She plays varsity softball and soccer and will be continuing her softball career at Tufts University next...