The Viking tries Ike's
Peter Dennis and Shannon Scheel, Columnists
October 11, 2011
So starts another year of Viking Tries. And believe us when we say we have large shoes to fill. Not only were Dustin Nizamian's ('11) feats legendary (LIGHTNING BOLT!), but I only have so many funny t-shirts to rival his.
So Shannon here decided we should try out the legendary Ike's Place right across the street at the lovely Stanford University. Ike's, for those of you scratching your head right now, is a fantastic sandwich establishment tucked away in the Jen-Hsun Huang Engineering Center. My source (again, Shannon) told me that it was a complete heresy that I had not been to Ike's before, that it was a staple and that that simply would not do.
You might be thinking to yourself, what does a sandwich shop have to do with sports? You have a fair point. See, the sandwiches at Ike's are named after prominent professional athletes, among other things. You've got the John Elway, the Matt Cain, the Jim Rome, the SF Giants, the McEnroe, the Bill Walsh, the Maples Pavilion…you get the point.
Now normally, I would not encourage getting something named after a Giant. Even while living in close proximity to San Francisco, being a Giant's fan has never crossed my mind. Though I moved to Northern California right before kindergarten, I've cherished being a Dodgers fan, no matter how tough it's been.
As far as eating a sandwich named after Lincecum, I can deal with it. Especially if we in blue have Clayton Kershaw (can't spell ClaYton with out CY [meaning the inevitable Cy Young award he'll win this season] and you can't spell Kershaw without a capital K) going against Lincy…well, the stats say it all. His season ERA against the Giants (1.04) went up after he gave up one earned run in 7 ⅔ innings on last Tuesday. Bottom line: Kershaw is 5-0 against the Giants this year, leaving Lincecum with a paltry 0-3. AND he just won the Triple Crown.
But as much as I can razz on Lincecum, the sandwich in his honor is fantastic. After going to Driftwood Deli the day before, believe me, I know what a good sandwich tastes like. Now, I'm can't even compare the two. That would be foolish. Suffice to say, the sandwich was bangin'.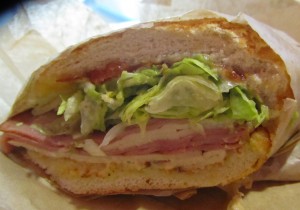 And then to channel my inner Food Network critic; the ham was intricately layered and combined with the turkey; the bacon gave the sandwich a nice crunch while also adding subtle flavors. Because as we all know, bacon can make anything better. Anything. Havarti cheese on the sandwich is a fantastic choice, because it doesn't have the sharpness of Swiss, but a more creamy taste.
And then the bread. Now Ike's claims that their Dutch Crunch is 'world famous.' And I would tend to agree with that.
Normally, I'm a sourdough kinda guy. But this…well…I could go on and on about their Dutch Crunch. Not too crunchy, but not too chewy. Just right. I am convinced that any problem, be it freshmen on the senior deck, world violence, underclassmen parking in the Churchill parking lot, Palestine vs. Israel, Jon Stewart vs. Bill O'Reilly, underclassmen girls not wearing enough—literally any conflict—could be solved if both sides came down and ate Ike's Dutch Crunch roll. Not even the entire sandwich, fillings and all (but I'm sure that wouldn't hurt). Just the roll.
After such a mouth-watering escapade, it is safe to say that my taste buds will be craving Ike's for extra days. Though I didn't climb Mount Everest, enter a boxing ring or attempt some other ridiculously awesome feat fairly typical of Viking Tries (mark my words—the year has just begun), I would say Ike's sandwiches are an adventure all on their own. They say you can't taste happiness? Well in this case, sports fans, you certainly can.