Food for an Athlete's Thought
Like any athlete, I like food.
Like any water athlete, I burn more calories than the average person does in a week. I eat a lot. A LOT. Of food. Put down any kind of food, you name it, it will become good friends with my stomach down below momentarily. There's one food in particular, however, that will tickle my fancy no matter what time of day, what kind of mood I'm in, ESPECIALLY after a workout. That, my gracious readers, is Fraiche yogurt.
I don't know what I am going to do without it next year in college. (Or all of my food places, for that matter. My usual meal of French dip, apple pie and a Peppermint Fudge Ripple milkshake from The Creamery. And then there's Coupa Cafe, Douce France, Cheese House, Ike's…the list goes on and on.) Fraiche is the perfect balance of sweet and healthy, and let's be honest: that chocolate shell? OH MY GOD. To die for…
So today, readers, I was out on my casual afternoon Sunday run when I got a nice text from XC/Track extraordinare Torie Nielsen ('12) inviting me out for a nibble of that delicious yogurt treat. Naturally, I couldn't decline. After fellow
Viking
staff member Alana Schwartz ('12) served me up my swirled chocolate and natural with honey, chocolate shell and pomegranate seeds, I indulged to my heart's delight. Yes, frozen yogurt in general is good. But why Fraiche? And why specifically after working out? It is rejuvinating.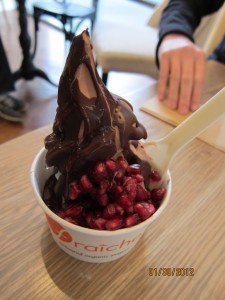 Every athlete has that superfood, or a few in fact, that fire them up or cool them down. Power bars and chocolate milk fire good ol' Shanz up, while Fraiche yogurt is the perfect cool down. I was a little flushed and flustered (Margaret Wenzlau's ('12) least favorite emotion) after running around town, so the smooth creamy yogurt goodness promptly returned my zen. It's a simple process, really, and yet so intriguing. What is it about food, other than the fact that we constantly crave it, that fascinates us athletes?
It's like what I learned in A.P. English: dining together symbolizes community and unspoken bonds. When you eat together, that means something. Well, I think it's the same for sports teams. Yes, our foods give us that extra oomph out there on the field or in the pool, but they also bring us closer to our fellow competitors. Read this and tell me honestly you have never eaten with your teammates, and I will straight up pay you ten dollars. That is how confident I am that you have experienced team dining. Simply because it is a part of sports. After those 100 100s, a classic Danny Dye set, nothing quite looking forward to a huge plate of pasta to finish off that feeling of accomplishment.
So now do you see what all the hype is about with sports and food? Whether it be a post workout Fraiche, like I casually experienced today, or a pre-game meal that could change the course of your team's season, I feel confident, reader, that I left you with some food for thought today. Maybe you have some recipes or eating ideas that you'd like to share with me, too!
Until next time…Scheel is out.
Leave a Comment