Volleyball Road to State: The girls' varsity volleyball team jumped from Division II to Division I this season
The gym was packed with excited fans and parents, decked out in white and green, hoping to witness volleyball history. Even a crowded set of bleachers with Palo Alto High School fans going ballistic for every point the Lady Vikes earned did not change the game. Intimidated by Archbishop Mitty's reputation and energy, Paly lost the match, crushing the title that they had aimed for all season.
This happened one year ago when the team marched into Independence High School in San Jose with high hopes to set a new tone for Paly by being the first Palo Alto volleyball team ever to win a Central Coast Section (CCS) championship.
This was far from an easy feat because Mitty not only had seven  girls on the team already committed to Division I colleges for volleyball, but it also has historically dominated the CCS division for over 30 years.
Despite the fact that the Lady Vikes have never won a CCS title, it is widely believed that this year, the team has the greatest chances ever based on last year's successful season. The difference this year is the team's jump from Division II to Division I, giving Paly a window of opportunity for it's first ever section title.
"Our team would love to hang four banners in the gym after this season for league, CCS, Northern California (Norcal) and State," Paly head coach Dave Winn said in an email.
"One of our themes is 'carpe season,' meaning we are going to do our best to take advantage of every moment to get better."
With a school record-breaking season of 33 straight match wins last year, it seemed as though the team had mustered up enough confidence to take on Mitty, a task yet to be seen. The Lady Vikes have not placed first in their division since they began playing in the CCS division in 1989.
The Lady Vikes finished with a record of 36-5 overall in Division II last year, the same division that both Mitty and Saint Francis Mountain View were in. All five divisions of CCS are based on school population. Due to Paly's increased enrollment this year by about four percent, Paly has moved from from Division II to Division I, which includes 23 other schools with roughly the same population size. Mitty and St. Francis will be in a different division than Paly this year, as they remain in Division II.
"Moving up a division certainly means we'll be playing far different opponents in the CCS playoffs and hopefully Norcals," Winn said. "Division II is widely known to be the toughest division in CCS, so [moving to Division I] does present us with a unique opportunity this year, with so many players returning from last year's successful season."
Both Mitty and St. Francis have historically have dominated their divisions. Starting in 1976, St. Francis claimed the Division I championship title for two consecutive years. Between 1990 and 2002, St. Francis took 11 of the 12 division championship games played in both Divisions I and II with the exception of 1993 when the team lost to Leland High School.  In its history, St. Francis has won a total of different divisions.
Debbie Whitson, a Paly teacher and parent of Paly setter Kimmy Whitson ('12) has watched the team compete for several years, and recalls matchups between Paly and St. Francis.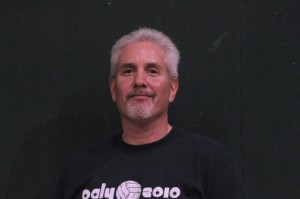 "I remember seeing the big girls on St. Francis, Presentation [High School] and Mitty," Debbie said. "I was thinking they were so big and strong, and Paly had no chance at all Mitty is similar to St. Francis in that the team has claimed 17 division championship titles in its volleyball history. Mitty first entered the CCS, and went undefeated its first eight straight seasons, starting in Division V,  and switching to Division I in 1995. Mitty eventually moved to its current spot in Division II. With the exception of losing to Presentation, Mitty won another nine division titles, including its victory in the finals against Paly last fall.
"At the Mitty game last year, it just seemed like David versus Goliath, but Goliath wins," Debbie said. "David doesn't really have a chance."
Debbie is also a parent of Ally Whitson ('09), a former outside hitter for Paly who currently plays volleyball at University of California, Davis. During Ally's years on the team, Paly won the league championship three years straight and Ally, who at the time was the team  captain, was named co-Most Valuable Player of the league. Not only is Debbie an economics teacher at Paly, but she has also been a fan and parent on the team for nearly five years now. Debbie has seen both of her daughters compete in CCS playoffs. The difference is that Ally never experienced the opportunity in Division I at Paly like her sister Kimmy has this year.
"It always seems like we [could] win our league, but then in CCS [last year] it was like you hit the wall," Debbie said. "Back [when Ally was on the team], we were still kind of the underdogs. It was all about, 'is it possible?'"
While the Lady Vikes have a greater opportunity this year to earn a division title, there are still obstacles to overcome within the team and in the rest of the league.
"We know that anyone in our league or in the playoffs can knock us off if we're not focused and cohesive together," Winn said. "We don't need Mitty or Saint Francis to remind us of that."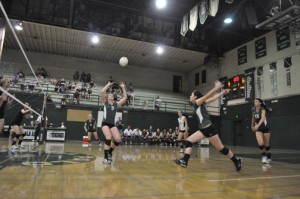 Winn also recognizes the teams that could potentially give the Lady Vikes a good match as the season progresses.
"We expect Salinas, Carlmont or Menlo Atherton [High Schools] to provide plenty of challenges towards the end of the season in Division I," Winn said.  "We also know there are some very tough teams in Norcal that will stand in our way of our ultimate goal of winning a state title."
So far, the Lady Vikes are off to a 22-0 start. The team has a league record of 4-0 as of Sept. 30, 2010, after beating Los Altos, Monta Vista, Homstead and Mountain View High Schools. They also placed first in the both the High Sierra Volleyball Tournament in Nevada, and the Harbor Tournament in Santa Cruz.
While the physical aspects of volleyball are key, there are emotional and mental connections in what it takes to be the best.
"Obviously there's [how far we go as a team] when it comes to team goals," Paly captain and outside hitter Trina Ohms ('11) said. "We want to win league, again, we want to win CCS and this year we have big hopes for trying to make it to state, but those are just trophy settings. We have a lot of experience and it's going to be quite the adventure of finding a routine again and finding the rhythm that we had last year."
Regardless of a perfect record so far, the Lady Vikes have a long way to go before reaching the CCS playoffs. The team is on the verge of taking hold of the greatest opportunity in Paly volleyball history.
"The team focus throughout playoffs and even through league is going to be keeping our mental game up, and keeping the communication up as a team," Ohms said.
The division change may or may not lead to a first CCS title in the 21 years of Paly volleyball history, but it is certainly a new opportunity for the Lady Vikes whether or not they seize it.
"We have so much depth and experience within all the players this year," Ohms said. "It's just going to come down to mentally staying strong and mentally being prepared for whatever comes at us."
Leave a Comment
About the Contributor
Sam Borsos, Managing Editor
Sam is a senior at Paly and has done feature writing, news, photography, and design as a managing editor for The Viking. This is her second year on staff....