The Palo Alto High School boys' cross-country team finished 11th overall at the Lowell Invitational on Saturday. The race was held at Golden Gate Park in San Francisco.
After last season, the Vikings had to replace all seven runners from their varsity squad, including Phillip MacQuitty ('10), who now runs cross country for the University of California-Los Angeles.
"There's definitely not going to be a Philip [MacQuitty] on the team," Corso Rosati ('12) said. "But if you're looking compared to Josh [Newby], who was the second fastest runner [last year], I think we fill those spots pretty well."
Nikolai Solgaard ('12) finished first for the Vikings (13th overall) with a time of 16:05 for the 2.9-mile course.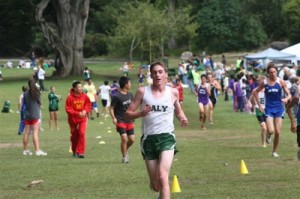 "The time was a little bit slower than what I expected, but the place was better than I thought it'd be." Solgaard said.
Rosati and Charley Kelsey ('12) finished second (34th overall) and third (82nd overall) for Paly, with times of 16:34 and 18:06, respectively.
"We had a couple guys run quick times, which is encouraging." coach Joe Ginanni said.
Injuries to many of the varsity runners hindered the Vikings' attempts to place higher.
"[Running with an injury] was hard, I think I went out a little bit too fast, and that kind of put a halt on my running." Kelsey said.
The Vikings were missing runners Andre Gouyet ('12), Ricky Estrada ('12) and Brandon Dukovic ('11).
"If our number three through seven runners are healthy and in shape, we could have a team that could rival last year's team, minus Philip." Rosati said.
The Vikings' next meet is the Stanford Invitational, on Saturday, Sept. 25 beginning at 9 a.m.
For more Paly sports content and in-game updates, follow The Viking on Twitter and join The Viking's Facebook page.