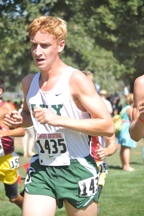 The Palo Alto High School boys' cross-country team finished 27th overall at the Stanford Invitational on Saturday. The five-kilometer race was held on the Stanford University golf course.
Varsity runner Nikolai Solgaard ('12) again finished first for the Vikings (52nd overall) with a time of 17:13.
"I was pretty happy [about the race]," Solgaard said. "[My time was] a little bit slower again than what I thought I'd get, but [the race] was a lot harder than I thought it was going to be."
Corso Rosati ('12) and Matan Geller ('13) finished second and third, respectively, for the Vikings in the field of 233 runners. Rosati came in 92nd overall with a time of 18:02 and Geller placed 153rd with a time of 18:46.
"I went out really fast with Nikolai [Solgaard] and I was feeling pretty good," Rosati said. "I think I drank a little too much and started feeling a little cramp. I was just trying to fight it off, but for at least a mile I had to slow down because it kept jabbing into me."
The heat played a significant role in the race, with temperatures in Palo Alto reaching almost 90 degrees during the race.
"It's always hot in Stanford, but I mean when it's this warm out it really hurts the times," Solgaard said.
To add to the difficulty of the heat, runners were directly under the sun for the majority of the race.
"For the last probably two or three years this has always been a very challenging race," coach Joe Ginanni said. "It just ends up always being really hot it seems. It's definitely physically and mentally a challenge for these guys."
This was the first year at the Stanford Invitational for every one of the Vikings' runners on the varsity team.
"I think on the whole we did really pretty well," Ginanni said. "This was our first big invitational that we've gone to this year with these group of guys so its totally a new experience for them running in a pretty big time varsity race."
The Vikings' next meet will be the Central Park Invitational, on Saturday Oct. 2nd. beginning at 3:15 p.m.