Girls' cross-country places last at Gunn Alumni Meet
The Palo Alto High School girls' cross-country team began its season finishing last out of the three schools that competed in the Gunn Alumni Meet on a hot Thursday afternoon at Gunn High School.
Paly placed third in the meet with 53 points behind Gunn (40 points) and St. Francis (33 points). Sarah Robinson ('14) of Gunn finished first overall, winning the meet with a time of 12:39.1.
Chika Kasahara ('13) finished first for the Lady Vikes and seventh overall, completing the 2.18 mile course with a time of 14:10.4.  Although she prefers to run in longer races, Kasahara was satisfied with her performance.
"I did alright, I normally run longer races, so it felt a little short," Kasahara said. "My goal this season is to go under 20 minutes on the 5k."
Kasahara's teamates Nora Rosati ('13), Jessica May ('12), Anne Hildebrand ('12), Shaheen Essabhoy ('13), Maryssa Sklaroff ('13), and Rachelle Holmgren ('12) finished 12th, 13th, 14th, 16th, 17th, and 19th overall, respectively.
Co-captain Rosati, who ran Paly's second fastest time of 14:36.2 weighed in on the team's day and its expectations for this season.
"As a team I think we did pretty well.  We have a bunch of really good committed underclassmen [this season] and as a team we hope to place highly in CCS and possibly go to states," Rosati said.
Girls' coach Paul Jones was also happy with the results, noting that some of his fastest runners did not run on varsity because they are underclassmen.
"I was very happy with [our] performance, it was our first meet, and I actually divided up the girls so all upperclassman ran varsity, while all underclassmen ran frosh- soph," Jones said. "In future meets many of our varsity runners will be sophomores."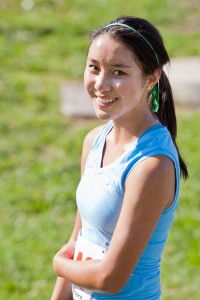 Despite how young the team is, Jones has high expectations.
"I'm hoping the team can place top two in leagues and hopefully top two in CCS to qualify for states," Jones said.  "Our biggest competition is from Gunn and Carlmont. I think we are better this year than last year."
Co-captain Torie Nielsen ('12) is not worried with the team's last place finish and expects the team to get faster.
"It was fun to see everyone have fun today," Nielsen said. "Our goal for the season is to make sure everyone has fun and improves all season."
This year's course was slightly different from that of years before. Due to construction, a detour had to be taken early in the race, but it did not add significant distance.
Paly's next race is the Lowell Invitational at Golden Gate Park in San Francisco next Saturday, Sept. 17th.

Leave a Comment