Paly boys' water polo defeats Los Gatos 13-4
Sammy Solomon and Michael Strong, Staff Writers
October 6, 2011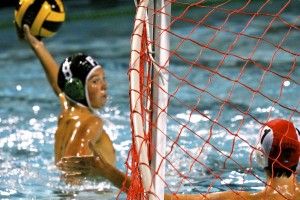 The Palo Alto High School boys' water polo team (6-1 league) defeated the Los Gatos Wildcats 13-4 on Oct. 6th.
Bret Pinsker ('13) scored the first goal of the game, breaking through two Wildcat defenders. But Los Gatos was quick to respond with a goal tying up the score at one all.
The Vikings secured an early lead with goals from Quinn Rockwell ('13) and Pinsker, bringing the score to 3-1 to end the first quarter.
Paly's squad continued to look for scoring opportunities and executed with two more goals from Nelson Perla-Ward ('15) and lefty Will Conner ('14), both assisted by Aaron Zelinger ('12), giving the Vikings a commanding 5-1 lead.
Los Gatos shooters were able to break through the Paly defense scoring two goals and closing the Wildcat gap to 3-5.
Just before the end of the first half Zelinger scored, contributing to the Paly lead.
Ahead by three goals, the Viking offense continued to execute in the third quarter with goals from Peter Rockhold ('12), Perla-Ward and two from Conner, bringing the score to 10-3.
The Viking defense helped maintain their lead by shutting down the Wildcats' offense, which was only able to put away one goal in the third quarter.
Paly continued to find the back of the net in the final quarter with goals from Nolan Perla-Ward ('13) and Rockwell bringing the final score to 13-4.
"I think [today's game] is good practice for our game tomorrow against Menlo-Atherton because they are the team that we really want to beat," Rockwell said.
Although the Vikings previously lost to Menlo-Atherton, they believe they can pull out the win tomorrow.
"[In our last game versus Menlo-Atherton], all the little mistakes added up to a goal here and there," Perla-Ward said. "But we've been practicing to fix those mistakes."
Rockwell also hopes that this hard work will pay off in tomorrow's game.
"It would be a tremendous win if we beat Menlo-Atherton," Rockwell said. "It would make a statement that we are contenders for the CCS championship."
The Vikings will play rival Menlo-Atherton in an expedtion game tomorrow at 3:30 at Paly.