Dance and Cheer take home gold and silver at the 2012 Jamz Nationals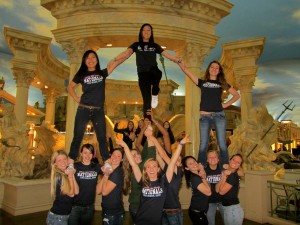 There's only one thing harder than doing tumbling passes alone: doing synchronized tumbling passes. Paly Cheerleaders must have done those pretty well, as they took home the silver in the annual Jamz Schools Cheer and Dance National Championships in the Orleans Arena in Las Vegas on Feb. 24, 2012. Paly's fledgling Dance team waltzed off the floor with gold.
Watch the girls perform in Vegas http://www.jamz.com/?pageid=92&playlist=1 as group 0059.
Cheer head coach and social studies teacher Hilary McDaniel designed the two-and-a-half-minute routine consisting of show cheer and dance portions. Donny Mozetti helped the girls with stunting and tumbling, Danielle Hypolite with voices and motions and Mandie Bowen with dance and presentation. Bowen also coached the dance team.
Jamz Nationals consists of an All-Star Championship, synonymous with "club cheerleading" and a High School Championship. Cheer took advantage of the high school division and set their goals high, practicing during halftime at football games and rallies.
"During cheer season, a lot of us get bored and lose motivation to get better," Michelle Yin ('14) said. "Nationals helped us grow together as a team and want to get better and it was really fun to see other really good teams that inspired us to get better and that got us out of the mindset that cheer was really boring."
This year, the girls' routine included a particularly difficult stunt series, consisting of two full-twisting and one toe-touching basket tosses, in which a flyer is thrown into the air, liberty lifts to a series of single-legged holds including an arabesque to scale position, in which the flyer balances on one leg while holding the other leg behind the body up to the head, a quarter-turn tap down and a powerpress back up to an extended torch liberty.
The girls had to practice extended hours to perfect stunt sequences like these, but in the process grew comfortable with working with each other.
"Because we're together all year, once competition season comes around, we all work really well together," flyer Tia Rabinovitz ('13) said. "We already have established stunt groups, we know which flyer is going to be thrown by each base, and who knows how to do what."
This close-knit team also allows for the trust between flyers and bases necessary to execute stunts involving throwing and releases, in which a flyer might be as high as eight feet in the air.
"The stress was the hardest part because stunts are never completely solid, so every time you go for a stunt you don't know if you will fall or stick," Yin said. "My back flat's [a base's] shoulder was dislocated but we had to keep going, and it was really hard to be in a stunt group with an injured member."
Other ground-level group stunts included a group straddle jump, straddle jump, back handspring combination near the start of the routine and four synchronized roundoff back tucks performed by Rabinowich, Olivia Maggi ('13), Sophie Parker ('13) and Sophie Jorasch ('12). Maggi also mixed the music for the longer music section, in which girls did individual and partnered tumbling passes. Jorasch and Rabinovitz performed the most difficult pass of the routine, a roundoff back handspring back handspring to a back tuck.
Rabinowich, head coach McDaniel and Yin all agree that some of Paly cheer's greatest strengths lie in its tumblers.
"One really good thing about our team in general is that we have really good tumblers," Rabinowich said. "One thing I noticed at Nationals was that when the girls did their tumbling routines they weren't in unison, and I think that the judges really like that we did ours at the exact same time because we're used to tumbling together."
However, the routine also featured an energized hip-hop dance section that set the girls apart from other, less exciting routines.
"We have a lot of really talented people, and we just stood out with, for example, our hip-hop routine," Yin said. "Everyone was really into it, and though we were probably the weirdest and craziest team, we're a really fun team and our routines are really sharp and clean, while other teams' were kind of messy."
While it's all too easy to discount cheerleaders as unathletic girls in skirts that are a bit too short, cheerleading presents similar difficulties as in dancing and gymnastics, on top of the challenge of remaining spirited for the whole routine.
"I think that the hardest part is just getting used to doing [the routine] full out, and for two and a half minutes you're moving and you don't stop moving," Rabinovitz said. "For part of it you are lifting people up and that takes strength and then you're also dancing, which is cardio, so the hardest thing for me was just being able to do the whole thing with a smile on my face."
Head coach McDaniel thus had to consider endurance while designing the routine, but she worked toward a routine focused on consistency and precision of execution, so the team wouldn't look sloppy in difficult sections or the latter parts of the routine.
"As a coach, I came up with a routine that I knew the girls could perform without making mistakes and the girls completely delivered," McDaniel wrote in an email. "A lot of other teams perform routines that are too challenging for them and they look sloppy. When our cheer team performs you aren't constantly worrying that someone might fall – the girls have great technique so you can just enjoy watching rather than being scared."
Sure enough, the girls hit all of their stunts, scoring 91.75 (out of 100), 0.6 points behind three-time reigning champions Modesto Christian's 92.35. From a winding, long journey through warm-up, dressing and backstage rooms, Paly's cheerleaders delivered their best nationals performance since 2009, when they placed second in a less competitive, non-tumbling division.
"I am most proud of the girls for setting a goal and pulling together as a team to accomplish it," McDaniel wrote. "We wanted to have a clean, penalty-free routine that was challenging and visually appealing and that is what the team delivered. It is tough to beat defending National Champions and the girls came 0.6 points away from doing just that. In my book, they get first."
Leave a Comment
About the Contributor
Hilda Huang, Business Manager
Hilda Huang is a senior and joined The Viking in her junior year because of her love for athletics. After serving as a copy editor her junior year, she...