Girls' tennis falls 4-3 to Los Altos
Paly's girls' varsity tennis team (1-2) absorbed a 4-3 loss in a tight, long and tiring match against Los Altos (1-3), despite having beaten the Eagles last season. The outcome of the match came down to the final two doubles matches. The Vikings' head coach, Andy Harader, has been working with the flexibility of his players, and today decided to switch some of his players from singles to doubles.
"We had a 'creative lineup' today, in the words of our coach," Caroline Nore ('14) said. "Normally I play no. 3 doubles, but today I played no. 3 singles."
However, the no. 1 and no. 2 singles spots have remained steady in the hands of co-captains Aashli Budhiraja ('14) and Felicia Wang ('14). Today, the unexpected seemed to be the key to winning, as players from both teams suffered from numerous unforced errors.
Budhiraja set the tone for most of the competitive rallies in the match. Budhiraja quickly finished her match 6-4, 6-1, against Los Altos no. 1 Kacey Incerpi, with a powerful crosscourt passing shot for the final winner.
Wang lost 2-6, 4-6 to Los Altos freshman Juliette Martin, who demonstrated her consistency and  strong backhands. Wang capitalized on her opponent's inconsistent serves and forehands, cutting tiring rallies short when possible, but was still unable to overcome her 4-5 defecit at the end of set two.
Nore and co-captain Sammy Solomon ('13) rounded out the singles, with a pair of 2-6, 0-6 losses.
The doubles matches were the focus of the neck-and-neck competition between the two teams.
Hollie Kool ('14) and Madeline Lee ('14) were the first doubles pair off the courts, coming off a set one deficit to capture the win 4-6, 6-3, 6-1. All three doubles matches extended into the third set, with the final match stretching to two hours.
But the competitiveness of the doubles matches was not unexpected, according to Los Altos head coach Hung Nguyen.
"We have three freshmen who are really strong, but I know it's gonna be a pretty tight match today too, down to the doubles," he said, as the no. 1 and no. 2 doubles were the last matches on the courts. "It's usually like that too."
Julianne Le ('14) and Tiffany Nguyen ('13) finished second to last, winning their no. 1 match 6-2, 4-6, 6-1, with Nore, Solomon, Budhiraja, Dewees and Wang cheering them on from the court next door. This was the first match the pair had ever played that had gone into the third set.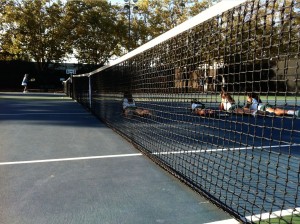 With three wins each, the match came down to no. 2 doubles. In the sixth game of the third set, Los Altos began with two service errors, only for K. Wang to have another unforced forehand error, with the ball far past baseline. Two more Los Altos lobs finished off the match in Los Altos' favor.
Harader understood that Los Altos had acquired three new freshmen, with two playing no. 2 and 3 singles, and that the team had improved markedly, making Paly's brief 2011 reign tenuous.
"They're a good team," Harader said. "So, you know -it's tennis. What are you going to do about it?"
Paly hopes to keep its overall 7-3 record strong next Tuesday, when the Lady Vikes travel to Milpitas to take on the Trojans at 3:30.
Leave a Comment
About the Contributor
Hilda Huang, Business Manager
Hilda Huang is a senior and joined The Viking in her junior year because of her love for athletics. After serving as a copy editor her junior year, she...