Boys' water polo overtakes Los Gatos 14-3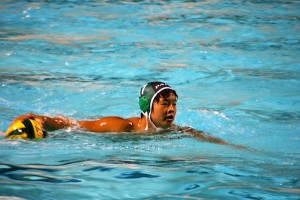 Palo Alto boy's water polo team defeated the Los Gatos Wildcats 14-3 at home on Thursday, October 17th. Captain Ethan Look ('14) was pleased with his team's performance and their win.
"We played a great game, we came out and we played hard and that's what counts," Look said.
The first quarter started off fast with a missed Wildcat's shot after the initial sprint. The Vikings countered, receiving a 5-meter penalty shot which was unsuccessful.  However, the Vikings found the back of the net soon after with Sam Kelley ('14) scoring his first goal of the night. The Viking's momentum continued with Kian McHugh ('14) and JJ Kadifa  ('14) each scoring their first goals of the game.  Andrew Jozefov ('17) scored the final goal of the half, giving the Vikings a 4-0 lead over the Wildcats.
Following the second quarter sprint and several missed shots from the Vikings, the Wildcats found the net for their first goal of the game, scoring off of a 5-meter penalty shot. The Vikings returned with Kelley scoring his third and fourth goal of the night, bringing the score of the first half to 6-1, with the Vikings holding onto their lead.
The Vikings continued their lead at the start of the third quarter with Lukas Novak ('15) scoring his first goal of the night. The Wildcats pushed back, scoring their final two goals of the game. Kelley and Jozefov each scored, finalizing the third quarter score at 10-3, Vikings.
The Vikings dominated the fourth and final quarter. Kelley scored twice more, bringing his total number of goals for the night to six. Connor Simrell ('17) and Hans Usman ('15) scored the final two goals of the night, bringing the final score of the game to 14-3 with the Vikings securing their lead.
Look admitted the win wasn't easy, but was satisfied with the end result.
"Coming out and beating them by 11 goals isn't easy at all. We came out hard, we came out with good attitude, were happy".
Coach Brandon Johnson agrees with Look and is proud of how his team preformed.
"We're a counterattack team, we wanted to get out and swim them and we did that tonight," Johnson said. "We're starting to play well together, we're looking for extra passes. We're talking to each other on defense and we're coming together as a team".
The Vikings will play next against the Mountain View Spartans next Tuesday October 22nd.
About the Writer
Maddie Kinnaman, News Editor
Maddie Kinnaman is a senior a Palo Alto High School. She plays Varsity water polo for the Lady Vikes and loves to spend time with her dogs: Sunny, Aspen...