Brief: Coach Earl Hansen to retire at the end of the school year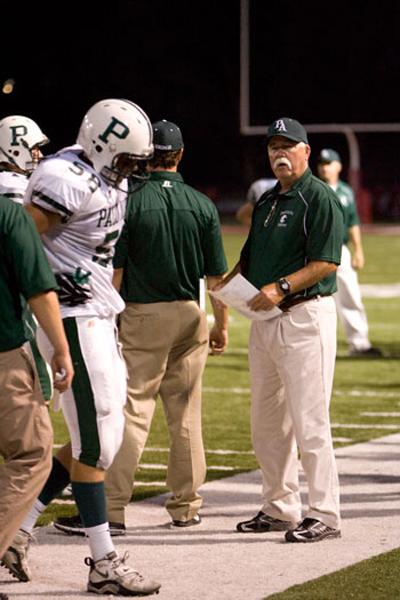 Coach Earl Hansen, Palo Alto High School's Athletic Director and varsity head football coach for the past 26 years, has announced his intentions to retire after the current school year.
Hansen told the varsity football team after the season ended in a 45-21 loss against the Saint Francis Lancers in the Central Coast Sectional [CCS] playoffs.
Hansen expressed that it was the right time to retire.
"I've been doing [Head of the Athletic Department] for four years, and I thought it was time to focus on something else," Hansen said.
Hansen has led the Vikings football team to four CCS titles in 1995, 2006, 2007, and 2010 over his 26 year tenure as the head coach.
Hansen's most famous season came in 2010, when the Vikings finished the regular season with a perfect 14-0 record and beat the nation's 5th-ranked team, 15-13 to win the Division I state championship.
In the success Hansen has brought to Paly for 26 years, he has many favorite memories and finds it hard to pick just one.
"I have many favorite memories at paly, so no, I cannot pick one," Hansen said.
Starting Quarterback Keller Chryst ('14) said that he was sad to see Hansen go.
"It's definitely sad to see a coaching great like coach Hansen hang up the whistle, but he's done so much in his career that we can look back and be happy for him," Chryst said. "It makes everyone realize, especially the seniors who won't play another snap of high school football, how fast time goes and how you have to enjoy it all and not take anything for granted."
Player Andrew Frick ('14) commented on the mood in the room when the players and staff realized Hansen was announcing his retirement.
"Everyone was in awe, it's not just a coach leaving, it's a legend," Frick said. "We all realized that with his retirement, it was an end of an era for Paly football and Paly sports in general."
Hansen believes that the Paly community was the root cause for their football team's success.
"Paly community is one of the best ever, they have been supportive," Hansen said. "They have done everything they can to make a successful program, and they've got one."