Game Day Swag
Game day: For any athlete, it signifies an opportunity to compete, to showcase practice and to take home a victory. Unlike an ordinary day, it is 24 hours of being in an athletic mentality. Whether it is a Major League baseball team, a college basketball team or the Palo Alto High School football team, all athletes experience the hype of preparing for a game. On the Paly campus, many athletic teams showcase game-day enthusiasm by wearing matching outfits. Despite different styles worn by Paly athletes, the purpose of them is to prepare for the game later that day. The Viking takes a peek into the closets of some of Paly athletes to see their most interesting game day swag.
The Paly girls' soccer team shows its humorous side on game days. The team usually rocks its team sweatshirt; that is, unless the Lady Vikes are facing a particular opponent. The day the girls faced rival private school Castilleja, the team decided to dress up in almost two dozen borrowed Castilleja school skirts in order to promote the game since it was early on in the Lady Vikes' season. In addition, the goal of the outfits was to bond and create pre-game energy.
"I think the main focus was to unify the team and get everyone excited to play [Castilleja]," midfield Hannah Totte ('12) said. "Everyone at Paly knows Castilleja."
The team believes that participating in such events is both fun and exciting. According to center back Helen Butler ('11), while some Castilleja parents seemed discontent, Paly's next-door rivals saw it as friendly competition.
"I think the [Castilleja] players took it as a joke," Butler said. "And it helped pump us up. We played really awesome that game."
Additionally, dressing up at school for game days helps stimulate the school's interest in the sport.
"People always ask you, 'Hey, do you have game today?'" Butler said.  "And 'Who are you going to play?' and 'How do you think you're going to do?' I think it's more of a mental thing pumping us up."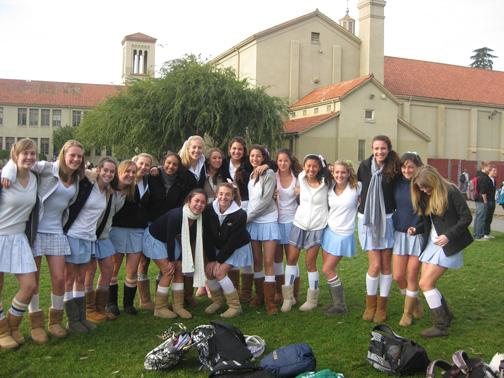 The team has also dressed up as stereotpical "nerds" on the day of its Henry M. Gunn High School game and cats when facing Los Gatos High School. The outfits showcase the interesting styles and a silly outlook that is unique to the team. However, unlike the girls' silliness when wearing game day attire, the boys' varsity basketball team shows a more serious side for game days.
Both the boys' varsity and junior varsity teams sport khakis, collared shirts, and ties on game days almost twice a week. Many students around school raise eyebrows in curiosity about the meaning behind the attire.
"People are always like 'Why are you dressed like that?'" forward Israel Hakim ('12) said.  "'What are you wearing this for? You look like you go to a private school.' We get that a lot."
Neda Ronaghi ('11), a classmate of several basketball players also found the attire to be intriguing.
"I thought it was really interesting that a basketball team would dress up nicely on a game day," Ronaghi said.
Once explained, the outfits have been familiarized around school, signifying a game day routine. Ronaghi believes that the team's look is both entertaining and fun.
"It brings a lot of attention to them," Ronaghi said. "It makes them bond a lot to come out as a team like that. I think it's really funny and cute how they dress up professionally. It's not something people talk badly about; it's something people think is funny and cool."
Adam Sax, the new varsity boys' coach,  decided that the team should dress up on game days for several reasons.
"I think it shows that you really care about your sport," Sax said. "I like everybody to be wearing the same thing. Instead of one guy wears a sweatshirt, one guy has a hat on, they all wear the same thing. It's a tradition I grew up with."
Although coach Sax advocates for wearing team-oriented clothing, he believes that the attire has an effect on the team only to a certain extent. And although he does not believe that the attire effects the actual performance of his players, he feels that the overall professionalism of the team is shown. Along with professionalism, dressing up as unit shows a team, rather than individuals of a team promoting their own game. While many teams may alter their game day traditions throughout time, Sax believes in long-standing traditions and stability.
"I don't think you're going to win more games if you wear a tie but I just think it's the professional way to do things," Sax said. "It's a team thing. I just think it looks good; it looks more professional. And, they learned how to tie a tie now. Ties are kind of more old school. A few years ago all coaches wore ties, now they just wear collared shirts. Everything's kind of changing. I'm still kind of the old school way of doing things."
At first, some of the boys were hesitant to wear the attire. But many of the boys quickly adjusted to the weekly dress code.
"We dress up because our coach wants us to look like a team, and no one to look different," Hakim said. "At first I didn't like it, but it's cool showing up, dressing nice with your friends wearing ties. We look kind of swaggy."
Hakim's view on the look is shared by his teammate Alec Wong ('12), Paly's starting point guard.
"The ladies love 'em," Wong said.
The boys' basketball teams demonstrate the serious side of game day, in which teams feel the need to look and act professional in order to maintain tradition. However, other Paly teams show a wilder side.
The girls' varsity lacrosse team, unlike the basketball team, takes a more creative approach to outfits on game days. Several ideas have inspired outfits for game day gear.
"In the past, we've dressed up as Native Americans because the Native Americans started lacrosse," attack Kimmie Flather ('12) said. "We've also dressed up as 'lax bro's' and in green and white. Anything we can come up with."
The lacrosse team, similar to other teams at Paly, becomes closer as a result of dressing up together. The girls show the school they are a whole team.
"It definitely brings the team closer together," Flather said. "We usually have a lunch that day which really gets us excited for the game. Depending on who we're playing, the more intense it gets. We usually save lax bros for the bigger games."
The girls lacrosse team demonstrates the increased team spirit behind dressing up for game days. In contrast with the boys basketball team, the girls show a more colorful reasoning behind game day looks.
After looking into the closets of three teams, the players have demonstrated how game day attire can help enhance energy for games, as well as promote team unity and chemistry. Although others around campus may not understand why they spot males who look as though they are prepared for work, girls for private schools, or girls back in the Native American days, the attire allows the players to explain their sport and their pride for their team to others.
"It's mainly for fun, but it also promotes advertisement for our games," Flather said. "People see that we dress up and really care about the sport."
About the Writer
Paige Borsos, Staff Writer
Paige Borsos is a junior at Paly and a staff writer for The Viking magazine. She enjoys writing and photography for the printed magazine and the online...