Cal drops five sports due to budget cuts
Around the country a handful of high school athletes dream of someday playing sports at University of California Berkeley, one of the top athletic and academic universities in the world. 814 young adults are lucky enough to play their respective sports there. On September 28th, 163 of these athletes' dreams were shattered, when their sports were taken away from them. They are left without a Cal National Collegiate Athletic Association (NCAA) team to play on.
"One hundred and sixty three student athletes who were in no way responsible for the economic issues are basically being punished," Cal womens' lacrosse head coach Theresa Sherry said.
Cal is not immune to the economic crisis our country is facing. With the school facing a budget crisis, the administration was forced to make decisions fast. To solve the budget deficit, the chancellor, Robert Birgeneau, made the controversial decision to cut rugby, baseball, women's lacrosse, mens' gymnastics and womens' gymnastics from its varsity lineup.
"Clearly, this is a painful outcome after months of deliberations," Cal's athletic director Sandy Barbour said in a statement. "I deeply regret the impact this will have on so many valued members of our community."
Through this cut the school will save an estimated $4 million a year, but at the end of this year these athletes will no longer represent the Bears in the NCAA.
RUGBY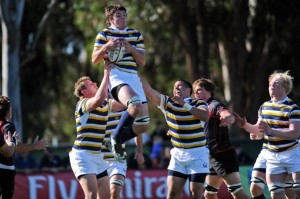 Rugby has consistently been the most successful of Cal's 29 varsity teams. It stands as the oldest sport at Cal, with 128 years of tradition. Since 1980, the Bears captured 25 of the last 31 collegiate national championships. The team has also posted an impressive 117 All-Americans and 46 National Team players.
"They are the dominate team in college rugby," Will Holder ('09) rugby player at United States Military Academy said. "I [am] kinda excited because it gives us a chance [at winning]."
Even with this incredible reputation and unprecedented success as a team, rugby was one of the sports affected by the Cal sports cut. It was not completely cut from being a team, but their varsity status was taken away.
Jared Braun, a sophomore rugby player at Cal, is surprised by the decision to cut his team.
"It was just a slap in the face," Braun said. "Out of all the teams to be cut they cut us."
There is confusion in the Cal sports community about why the most successful team was one of the sports affected. It is speculated that Title IX was a large factor in making the decision. Title IX says that the amount of women and men playing sports must be proportional. Rugby's 60-man squad disrupted this balance. However, even with this factor, the community is still left wondering if cutting such a successful team was the best option.
"We were shocked because it is Cal rugby. Everyone knows about Cal Rugby," Braun said. "We win. We give money back to the school even though we don't take any from the school."
Whether or not rugby deserved to be dropped, it is clear that it will be a
loss to the Cal community. Although the team is dropped from the NCAA, it will still continue to compete as a club team.
BASEBALL
For the 118 years Cal has had a baseball team they have sent a whopping 135 athletes to play in either minor or major league baseball. In recent years the program sent Brandon Marrow ('06) to the Toronto Blue Jays. At the beginning of the season the Bears were tied with Loyola Marymount University for having the most alumni's currently on a major league roster.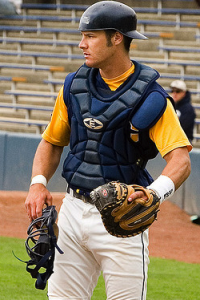 Even with the team competing at a high level and producing professional athletes for over a century, at the end of this season the Cal baseball tradition will be only a memory.
Drake Swezey ('11), a Palo Alto High School baseball player was a prospective recruit at Cal. He liked the school for its competitive baseball team and academics. Cal was second or third on his list. Since baseball is such a traditional and popular sport, Swezey was shocked that the administration chose to cut it.
"Their baseball program is big, they're DI, [and] they are in the Pacific-10 [Pac-10], so it just seems strange that they chose to cut it," Swezey said.
Palo Alto High School athletic director Earl Hansen thinks the cut will lower the level of collegiate level baseball in Northern California.
"You're going to lose all the top baseball players [to other schools]," Hansen said. Starting next school year Cal will be the only Pacific-10 (Pac-10) school to not have a baseball team.
WOMENS LACROSSE
Traditionally, lacrosse has been an East Coast sport. Only recently has the sport gained popularity on the West Coast. The Bay Area currently has an estimated 8,000 youth players according to the United States Lacrosse Northern California Chapter. California is currently the home of 362 boys' and girls' high school lacrosse programs in 2009, a 64 percent growth rate since 2005. While other sports are on the decline, lacrosse is emerging on the West Coast, and Cal has been a major contributor to this shift.
"It's just starting to get big out here," Emily Klein, a 2011 Cal recruit, said about the growth of the sport on the West Coast.
Klein, a senior at a Foothill High School in Davis, California committed to play lacrosse at Cal before the cut was made. Although she is scrambling as a senior to see if there are any other opportunities to play in college, she still plans to apply to Cal for the academics.
Prior to the cut, Cal was a pillar in the northern California lacrosse community. With only five NCAA Division I programs in California, Cal was one of the few options for California lacrosse players.
"[For] all the girls in northern California who [were] looking to play in college, their best bet was usually Cal or Stanford," Klein said. "Now that Cal is gone there are a lot fewer places for them to go."
Today, the Cal team of 30 has 12 players from California, the highest number of California lacrosse players on any Division I program. Cal's lacrosse staff worked with countless youth lacrosse players in the community. They motivated many to start playing the game and brought them to a competitive level, comparable to that of the East Coast.
"We went from 70 to about 250 [players] in one year," Sherry said about the growth of her program.
Although Sherry is attached to the area, she plans to move to a coaching job at a different college. She worries about how this will affect the growth of the sport in the area.
"Schools on the West Coast have played a really big role in the growth of lacrosse because they [offer] camps, clinics and clubs," former Stanford women's lacrosse head coach at Michele Uhlfelder said. "Who knows how this will exactly affect the growth."
Despite the downfall of the Cal program, the future of California lacrosse looks brighter with the addition of University of Southern California as a Division I program.
MENS' AND WOMENS' GYMNASTICS
Both the womens' and the mens' gymnastics teams have a history of success, especially on the mens' side. The Cal Men's Gymnastics team has had an impressive 29 NCAA Event Champions (14 in the last 20 years),18 top-5 NCAA team finishes, 4 NCAA team championship titles and nine Olympians. The mens' roster still highlights some world-class athletes, including two members of the national team.
This cut will leave Stanford as the only Pac-10 School with a Division I
mens' gymnastics program still standing. There are only 16 remaining varsity mens' gymnastic squads left in the country; a decrease from 129 in 1970. Womens' gymnastics is also on the decline at the collegiate level. According to head women's gymnastics coach Cari DuBois there are only 85 NCAA womens' teams left in the nation.
"My biggest concern with Cal dropping gymnastics is that it could have a domino effect across the country," DuBois said. "The last thing I want to see is the [popularity] of gymnastics and the number of programs decrease anymore."
The cutting of Cal's gymnastics team adds to the fear of the eventual extinction of gymnastics at the college level.
THE REACTION
Chancellor Robert Birgeneau says that these are the last of the cuts, but says he is unable to discuss re-implementing these sports. Current athletes will be able to transfer and play their sports without the usual NCAA rule of sitting out for a year. The athletic
scholarships of the athletes will also be retained.
Many are saddened by the cuts, but just as many think the cuts were the course of action.

"All aspects of our university have been affected by the new budget realities and athletics should not be protected to any greater extent than mathematics or english or chemistry or philosophy," Mark Schlissel, the Dean of Biology at Cal and member of the Cal's Operation Excellence board, that regulates campus spending, said in an email.
According to Schlissel the other options for cutting spending were even less appealing than cutting sports.
"Alternatives to cutting some sports were cutting other things which would have made it more difficult for our students to graduate on time by getting the classes they want and need, or by further increasing tuition for example," Schlissel said.
Although there may not have been other options, there is no question that the cuts were difficult to those affected.
"Taking [athletics] away from these young gentlemen and ladies is taking away something that they have been passionate about their whole entire lives," DuBois said. "They chose to come to Cal because of the opportunities that they had and now its been taken away from them."
Even those who implemented the cuts showed emotion over the decision.
"Making sports cuts was the best available option," Birgeneau said in a statement. "The impact of this decision is far-reaching. I am deeply saddened by the impact this decision will have."
To play sports at Cal an athlete has to be at the top of his or her sport. Whether its rugby, baseball, lacrosse or gymnastics, the 163 athletes whose sports were cut had to work incredibly hard in order to secure their spot on a Cal roster. With these cuts they will be left without a place to show all the work they have put in.
About the Writer
Emy Kelty, Staff Writer
Emy is a senior at Paly and is one of two editor-in-chiefs of  The Viking.  She currently plays varsity soccer and lacrosse at Paly.  In her free time...