Where are they now?
Outstanding athletes at Palo Alto High School play when they can. They get in the game when they are needed and are trusted to not make significant errors. Some then graduate and are recruited to play collegiate sports, but something changes. These athletes are no longer the best. They sit, watch and learn.
According to The Viking's The Class of 2011 Athletic Futures Map in Volume IV Issue 6, in 2011 Paly sent 43 student athletes to continue sports at the collegiate level, including well-known names such as Davante Adams, Kevin Anderson, Miles Anderson, Christoph Bono, T.J. Braff, Helen Butler, Megan Coleman, Haley Conner, Sydney Davis, and Ali Kershner. These athletes pushed themselves during their high school years to get to the next level. Spread out around the country, these hard-working athletes share their experiences and transformations from high school athletics to collegiate athletics.
Christoph Bono
Sport: Football
School: UCLA
Having both parents as UCLA alumni, former Paly quarterback Christoph Bono ('11) grew up a Bruin fan. Though he was never sure how he would get to where he is now, he always knew he wanted to play football at UCLA like his father.
Bono currently plays football at UCLA, and also plans to play baseball for the Bruins once the season starts.
"I'll have to choose eventually," Bono said. "But not yet."
Bono looks forward to learning the differences between being a multi-sport athlete in high school and in college. He is fully aware of the time management differences, but he is still waiting to find out.
"[I'm] just going to take it one sport at a time, one day at a time and see where it gets me," Bono said.
The transition for Bono so far has been a smooth one, but there are certain changes from high school athletics to college athletics that have not gone unnoticed. The hours Bono has committed to football are double the amount of time he committed to high school football.
However, moving up has computed one thing: the players are significantly better athletes.
Bono came into the season knowing he wouldn't touch the ball, and decided to spend his time on the scout team (or practice squad) to keep up his skills and grow as a player, as well as find his place on the team.
Being redshirted and playing on the scout team means that there is no chance for Bono to play in a game this season. After being an outstanding starting quarterback for the 2010 Vikings with 2,690 passing yards, not playing is a change Bono will have to adjust to.
"It kind of sucks having to watch but not play," Bono said. "I'm so used to playing [from high school]. It's a big transition that I have to get used to."
Although watching from the sidelines may be a downer, there are upsides to being on the team. Bono gets the chance to meet people from all over the country that he would have never met if it weren't for football.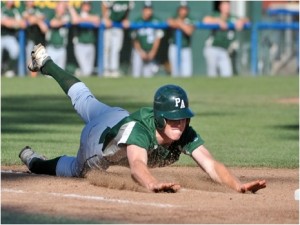 T.J. Braff
Sport: Baseball
School: Santa Clara University
Coming into Palo Alto High School his freshman year, T.J. Braff ('11) would never have thought he would get the opportunity to play baseball in college. Since he played three sports throughout high school, it wasn't until his senior year that Braff chose to focus on baseball. He chose Santa Clara University based on the great facilities and coaching staff, and the option to stay close to home.
However, Braff's transition to college was slightly rocky at first. Even though he spends less time in the classroom, baseball consumes more time than it used to in high school.
"At first [everything] was really hard to balance," Braff said. "But you have to stay relaxed and not get caught up in the moment."
Though everything has been going great for Braff, he admits that it's hard to get a lot of sleep. He tries to eat healthy and sleep often, but finds it difficult at times.
"Although it's hard, you have to take care of your body," Braff said.
Another thing that shocked Braff was the high level of talent surrounding him. At the college level athletes are more serious than they were in high school.
"I'm learning from other players and coaches and growing as a player," Braff said. "I'm just trying to take it day by day and become a better player."
Ali Kershner
Sport: Soccer
School: Duke University
When Ali Kershner ('11) was only a freshman, she made it onto Paly's varsity soccer team. Four years later, a freshman in college, Kershner is on Duke University's women's soccer team. Kershner always knew she wanted to play soccer in college and according to her, Duke was the perfect fit.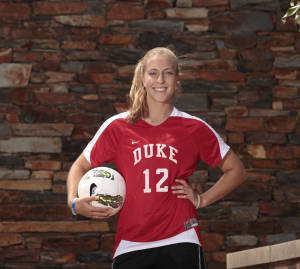 So far, Duke has had an unbelievable season. With an Atlanta Coast Conference (ACC) Regular Season Championship and only three losses so far, the team has proved itself to be a tough program at the collegiate level.
"I got to start out on a team that's making history," Kershner said. "It's an experience so much beyond high school or club."
While Kershner's experience has been positive, she has had to endure many transitions from high school to college. Between high school and club soccer, club is a lot more of a challenge, but Kershner still finds college life to be very difficult. Whether it's watching game film, working out or practicing, Kershner commits about four hours a day, seven days a week to soccer alone. However she doesn't feel overwhelmed.
"[Everything] was as flawless as it could have been so far," Kershner said. "I  try to take it in stride."
Coming in, Kershner didn't have any expectations, but like Bono, she is trying to find her role on the team. She points out that it's a high level of play, but she gets to practice and play with some of the best players. Kershner was especially surprised by the work ethic, team spirit, and effort from the other players.
"People work their butts off like I've never seen before," Kershner said.
Although the hardest part for Kershner is being so far away from home, she says her favorite part throughout the whole experience has been getting to know new and amazing people and says that are great both on and off the field.
About the Writer
Michelle Friedlander, Design Editor
Michelle is a senior at Palo Alto High School. She joined The Viking staff at the beginning of the 2011-2012 school year, and is looking forward to covering...