Silence in the Stands
When varsity football and lacrosse player Gabe Landa ('12) runs onto the football field the adrenaline and excitement kicks in as he sees students, parents and staff members in the stands.Four months later, as lacrosse starts, Landa runs onto the field and looks at the stands. They are almost empty. Some parents and a few students sit to watch, but the numbers barely compare to the amount of football fans.
"It's a lot easier to get pumped in football," Landa said. "Running onto the field with fans cheering is a great feeling, but in lacrosse I definitely don't get that. It never really happens."
Landa is not the only Paly athlete who wishes more students would come support his games. Varsity lacrosse player Kimmie Flather ('12) also believes that having students at her games creates a higher level of intensity.
"When I see my friends out there I just get really excited and it really changes my mentality because I want to play hard for them," Flather said.
Landa realizes that getting support for sports that are not too well-known, such as lacrosse, is difficult, but hopes to get the same rush of excitement from lacrosse fans as he does from football fans.
"[With] more fans [I] get more of an arena vibe and that makes me perform better," Landa said. "It makes me feel like the game is on ESPN and watching it is a big deal. I enjoy it a lot more."Landa compared this feeling of excitement to the staff-student basketball game and said that even though this game was just for fun, having so many people attend made it a lot more fun to play in, especially because the gym has a different vibe than a field.
Like Landa, football and basketball player and track and field athlete Tory Prati ('12) also prefers to play with a raucous crowd because he finds it more fun and enjoyable.
"Parents come and they positively cheer you on and clap, but having students there is fun because they're usually a little more rowdy," Prati said. "They can pick on the other team's players and stuff like that so it makes it a [better] environment."
On top of seeing friends and fellow classmates in the stands, Prati also finds that much of his adrenaline and energy comes from wanting to awe the crowd. Prati finds it especially helpful when his peers come he wants to impress them.
"You get more fired up when you look up and there are a lot of people in the stands there to watch you," Prati said. "It makes you want to put on a good show for the fans."
However, not all players appreciate rowdy fans. Varsity baseball player Justin Grey ('12) prefers parent fans over student fans because he finds them distracting at times and tries not to pay attention to them while he plays.
"Parents are more likely to sit back and watch, whereas students are usually more out-there," Grey said. "[Students] just say a lot of stupid stuff when you're playing, which is distracting."
In sports such as track where the runners receive much less recognition than they would hope for, the runners learn to find support from other resources. Varsity track athlete and football player Matt Tolbert ('13) explains that student fans rarely show up to meets and instead he takes advantage of his many teammates for the boost of energy he needs when on the track.
"[There are] a lot of people on a track team, so everyone is always cheering you on there," Tolbert said. "I guess it makes up for the lack of fans."
Flather, like Tolbert, also finds it difficult to get her peers' support in lacrosse and feels that other sports undermine her own. However, with a smaller team than in track, Flather's teammates do not necessarily make up for low number of fans.
"For girls' lacrosse, it's really hard to get peer support, but it means a lot to me [when people come]," Flather said. "When my friends come, or just people at my school, I want to play hard and show them what [lacrosse] is all about."
Coming from Michigan this year, Tolbert notices a clear difference in the amount of peer support compared to his old school. According to Tolbert, athletics are just as important at Paly as they are at his old school, except not as many Paly fans come to sporting events.
"[The amount of fans] here doesn't even compare to my old school," Tolbert said. "[Paly fans] are lacking."
Most students find it difficult to make time to come to games during the school week because of their own extracurricular activities. Football fan Rose Fitzgerald ('13) explains that most students attend mainly football games because the timing is most obtainable.
"[More people] go to the football games because you can hang out with friends," Fitzgerald said. "I'm not a huge fan of sports, but [football] is more exciting than other sports, which are at inconvenient times."
Tennis player and football fan Harrison Dwight ('15) agrees with Fitzgerald and explains that he usually only watches sports he is interested in. However, he, along with most fans, says that if more of his peers attended games other than football, he would also attend.
"I would go [watch other sports] if people went, but no one goes," Dwight said.
Still, Paly athletes find it difficult to get the support they want from their friends and peers. Landa explains that peer support is especially important because he talks to his friends about athletic events more than anyone else.
"[Peers] are the people I talk to about sports," Landa said. "You don't get the same feeling from parents. Parents are there for support, [and] obviously they want to be there, but with my peers I think 'My friend saw [my game].' It's really why you play."
What about our colors
Cheerleaders play an important role in games because they energize, not only the athletes, but also the fans. They create a higher level of energy in a stadium or arena, which athletes can feed off of for adrenaline. Some sports, however, are not as fortunate as football and basketball and have the disadvantage of not having cheerleaders.
According to Paly varsity cheerleader Hannah Tumminaro ('13), the main reason for cheerleaders only cheering at football and basketball games is tradition. She explains that these sports and cheerleaders naturally go hand-in-hand and the cheers they learn go with these sports as well.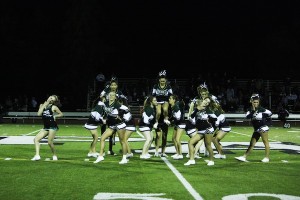 "All the cheers that we learn have to do with football [and basketball]," Tumminaro said. "Nothing is made for other sports."
Cheerleader Sophie Parker ('13) agrees with Tumminaro, but also notes that cheering at sports besides football and basketball is difficult because the ball possession changes more often and more quickly, which makes it difficult to finish a whole cheer.
According to Parker another aspect of this issue is that most fans do not attend games other than football and basketball, and cheering towards empty stands is difficult and unhelpful.
"It's not as exciting for us [when there aren't many people in the stands]," Parker said. "It feels like we're not cheering at anybody [and] when people don't respond it just feels like we're useless."
However, Parker says that though it would be difficult because their season only continues for the duration of fall and winter, if fans began to attend other games on a regular basis and wanted the cheerleaders' support, this tradition could be changed.
"It's really hard [to cheer for some sports] because our season ends in the spring, which is when basketball ends," Parker said. "If people were really pushing for [cheerleaders] then we would [cheer], but most athletes aren't dying for cheerleaders to come to their games."
About the Writer
Michelle Friedlander, Design Editor
Michelle is a senior at Palo Alto High School. She joined The Viking staff at the beginning of the 2011-2012 school year, and is looking forward to covering...