The big three
It is not a difficult task to determine when it is game day for the boys' varsity water polo team. Matching sun hats can be seen dispersed around the quad with sun-bleached hair peeking out under the brims and green polos donned by all the players. The unified front the team exhibits can be attributed to the leadership of the team's three captains, Bret Pinsker ('13), Nolan Perla-Ward ('13) and Quinn Rockwell ('13).
With the water polo season in full swing, the team's captains are responsible for boosting morale, serving as role models and encouraging hard work. Teammates cite their skills as players, motivation and senses of humor as major factors contributing to their ability to carry out these responsibilities.
"[The captains are] a lot of fun in and out of the water," teammate Omri Newman ('14) said. "They're really dedicated to the sport and school and they're just all-around great guys. They're really determined to do well this year, and they really push the team to its limits."
Each captain has an undeniably unique personality, but these differences are what help the three get along so well with each other and the members of their team.
"I would definitely say Quinn's the biggest jokester," coach Matt Johnson said. "Nolan and Bret are definitely the more serious of the three, but they all get the job done."
Perla-Ward asserts that Rockwell and Pinsker are on two ends of the serious spectrum, with himself constituting the middle ground.
"Quinn is a knight in golden armor," Perla-Ward said. "He comes down from the heavens to rescue everyone from Bret's evil reins. I have to straddle the line so it's not too good or too evil. I try to keep it balanced."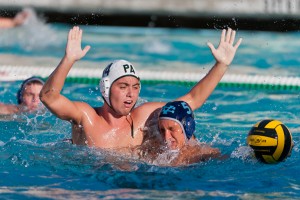 Pinsker acknowledges that he may be the most serious of the three, but he maintains that now that the season has progressed, the roles are more balanced.
"For a while it was like that, but now pretty much everyone is serious," Pinsker said.
The captains have individualized nicknames which reflect the fun environment they have created. Pinsker's teammates refer to him as "Garth," a nickname he came up with himself.
"Bret was trying to come up with a really intimidating name to say to the other [team], and he thought that 'Garth' was an intimidating name and we made fun of him for it," teammate Brent Schroder ('13) said.
Rockwell was christened "Magnus," which in Old Norse means "house of might or power." The nickname refers to Rockwell's mythical aura in the eyes of his peers.
"Quinn was born on the plains of Olympus," Schroder said. "That's his actual real name given to him by Zeus."
While each shares a strong commitment to the game, their reasons for playing differ. Pinsker settled on water polo after finding that he had the necessary skills to excel at it. He was one of the team's leading scorers last season, scoring 63 goals and assisting 12 more on the season, according to Maxpreps.com.
"I started playing in fifth grade," Pinsker said. "I didn't like all the other sports. I wasn't very coordinated on land."
Perla-Ward and Rockwell, who started playing in middle school, also see water polo as an opportunity to don very little clothing, show off their bodies and get physical.
"I honestly like wearing a speedo and it's fun to hurt people in the water," Perla-Ward said.
Rockwell shares the enjoyment that comes from suiting up in a very small amount of fabric, and also finds there are many perks that come with playing the sport.
"You get a sweet tan, a rocking bod, all the babes, the list goes on," Rockwell said.
The camaraderie between the three is one of the key reasons coach Matt Johnson cited for choosing Pinsker, Rockwell and Perla-Ward as captains.
"I think the good thing about the three of them is they work well with a lot of people on the team," Johnson said. "You can plug them into any lineup and not only will they lead by example, they can mesh with other players, not just the top five guys."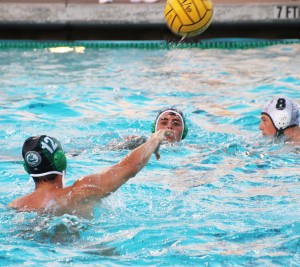 Their differing personas allow Pinsker, Rockwell, and Perla-Ward to form connections with each player, assuring that there is a personalized approach for each of their teammates. This aspect of their captaincy is vital to assuring that the team stays united.
"Different people get handled in different ways," coach Brandon Johnson said. "You've got Bret getting on guys for staying on the bottom or hanging on the wall, so you've got that perspective, then you've got Quinn who's going to say the same thing but attack it a little differently."
Pinsker, Rockwell, and Perla-Ward have known each other for longer than their Paly water polo careers, which helps them work well together. Their friendship does not stop when they leave the pool.
"I've been friends with [Perla-Ward and Rockwell] since middle school," Pinsker said. "I know them really well."
The three can be found hanging out on the weekends, either partying or just kicking it. For example, Rockwell and Perla-Ward can often be found eating pancakes in the early morning hours.
"We go to iHop at one in the morning," Rockwell said. "That's a normal thing."
The quirkiness of their personalities and the way they combine to create a one-of-a-kind captaincy are fun to observe for both teammates and spectators alike.
"They are pretty awesome," teammate Ethan Look ('14) said. "I don't think I'd ask for any different captains."
Leave a Comment
About the Contributor
Audrey DeBruine, Features Editor
Audrey is a senior at Paly. She is a co-captain of the varsity girls' cross-country team and also runs track. In her free time, Audrey's hobbies include...