Keith Peters/Palo Alto Weekly
Twins often grow up doing a lot together – wearing the same clothes as kids or playing the same sport. It wasn't any different for Matt and Brandon Johnson. From junior high to the National Team, the two were always playing water polo together. Now, coaching jobs at rival high schools have caused them to look at each other as competitors instead of allies in the pool.
The rivalry between Gunn and Paly is present in every sport, but with Matt and Brandon coaching opposing teams, the clash is even bigger. Brandon is the boys' varsity water polo coach at Paly, while Matt is the coach at Gunn.
Growing up, the Johnson kids all swam at Greenmeadow Swim Club in Palo Alto. When the twins were in seventh grade, they heard about water polo and decided to try it out.
"I would hang out at my neighborhood pool all day, and I wasn't a big swimmer," Brandon said. "So one of the lifeguards suggested that I start playing water polo."
Despite a lack of knowledge about the sport, the twins participated in a session at Stanford Water Polo Club.
"They really liked it a lot," mother Celeste Johnson said. "It just clicked with them."
Around a year after Matt and Brandon joined a team at Stanford, their younger brother Aaron Johnson decided to try out the sport as well.
"They had a pretty big influence on [me]," Aaron said.
Their younger sister, Lauren Johnson, a senior at Gunn,  started playing only recently, after watching her brothers play for many years.
"Lauren wanted to wait as long as she could, because she was kind of sick of it, because she grew up watching us play the whole time," Brandon said. "She finally gave in and started playing. We were definitely an influence on both of them."
Brandon and Matt went to Gunn and played water polo for four years there. When Aaron started high school, he joined them on varsity.
"Brandon, Matt and Aaron were all on the same team Aaron's freshman year at Gunn," Celeste said. "Aaron started as a freshman, and so all three of them were in the starting lineup for the Gunn team."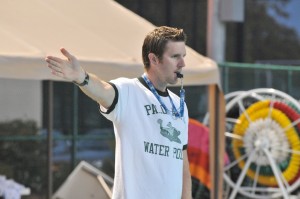 While playing at Gunn, both Brandon and Matt won awards showcasing their high skill level.
"In high school they basically made it to the top of as far as you could go in high school," Celeste said. "Matt was the league MVP goalie one year and Brandon was the league MVP player. There's only one in the entire league of each of those, and they made it to those positions."
After graduating from Gunn, Brandon and Matt went on to play together for University of California at Irvine (UC Irvine). Originally looking at different schools, they ended up joining the team together.
"When the coaches started contacting them back and they would go on recruiting trips, the coaches would ask, 'Where's your brother?'" Celeste said.
At UC Irvine, the twins' success only increased. Brandon was a three-time All-American and scored a total of 196 goals in his time there, and Matt was a one-time All-American and saved a total of 571 goals. In their senior year, UC Irvine was ranked fifth nationally.
"[UC Irvine] was a great program, a hard working program, and I think that's really where they learned most of what they have for coaching, and how to play the game and how to teach the game is through the people they worked with at Irvine," father Kevin Johnson said.
During college, they also were part of the National World University Games team. Brandon started training with the team his sophomore year, and Matt joined him starting his senior year.
When they graduated from UC Irvine in 2011, the twins had to look abroad if they wanted to continue continue their career as water polo players, because there is not a professional league in the United States.
"They wanted to keep playing, and that's the only thing you can do because there is nothing similar in the United States," Celeste said. "Everybody that they talked to that played in Australia had a great time and said they loved it."
Before they went off to play, Brandon was an assistant volunteer coach for UC Irvine, and Matt was a junior varsity and assistant varsity coach for a high school in southern California. Then, in the spring of 2012, they both went to play professionally in Australia, but for the first time, Matt and Brandon were on separate teams. Matt went to play for a team in Brisbane, while Brandon went to play for a team in Perth.
"Different teams were looking for different things," Kevin said. "It's a little harder for the goalies because there are two or three international players in water polo, and a lot of [the teams] will take home grown Australian players and bring in field players."
That year, Matt's team did well, while Brandon's was not as successful.
"Matthew worked with a team in Brisbane and it ended up being a very good high quality team," Kevin said. "A lot of Australian Olympians on that team."
Matt played for the Brisbane Barracudas, and Brandon played for the University of Western Australia Torpedoes (UWA Torpedoes). When their teams came up against each other that season, Matt's won.
"We've lined up against each other in practice many times, but this was the first official game that we were on opposite teams," Matt wrote in an email to The Viking. "It was a home weekend for my team, so we played them Friday night and Sunday morning. Those were my two best games of the season and I held Brandon to one goal in two games as my team swept the weekend series. I still bring that up to him."
Brandon was able to go back to Australia for a second year with his same team. The UWA Torpedoes won the silver medal in the Australian National League and Brandon was the team high scorer. Matt, however, did not return to play a second season.
"[Matt] couldn't find a team that needed a goalie the second year that he actually wanted to play for," Celeste said. "He was contacted by a couple teams, but they were not teams that he wanted to play for."
Brandon enjoyed his international experience.
"Australia was awesome," Brandon said. "It was a lot of fun. Some good competition. It was a lot different than here. It was a really good experience."
Early this summer, both Matt and Brandon were also part of the Men's Senior National Team, after being on the National World University Games Team in college. They participated in the World League Preliminaries in Los Alamitos, Calif. After the World League Preliminaries, Brandon went to the World League Super Finals in Russia in June, while Matt did not make the roster. After Russia, Brandon did not make the roster for the World Championships that were in Barcelona.
After participating on the National team, both Matt and Brandon's careers as players finished, but their careers as coaches were just beginning. Originally, both did not consider coaching as a career, but it has shown to be something that they both have a passion for.
"I never thought of coaching for a living until I was working at Stanford the summer after I got back from Australia," Matt wrote. "I had interviewed for some office jobs and was planning on coaching until I landed something. But after talking with Jon Barnea [('98)] I realized that coaching was something I could make a career out of. Once Brandon and I started Shoreline, Aaron started helping out and we soon realized we all shared the passion and skill for coaching."
Barnea is a Paly alumni, former water polo coach and current Stanford assistant coach. He had a large influence on leading them to coaching.
Brandon and Matt coached together at Paly in the fall of 2012 when they became co-head coaches at Paly.  But after just one season of coaching together, Matt was offered the head boys' water polo coaching position at Gunn. He took the job, leaving Brandon to coach the Paly boys' water polo team by himself, and Aaron to coach the boys' junior varsity coach.
Brandon enjoys coaching at Paly, but it is also difficult because he is coaching against his former high school.
'It's fun [being rivals]," Brandon said.  "Definitely fun, it's kind of hard at first because I went to Gunn, so I have a little bit of Gunn pride still in me, but I like coaching at Paly, coaching against Matt, coaching against Gunn. It's pretty fun."
Aaron sees that the game is more competitive and intense than usual because Matt is on the other side.
"[The rivalry] definitely keeps it interesting," Aaron said.  "It makes for a little better competition. Talking to the opposing coach for days before the game makes it a little bit more intense, and you definitely have a rivalry going with family members, so it makes it more interesting and competitive."
Although the brothers played together and have coached together, they have different styles of coaching their own high schoolers.
"Matt's a goalie, so he has a defensive perspective," Brandon said.  "Aaron's a two-meter player, so he's more of the in the trenches, grabbing and doing all those moves.  I'm more of the outside shooter, so we all hit on different aspects of the game."
Matt and Brandon's coaching styles differ more than just the perspectives they have from the positions they played. Their personalities also greatly affect the types of coaches they are.
"Matt shows his emotions a lot more than Brandon which comes out in his coaching a lot," Lauren said. "Matt tries to rally his team together with his words. During games he's more loud and off the bench trying to talk to the refs and talk to the team, where Brandon is not as loud. He'll still say stuff but he seems more conservative when he's out there, and lets the team play more."
Kevin agrees with Lauren about the different coaching styles Matt, Brandon and Aaron have.
"Matt's a little more outgoing, and a little more outspoken in his opinions," Kevin said.  "Brandon's a little bit quieter. Aaron is just intense. He's the perfectionist, he requires his players to do everything the right way; he's the perfectionist."
As Matt coached at Paly last year, some players had both Matt and Brandon as coaches, and saw the differences as well.
"During practice, Brandon has always been the more serious one," varsity captain Omri Newman said. "He wants to get work done. Matt also is serious, but he's a little more nonchalant about it."
However, being twins, Brandon and Matt are more similar than alike.
"It's kind of hard to think of two different adjectives [to describe them]," Lauren said.
And, even though Aaron started playing after his brothers, his coaching philosophy is similar to his brothers.
"The similarities in our coaching style include passion and energy," Matt wrote. "We all really care about the players we coach and the success they have."
When they are not coaching at high school, they coach club teams, and even created their own water polo club. Shoreline Water Polo Club is a club that the brothers started together and coach together. They created it  so that Paly and Gunn players would have a club other than Stanford club to play for.
"When I was growing up here and went to Gunn, all we had was Stanford, so everyone played Stanford," Brandon said. "Now there's all these other clubs popping up, and the Paly and Gunn kids don't really have the option of having a club that's based in Palo Alto that's not Stanford."
Through Shoreline and Stanford, they stay involved with the game as coaches.
"I love the game," Brandon said.  "I want to be a part of it somehow by doing something. My playing is coming to an end so I'm starting to get into coaching a bit, and I just want to be around it still."
The Johnson brothers see themselves coaching for a long time because of how much they enjoy playing and coaching the sport. Both Matt and Brandon think that one of the best parts about coaching is hanging out with the players and seeing them improve.
"The best part about coaching is recognizing improvement and being able to see that what you are teaching is being learned and executed," Matt wrote. "It's a great feeling."
Brandon echoes Matt's enthusiasm.
"[Coaching] is a lot of fun and I really enjoy it, hanging out with the guys, coaching the team and stuff, so it's something that I'm going to stick with for a little longer at least and see where it takes me," Brandon said.
Aaron also sees a long career in coaching ahead of him.
"I really enjoy coaching, and always wanted to get into it," Aaron said. "I don't ever want to be away from [water polo], so not being in the water playing physically, the only other thing I would want to be doing is coaching."
The Johnson family shows just how much sports can bring a family together.
"It's something that they all do together, and then they all go to coach Stanford Club after these practices every day, so they're all always together," Lauren said. "It gives something for us all to talk about now that I'm playing also, and my parents are really big fans."
Their parents are also greatly involved in the game, despite that the boys are no longer the ones in the water.
"Water polo is definitely a big part of our family," Matt wrote. "My parents still go watch college and other high school games even though we aren't playing anymore. They are just fans of the game. … It's fun that water polo plays such a big role in all of our lives and that they share our passion."
The Johnson's love for the game has been with them since the beginning, and has carried with them to their passion of coaching. Palo Alto can count on seeing the Johnson brothers around for a long time.