Paly baseball defeats Willow Glen 6-5 in a non-league game
No pain no gain. The Palo Alto High School varsity baseball team (9-3) beat Willow Glen High School (12-3) 6-5 in non-league game today at Paly. The game ended right after two Vikings got hit by pitches back-to-back in the seventh inning to score the final runs.
The Vikings started strong with four runs in the bottom of the first inning, all scored by Paly seniors. Paly outfielder Christoph Bono ('11) was walked and stole to third base. On a wild pitch, Bono scored home. After Paly first baseman T.J. Braff ('11) was walked, Paly catcher Will Glazier ('11) got a double down the left field line, sending Braff to third. Pitcher Drake Swezey ('11) added a double, sending Glazier and Braff home. Second baseman Jack Witte ('12) hit a single to send Swezey home, putting Paly up 4-0 to start the game. Despite their strong start, the Viking's intensity lowered both on offence and defense and they didn't score again until the seventh inning.
"Our first inning was great," Glazier said. "We jumped on top of them. But then we just completely went into a lull. Our intensity was horrible after the first inning."
Swezey pitched a solid six innings, letting up only one run in the top of the fourth inning when Willow Glen pitcher Mark Amann ('11) hit a double that kissed the fence, sending shortstop Micth Ravizza ('11) to home plate.
"At the beginning I was throwing better," Swezey said. "My fastball got hit pretty good. That's a really good hitting team and I thought I did a pretty good job of keeping them to a few runs."
The Vikings struggled in the bottom of the sixth. With bases loaded after a triple by T.J. Braff, a walk and hit by Glazier and Swezey, Paly had a disappointing three outs in a row.
"By far the biggest thing [we need to work on] is hitting with runners in scoring position," Swezey said. "That's a huge thing and that's something we have to know how to do especially going into playoffs."
The score remained 4-1 until the top of the seventh when Willow Glen picked up the intensity. With no outs, Amann scored a home run off of Swezey early in the inning. Paly tried to switch up the tempo when Paly pitcher Ben Sneider ('12) entered the game for Swezey.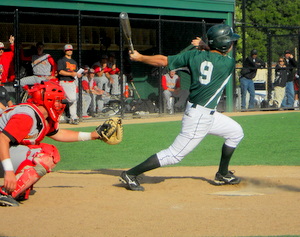 Willow Glen tied the score 4-4 with back-to-back singles, and with a runner on first and third base, a balk by Sneider brought in yet another run for the Rams, allowing them to take the lead 5-4.
"We're not really playing our opponents in the games, we're playing ourselves," Swezey said.
With only one more inning to take the game, the Vikings stepped it up in the bottom of the seventh inning. After Bono was walked to first base, outfielder Cory Tenanes ('11) got a single. A well-executed bunt by shortstop Austin Braff ('12) loaded the bases.
With T.J. Braff up to bat, the anticipation was halted when he was hit by the pitch, sending Bono home to tie the game 5-5. In a déjà vu moment, Glazier was also hit by the pitch to win the game for the Vikings, ending the score at 6-5.
"As a team we played solid all around," Swezey said. "With the exception of hitting with runners in position, we're doing a pretty good job."
The Vikings face Saratoga High School (2-10) on Wednesday at 3:30 p.m. at Saratoga.
About the Writer
Sam Borsos, Managing Editor
Sam is a senior at Paly and has done feature writing, news, photography, and design as a managing editor for The Viking. This is her second year on staff....