Diving qualifies two more for CCS
Varsity girls' diving qualified two more girls, Serena Yee ('13) and Phoebe So ('14), for the Central Coast Section Championships today at the Palo Alto-hosted Section Challenge 11-dive varsity meet.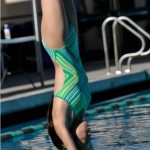 Divers have to score over 280.00 points for 11 dives. Yee scored 332.65, finishing fourth and So scored 294.05, finishing eighth. Nadya Nee ('13) and Emma Miller ('12), who already qualified at the last 11-dive meet, the Paly Invitational, finished seventh and third, scoring 300.00 and 336.05, respectively.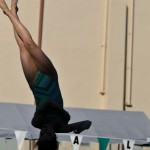 Alex Francis ('13) finished second in the boys' competition, scoring 365.10. Francis also qualified for CCS diving at the Paly Invitational as well as CCS swimming as various league meets. He is the lone swimmer and diver this year as of yet to qualify for both disciplines.
Divers Alex Hammer ('14), Jonathan Kosaka ('14) and Cameron Yem ('15) placed fourth, third and fifth, scoring 200.15, 234.10 and 199.15, respectively.
National diver Collin Pollard of Bellarmine College Prep won the boys' competition, scoring 512.60. Shelbie Holden of Bella Vista won the girls' competition scoring 411.40. National diver Talbott Paulson of Menlo-Atherton finished second, scoring 392.30. Exhibition divers Audrey Deneffe and Austin Jacobs of Castilleja scored 383.30 and 377.00.
Upon qualifying for CCS, So was happy, but also said, "It was stressful."
She will be Paly's fourth varsity female diver this season.
Swimming has its Section Challenge meet tomorrow at 9:00 a.m. at Palo Alto High School. Diving will compete next against Monta Vista on Apr. 26 at Palo Alto at 3:30 p.m.
Note: Emma Miller was cited incorrectly as qualifying for CCS this meet. She qualified at the last 11-dive meet. Updated Apr. 21, 10:00 a.m.
Leave a Comment
About the Contributor
Hilda Huang, Business Manager
Hilda Huang is a senior and joined The Viking in her junior year because of her love for athletics. After serving as a copy editor her junior year, she...