Swimming and diving sweep SCVAL championships; marks tenth consecutive girls' title
The Paly swimming and diving teams swept all four varsity divisions of boys' and girls' swimming and diving, at the 2012 Santa Clara Valley Athletic League Championships (SCVALs) yesterday for the first time since 2005. This also marked the tenth consecutive SCVAL Championship win for the girls' team and the seventh win for the boys in head coach Danny Dye's eight years with Paly.
JV Boys and girls also won their respective divisions, and Dye and assistant coaches Angela Duckworth and Lucy McComas celebrated the big day with a ritual dunking in the Lynbrook High School pool.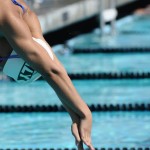 The varsity boys showed a strong performance with 488.00 points, coasting to victory 117.50 points ahead of the second place finisher, Monta Vista. Los Gatos followed in third, with 295.00 points. Boys' diving spotted an extra 59 points for the swimmers, contributing to the boys' comfortable lead throughout the preliminaries and finals.
The varsity girls, on the other hand, nudged past second-place finisher Gunn by the thin margin of nine points. After being nine points behind following the preliminaries and predicted to finish one point behind Gunn in the finals, the Lady Vikes had standout victories with several personal best times and new SCVAL records to squeeze past Gunn and finish with 508.00 points. Diving also contributed hugely to the girls' win, as Emma Miller ('12), Serena Yee ('13) and Nadya Nee ('13) took first, second and third in the girls' diving competition and taking 62 of the 68 possible points. Los Gatos finished third with 283.00 points.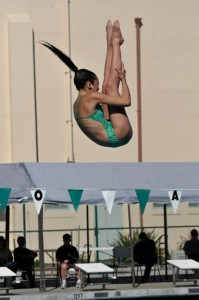 "[I feel] so happy," co-captain Rachelle Holmgren ('12) said. "It was such an accomplishment because after prelims, we were projected [to be] one point behind."
The Lady Vikes started out strong with a victory in the 200 yard medley relay with Katrina Nguyen ('14), Lauar Cui ('12), Margaret Wenzlau ('12) and Jasmine Tosky ('12), finishing over a comfortable second ahead of Gunn's A team. Tosky continued the wins for the Vikings, swimming 1:52.86 in the 200 yard freestyle and Jayna Wittenbrinnk ('14) swam a personal best 1:54.68 taking fourth.
The girls also picked up points in the 200 yard individual medley with Molly Zebker ('13) finishing first with a personal best of 2:07.42. One of the key races was the 100 yard butterfly, according to coach Dye, as Gunn would pick up points in the following races, the 100 yard freestyle and 500 freestyle.
Tosky continued the Vikings' momentum, breaking her own SCVAL record with 0:55.05. Wittenbrink followed a close second with 0:56.77, and Wenzlau, who is battling a foot injury, took a Gunn swimmer from behind, finishing third with 57:50. Other notable finishes included Molly Zebker ('13) taking third in the 100 yard freestyle with 0:54.19, Haley Mortenson ('13) taking fifth in the same race with a personal best 0:55.40, Holmgren taking fourth in the 500yd freestyle with 5:19.46, and Cui taking second in the 100yd breaststroke with 1:07.95. With a 15-point lead, Wittenbrink, Mortenson, Zebker and Tosky secured the nine-point win going into 400 yard freestyle placing second with 3:33.09.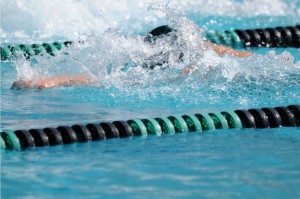 In girls' diving, Phoebe So ('14), took ninth scoring 288.55. Miller set a career high of 390.05 and Yee a personal best of 381.65.
"I feel so proud to be Paly Viking," Mortenson said. "We all put in our best efforts and came out with another championship."
The boys also started off with a clean victory in the 200 yard medley relay, with A team William Lee ('13), Byron Sanborn ('12), Andrew Liang ('13) and Charles Zhang ('12) swimming an all-american consideration time and new SCVAL record 1:35.69.  Sanborn kept up his strong performances, winning and setting a new SCVAL record in the 200 individual medley with 1:51.80 and breaking a 43-year old record in the 100yd breaststroke with 56:77.
Liang also shone in the freestyle events, winning the 50 yard freestyle with all-american consideration time of 0:20.93 (becoming the first Viking to drop under 21 seconds for the event) and upsetting a Saratoga Falcon by nine seconds to snatch the 500 yard freestyle win.
In boys' diving, Cole Plambeck ('13) took his third consecutive SCVAL win scoring 476.65, almost 180 points ahead of the Gunn's second place finisher.
"The boys showed their talent and strength from the first swim onward and never looked back," wrote coach Dye in his Palo Alto Swimming and Diving Blog. " They successfully defended their SCVAL title and now look forward to a strong CCS showing next week."
With CCS coming up next Friday and Saturday, May 11 and 12, many swimmers capitalized on strong finishes in Leagues to earn a higher seeding for the CCS championships.
Leave a Comment
About the Contributor
Hilda Huang, Business Manager
Hilda Huang is a senior and joined The Viking in her junior year because of her love for athletics. After serving as a copy editor her junior year, she...