2012 U.S. Olympic Swim Trials Wrap-up
For some, it's only 200 meters from across the pond.
Caitlin Leverenz and Ariana Kukors (the World and American Record holder) got all of the headlines when they took their berths to the 2012 London Olympics with first and second place finishes (2:10.22; 2:11.30) in the women's 200-meter IM finals at the 2012 U.S. London Olympic Swim Trials in Omaha, Nebr. However, it was how one high school graduate fared in the same race that captured the attention of her hometown, Palo Alto.
Swimming in lane one was Palo Alto High School's own Jasmine Tosky ('12), who swam her way to an impressive seventh place finish with a time of 2:14.67, a time that wasn't even her personal record for the event.
And that was just one of her races. Tosky had 12 nominations, more than Michael Phelps' nine, and ended up competing in six events at the Trials. She advanced past the qualifying round in four of them, which was highlighted by her aforementioned appearance in the 200 IM finals.  Tosky, however, believes she performed the best in another event.
"My best [race] was the 100-meter fly in the semi-finals, and even in the prelims," she said. "I was really happy with what I've done since I knew that was my very best, so that was the best event for me."
With a resume dotted with national and international achievements, Tosky blasted away former Olympic gold-medalist Misty Hyman's California Interscholastic Federation state record (and the oldest national women's high school record) of 52.41 seconds in the 100-yard fly with her own time of 51.92, putting her 19th in the state her junior year for all-time rankings according to TheSwimmersCircle.
During her senior year, Tosky broke even more records at the Central Coast Section (CCS) Championships, took gold in the 4×200-meter free relay at the 2011 World Championships, and culminated her season by qualifying for 12 events and swimming in six provisional entries at the 2012 U.S. Olympic Swim Trials.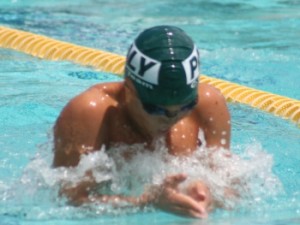 Her Palo Alto Stanford Aquatics (PASA) teammate and fellow Viking Byron Sanborn ('12) too stuck out an impressive finish in his only event at the Trials, the 200-meter breaststroke, with a time of 2:20.95. Even though he didn't qualify for the semi-finals, Sanborn was satisfied with how he did (he placed 87th).
"At a meet where [a] minority of about 30 percent actually get best times, I was only 0.2 seconds off of my best, which moved me up 45 spots in the rankings," Sanborn wrote earlier this week. "I would have liked to have been faster but it wasn't a bad swim."
Ironically, in a stark contrast from local and regional meets such as the CCS Championships held in Santa Clara, Calif., the 2012 Olympic Trials amounted to more than a televised spectacle of athlete-fish in America's swimming capital.
"There are two full-length long-course pools, the warm-up pool is on a raised stadium and the competition pool is in the center of a massive amphitheater," Sanborn wrote earlier this week.  "Finals have been an incredible spectacle every night, with laser shows, heart-pounding race finishes, a waterfall light display and pyrotechnics so massive you can feel it across the 50-meter pool."
The stadium fittings just add to the buzzing excitement and inspiration for the whole week, according to Sanborn and Tosky, and for many athletes it's their first time on the world stage.
"It's really important to see all these guys who have been part of the sport and the world stage for years, even decades," Sanborn said. "All of their experience adds up."
With a talent pool ranging from age-group swimmers as young as 14 to the champion veteran Dara Torres (who just qualified for her sixth Olympic Games at the age of 45), the stakes go up, and the pressure mounts. But nonetheless, it's still a meet, and preparation proceeds for the races in which there's often more to consider than just the water and the starting gun.
"The competition is faster, there's a lot more pressure, [but] I prepared for it the same way I would for any tapered, local meet like CCS," Sanborn said. "Most of the outrageous light shows and music happens at the finals, and since I wasn't seeded to make finals and I definitely didn't make it, my only swims were in the morning and there was a lot less craziness and pressure, but it was still a new arena which was pretty cool and exciting."
Being on TV is cool too, adds Tosky.
"Even though you might be nervous, it's really exciting and you know your audience can be at the meet with you," Tosky said.
TV is often illusory though. With so many swimmers in so many events, there is actually lots of down time, according to Sanborn.
"Since I only swam one event, there's an incredible amount of down time," he said. "[On top of workouts, warm-ups and races,] there's maybe another 60 or 70 percent of the time when we're just resting at the hotel. At CCS, it all happens in two afternoon sessions, where here you're spread over a whole week and a lot of time it's preparing, rather than racing."
But more importantly, on top of the races, the Olympic Trials is an event, an experience that only the most qualified American swimmers have the privilege of participating in. In this sprawling meet stretched out for over a week and featuring several hundred swimmers, it's easy to get lost among the dozens of races, time trials and qualification levels.
"In this meet you have qualifying rounds, semifinals and finals, and it was just a different atmosphere here for the biggest event of the year," Tosky said. "The stands were completely filled, and everyone, all of the Americans were cheering for you. I just try to focus on my race. I'm getting used to it; there have been Olympians swimming in the same race [as me in previous meets], but the only difference is that they're all here.  I thought it was really exciting to watch the 400-meter IM [finals] race because [Elizabeth] Beisel won it and I know her, and it was exciting – I was really just excited for her."
Sanborn adds that the elite competition (including dinner-table names like Michael Phelps, Ryan Lochte and Natalie Coughlin) has given participating in the Trials great weight as an accomplishment in any swimmer's career.
"I think Olympic Trials qualification is kind of a symbolic step for a lot of swimmer into the next stage of swimming," Sanborn said. "Having made the Trials before college is pretty awesome, and I'm really happy about that."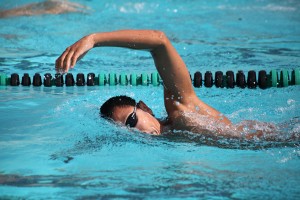 Paly's third swimmer can boast of his young age too. Andrew Liang ('14) took hold in the 100-meter fly, swimming in lane nine of heat six, and finishing 92nd with a time of 55.35 seconds. Liang, one of the youngest competitors at the trials at the tender age of 15, would merely be a sophomore in college for the 2016 Trials, and his potential has already grown to date.
"It was a good experience," Liang said. "It was my first Trials, and just having [my teammates from PASA] supporting me helped a lot."
These 2012 Trials are just the beginning of Liang, Tosky and Sanborn's careers.
Off to USC, Tosky's looking forward to the next four years, until the U.S. Olympic Trials rears its head again in 2016. Then, she'll be 22, still young and fresh out of college.
"Seventh [in the 200 IM] is really far away from first, but it's a start," Tosky said. "I just started training and it will be a new environment. I will be training under one of the best coaches in the world so it's a great opportunity and it will be really great in the long term."
Sanborn is headed to the East, to Princeton University, which, he says, despite its academic prowess, also has a great athletic program.
Liang will hold the floor for the Vikings next year as he hopes to lead the boys' swimming team to a CCS title.
"I'm proud, I guess, for representing our school," Liang said. "I'll set a good example for others to follow and hopefully they'll follow it."
Coming back as a junior, Liang will assume more responsibility on the team, but in the end, it is the speed that will set him apart. He was the first Viking to break 21 seconds in the 50-yard short course free, even though he competed in the 100-meter long course fly at the Trials (he did qualify for time trials in the 50-meter free).
"I bet just being an upperclassman next year means I'll help set an example in the league, and [head coach] Danny [Dye] might have more expectations out of me and build on that," Liang said. "I just have to keep working harder so next time around, I can hopefully do even better."
Both the boys' and girls' swim teams should feel solid going into the 2013 season, with Liang and other talented seniors like Alex Francis ('13) and Josh Oh ('13) carrying the boys' team. Jayna Wittenbrink ('14), Katrina Nguyen ('14) and Haley Mortenson ('13) have some of the strongest times on the girls' team, and hope to bring the girls' SCVAL win streak to 11.
The graduated senior has just one last thing to say to her hometown and those who rooted for her this past week.
"Thanks for the community, for Palo Alto, for checking up on us online or watching us on TV, and rooting for us and cheering us on," Tosky said. "We're pretty appreciative of it."
You can see Jasmine Tosky, Byron Sanborn and Andrew Liang's complete finishes and times at the Viking's liveblog. 
Leave a Comment
About the Contributor
Hilda Huang, Business Manager
Hilda Huang is a senior and joined The Viking in her junior year because of her love for athletics. After serving as a copy editor her junior year, she...