Coach of the Year 2013: Jamie Nesbitt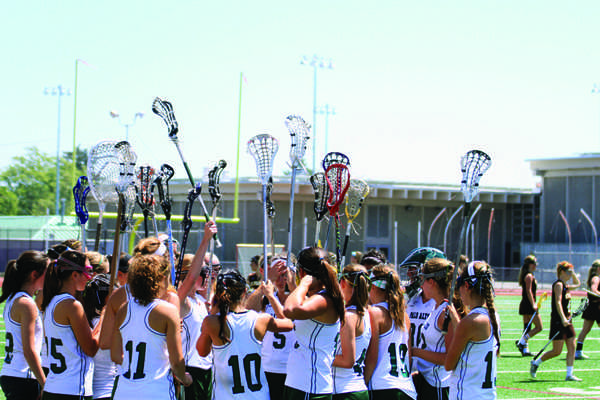 Just two years after the first varsity girls' lacrosse team was fielded at Paly, the Lady Vikes triumphed over St. Francis to win the Santa Clara Valley Athletic League (SCVAL) Championship, under the guidance of Jamie Nesbitt. Following that impressive season, Nesbitt was promoted from assistant coach to head coach.
Nesbitt attended Stanford University, where she played Division I lacrosse, before attending graduate school. Lacrosse has always been a dominant part of her life and after graduating Stanford in 2009, she was able to see the coaching side of the sport.
"It's evident that she loves the sport and that she's [a coach] because she loves it so much," varsity goalie Emma Beckstrom ('13) said.
Her love and passion for the sport is evident in her motivational coaching style.
"She maintains intensity but at the same time she wants to have fun and she wants us to, so she drives us to play not for the win but to have fun and through the fun we win," Beckstrom said.
Under the guidance of Nesbitt, the girls' lacrosse team has earned a winning record for the past three years, one of which ended in a SCVAL championship win.
The Viking is awarding Nesbitt the Coach of the Year award for her dedication to the lacrosse program, her unrelenting support for her players and her ability to inspire.
"She's inspired our team to push themselves beyond their limits," defender Olivia Cornfield ('13) said.
Nesbitt's unwavering faith in her team and goal-oriented leadership has driven the girls to strive for success.
"She doesn't settle for okay or alright, she wants us to continue working and learning and achieving greatness," Cornfield said.
In addition to her guidance on the field, Nesbitt provides support and friendship to the girls outside of lacrosse.
"She maintains a perfect balance between coaching and being a friend," midfielder Allie Peery ('15) said.
Nesbitt chaperoned Paly Prom this year and attends other events outside of practice such as team pasta feeds. An integral part of Nebsitt's coaching method is her emphasis on team building and chemistry, both on and off the field.
During practice Nesbitt runs exercises such as the 'buddy run,' which involves running sprints while holding a teammate's hand. The bonds between the girls that have been fostered through lacrosse translate to success on the field.
This year, under Nesbitt's leadership, the Lady Vikes have earned an impressive 13-0 league record, highlighted by a 13-12 win over rival St. Francis. However, the season ended with a heartbreaking loss when St. Francis took the SCVAL championship with an overtime win.
"Although the ending was not what [Jamie] wanted it to be, she was proud of how everyone left their heart on the field and played it out until the end," attacker Lauren Maltz ('13) said.
It is Nesbitt's positive outlook that keeps the girls going and moving forward.
"When she guides you, you can do anything," Cornfield said.
Although the girls' lacrosse team will be losing 13 seniors, there is hope for the future, because with Nesbitt's guidance, anything is possible.