Column: Both teams struggle in Paly-Gunn soccer game; Titans squeak out a tie
A disappointing tie between cross-town rivals, Palo Alto High School (6-2-2) and Gunn High School, resulted in a drudging game of soccer for both the Vikings and the Titans (1-5-5) on Friday afternoon at Paly.
Paly jumped out to an early charge when forward Skyler Felt ('13) was trampled in his attempt to score. This gave midfielder Mark Raftrey ('11) a chance to bury his strike into the net: Paly takes the lead 1-0.
Meanwhile, Gunn goalkeeper Paul Blanchette ('12) played pingpong with the Paly defense, kicking countless Hail Mary's in attempt to reach one of his teammates. Strong defensive play by the Vikings' Austin Smith ('11) and Gerrit van Zyll ('12) limited Gunn's offense to a mere two pathetic shots on goal. Paly keeper Kris Hoglund ('12) could've just sat on a lawn chair and sipped lemonade without any worries or sightings of the ball for the whole first half.
Just how the energy in a classroom dies when teachers begin their dull lectures, so did the game, Paly's defense remained outstanding, yet its offense just seemed to roll over to the numerous offside calls that Gunn's defense had managed to set up. The game turned sloppy, as Paly and Gunn finished the half with no momentum, no fight and no unity on either side.
Those who were expecting a change of pace in the second half were unfortunately disappointed, as the game remained as boring as one of those hour-long infomercials. The only thing that changed, however, was the referee: he learned how to blow his whistle. Both teams were saddled with a total of four yellow cards.
Tempers boiled and tension grew, maximizing the level of sloppiness. As time wound down to the final minutes, it seemed as if Paly would secure its win. It wouldn't be perfect, but at least it was a win, right? Wrong.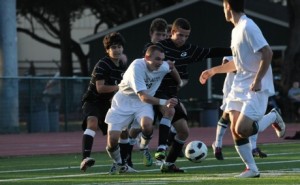 Gunn managed to see the sunny side of the messy play and in the last few minutes, a miracle occurred. As a spectator, I would have been more shocked to see Gunn score the way it did than if the soccer ball hit me square between the eyes and cured my cold. Gunn and Paly had continued their game of pingpong around midfield and, in two bounces, the ball soared to the head of Gunn forward Mason Naar ('11), who was able to bump it past Hoglund to finish the game in a 1-1 tie.
One thing about this game was for sure: both teams will be eager to forget this game and move on to the next one. Paly will face off against Los Gatos High School in an away game on Wednesday, Jan. 19 at 3:30 p.m. in Los Gatos.