The Palo Alto High School boys' soccer team tied Saratoga 0-0, marking its fifth tie in as many games.
The Vikings entered the game without midfielder Federico Clerici ('12), forward and keeper Kris Hoglund ('12), defender Ricky Minno ('11) and forward Zac Hummel ('11).
Hoglund, who assumed a portion of the goalie duty this year, broke his leg in the Vikings' last game against Mountain View while playing keeper. His injury will keep him sidelined for the rest of the season, which will hurt the Vikings' depth at the goalkeeper position.
"We really want him back," midfielder James Maa ('12) said. "He was a good goalie. Even though he did not have much experience, he played like he had a lot of experience."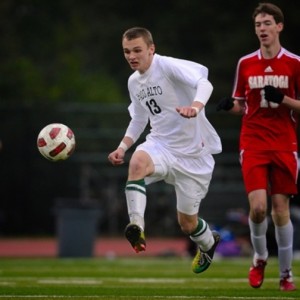 Despite numerous injuries and the second half ejection of midfielder Tony Panayides ('11), the Vikings seemed to have the upper hand, controlling the ball for a majority of the game. The tie came as a surprise to many of the Vikings, who felt confident after a 4-1 victory in the two teams' last meeting.
"We should have won; we beat them 4-1 last time," Panayides said. "It was kind of embarrassing to tie them."
Saratoga, although outplayed by the Vikings, managed to keep Paly off of the scoreboard. Though Paly's Panayides, John Richardson ('11), Mark Raftery ('11) and Skyler Felt ('13) came close to scoring, none could capitalize on their opportunities.
Play began to get quite physical in the second half, with Paly principal Phil Winston even commenting on the contact. After being taken to the ground a few times earlier in the game, Panayides was knocked down near the Saratoga goal, igniting a roar of astonishment from the crowd over the no call.
"It just started off negatively between us [Panayides and the referees] in the first half, because I was getting on him about his calls, and I probably shouldn't have been," Panayides said. "I felt he needed to hear what I had to say. Then in the second half, there was a misunderstanding between us when I used the word 'joke,' and he thought I was referring to him, so he gave me another yellow."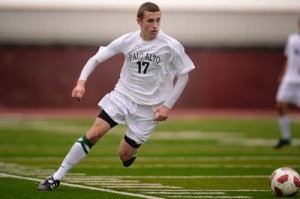 After Panayides' ejection, the Vikings continued to lack offensive opportunities.
"We had some trouble getting forward during the game and helping out Skyler and our other guys up top," midfielder Josh Totte ('14) said. "At the end they had five backs and it was like five [against] two, and we just couldn't penetrate and finish."
Added Maa, "We underestimated them. It's really disappointing [to lose] because we are usually a high scoring team. We usually beat teams like Saratoga."
The Vikings will look to snap their tying streak at 3:30 p.m. on Wednesday against Santa Clara High School at home.