Girls' basketball blows by Gunn on Quad Night 65-49
Peter Dennis and Jacob Lauing, Columnist and Business Manager
January 11, 2012
The Palo Alto High School girls' basketball team defeated Gunn High School, 65-49 in the third game of Quad Night at home.
Paly (10-2 overall, 3-0 SCVAL) was led by Emilee Osagiede ('12) and her 24 points, while Stephanie Allen ('13) and Josie Butler ('13) both chipped in nine each. The Titans (6-5, 0-2) were led by Cat Perez's ('12) 12 points, and six apiece from Claire Klausner ('13), Emily Redfield ('13) and Hannah Riley ('12).
The Lady Vikes started off the game strong, jumping out to an 8-2 lead with hoops from Lindsay Black ('12) and Butler. Klausner broke the Paly run, but Paly held its lead with solid points in the paint.
Paly controlled the rock with under a minute left after a Sam Borsos ('12) rebound. Butler was fouled on the ensuing possession, and made both free throws. On the last possession of the quarter, Paige Ogawa ('15) hit a floater in the lane as time expired. Paly entered the first break up 20-15.
Gunn started off the second quarter with a three from Riley, and immediately following a botched Paly inbound, scored again, tying the game at 20 apiece with 6:53 left in the half. Paly regained its lead with an Osagiede layup.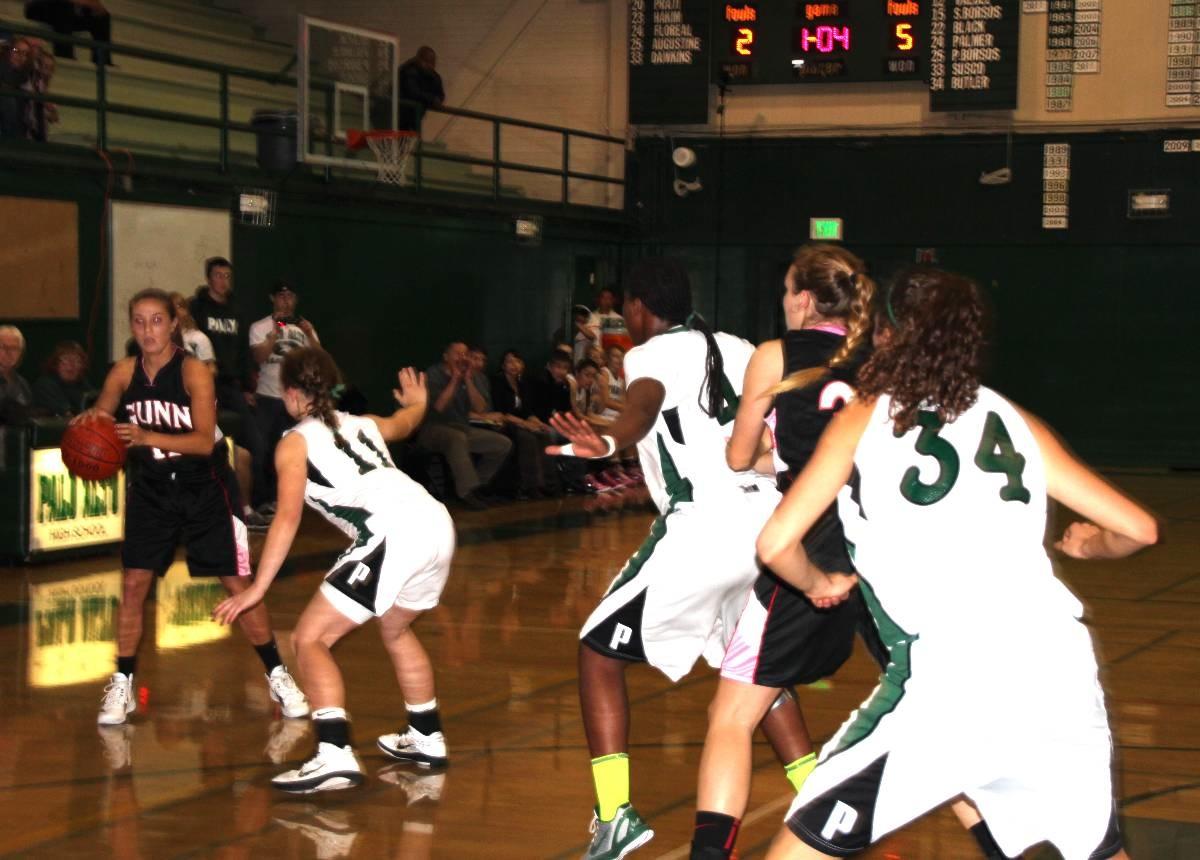 The teams traded baskets until Osagiede momentarily took over, scoring Paly's next four points, two free throws and a breakaway layup, ratcheting the Lady Vikes' lead to 28-22. Paly was able to command the game after gaining the bonus near the five minute mark. Later, Butler was fouled on an and-one to put Paly up nine, but missed the free throw.
Two free throws from Annie Susco ('13) gave the Vikings their first double digit lead, by the score of 33-22, but a three from the Titan's Nora Shevick ('13) cut the score to 33-25. Allen immediately responded with a pull-up three at the top of the key on the next possession, but picked up her second foul in transition, and was pulled.
Paly's fast breaks helped pad their lead, with Black assisting Borsos on a breakaway and Borsos hitting a key three pointer. Susco's floater with four seconds left ended the half by the score of 43-29.
Again, Gunn started the half off scoring first, with Julia Maggioncalda ('12) putting in the layup. Paly was able to calm down, slash through the key and draw fouls, as the Titans picked up three quick team fouls within two minutes of the half starting. Allen blew by her defender to increase Paly's lead to 18, 49-31.
Paly also capitalized on Gunn turnovers, en route to a 12-0 run to start the half (after the initial layup). Gunn called a timeout and Riley immediately hit a three to stop the bleeding. Allen picked up her third foul with 2:18 left and again was pulled. Regardless, Osagiede drew a foul in the paint, and finished the basket, but was unable to sink the free throw, leaving Paly up 57-34, which would be the score after three quarters.
The fourth and final quarter was simply a matter of killing time, as the Lady Vikes' guards kept the ball in the back court for as long as possible, until Gunn was forced to foul. But Paly's lead was too great and the Vikings defeated their crosstown rivals 65-49.
Black was happy with their play and has a good feeling on the rest of their season.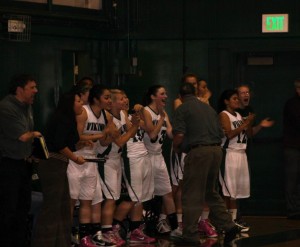 "I think we played great," Black said. "It felt great to beat Gunn by 20 points, it felt really good…. I hope to win league. I would like to go undefeated like we did last year, but this year, I might be disappointed, because people are out to get us. And they gotta catch us slipping to kill us."
Paly, undefeated in league play so far, next travels to Wilcox High School on Friday at 6:15 p.m.