Boys' hoops grab 20th straight in decisive victory over Gatos
"It is what it is" Aubrey Dawkins ('13) said on his feelings about Friday night being his last home game with The Vikings.
Dawkins led his team in scoring, dropping 18 points and grabbing 11 boards to help rally his team from a three point, first quarter deficit to a dominant 70-43 victory over the visiting Los Gatos Wildcats.
As special as it was to win one last game for the seniors on their home court, this victory also marked the boys' 20th straight win this season, as they close out their season and ready up for a playoff run.
The team came slow, as a lack of stout defense, allowed the Wildcats to drain 3-pointers, putting up 20 points in the first quarter.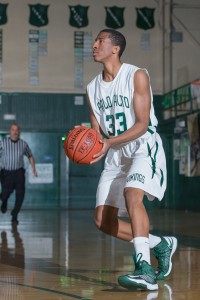 "I think our team played great we came out a little slow, we let up 20 [in the first quarter] and thats not who we are" Aldis Petriceks ('13) said "I think we're a very good defensive team".
While the Vikings defense took a while to start rolling, the offense matched Gatos' 20 first quarter points, with 17 of its own.
Sparked by Scotty Peery ('13), who had the Viking's first points of the game off a three point shot, Eilon Tzur ('13), Peery, Petriceks and Dawkins, who made five of six free throws all contributed to keeping the Vikes in the game.
It would be lights out for Paly, following the first quarter as the Vikings outscored the Wildcats 23-10, to put Palo Alto on top, 40-30 at the end of the first half.
From that point on the Vikings took control through strong play from Dawkins and Peery, who ended the game with 20 and 12 points respectively, as Palo Alto went on to outscore Los Gatos in second half play, 30-13.
Head coach Adam Sax, was proud of his senior boys for exhibiting resilience and rallying the team to a beatdown of the rivaling Wildcats.
"I think we wanted to go out and play hard for them [tonight], all six of the seniors". Sax said. "All year they have been great, coming to almost every practice, playing very hard, and i think that really gelled tonight, it was nice to see them go out with a win like this".
Petriceks,was pleased with the team's win, but not so emotional when it came to the thought that tonight was their last game played in the Paly gym.
"I try not to think about the whole sentimental aspect of the game, but you know how it is, it was pretty cool to go out with a big win like that" Aldis said."It was awesome playing one last game at Paly with my fellow seniors"
The boys' are scheduled to play crosstown rival, Gunn, tomorrow night at the  Titans' gym, Saturday night at 5:30 p.m. as they come down to the last two games of the regular season.