Girls' basketball falls to Lincoln in NorCals, 56-34
As the saying goes, "all good things come to an end." This stands true for the Palo Alto High School Girl's varsity basketball team, which ended its first Central Coast Section championship season in school history with a loss to Lincoln High School, 56-34, in the second round of the Northern California tournament on Thursday night.
Despite the loss, Paly head coach Scott Peters realizes the strides his team has made this season.
"I'm happy with our effort," he said.
Lincoln set the tone of the game from the start. The Lady Vikes struggled offensively early, and the usually solid Lady Vike defense could not contain Lincoln's speedy layups. With Paly unable to convert key baskets, Lincoln was on top 15-5 at the end of the first quarter.
Lincoln's game plan was straightforward and effective, according to guard Nyre Harris ('12).
"Our plan was to get points off of free throws and drives to the basket," Harris said.
The second quarter showed promise for the Lady Vikes: a steal by Josie Butler ('13) was passed off to Emilee Osagiede ('12) for a shot, and Lindsay Black ('12) and Sydney Davis ('11) added two points each. This comeback brought Paly within three points of tying the score, but Lincoln would not be contained. Lincoln came storming back, with Harris and Teylor McMiller ('12) both scoring points. By the end of the first half, Paly continued to trail Lincoln 26-14.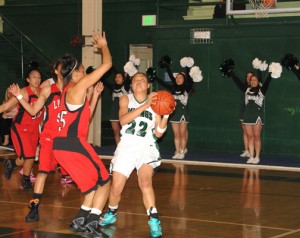 At halftime, Paly head coach Scott Peters noticed his team's unusual offensive mindset.
"The turning point was [when] we didn't stay as calm on offense and we didn't get up shots," Peters said.
The second half saw more of a spark in the game plan of the Lady Vikes. Davis had a steal early on which set the Paly defense into their classic rhythm of shutting out baskets. Osagiede helped the team on both sides of the ball. She racked up four more points with a foul shot and three-pointer, making the score 26-18 before blocking a Lincoln layup attempt. Two more field goals from Black and Katerina Peterson ('11) made the score 28-22. A couple of badly timed Paly turnovers led to more Lincoln scoring opportunities, but Osagiede added still more points to the board, and the third quarter ended with Lincoln still leading 33-25.
Fresh fire from the Vikings came at the start of the fourth quarter, when Osagiede was fouled and scored both free throws. A foul on Black resulted in Osagiede putting up two more points, nearly tying the score at 33-29. But Alysa Valentine ('12), who had multiple three-pointers throughout the game, successfully scored a layup and re-vamped the Lincoln offense. From then on, multiple Paly penalties plus successful Lincoln scoring opportunities led the Trojans to a victory over the Vikings.
Peters credited Lincoln's explosive offense and recognized the severe challenge it was for his usually consistent defense.
"They took us out of our rhythm," Peters said. "All year long we've been relying on our defense and they hurt us with their offense. "
Osagiede, who had 17 points on the night, is sad to end the season. She has bonded with her teammates since October when they began practicing together during preseason.
"I'm sad to see it end because I got so close to my team," Osagiede said. "We're a family."
Peters also feels sentimental, especially when he thinks about losing the Class of 2011.
"They [the seniors] have been total team players," Peters said. "We kept our class and played physical and that's a great way to end for our seniors."
Prior to the game, Paly player Lindsay Black sang the National Anthem.  Here's the video:
About the Contributors
Shannon Scheel, Staff Writer
Shannon is a senior at Paly and a Viking staff writer for the 2011-2012 school year. She was co captain of the varsity water polo team and participates...
Mira Ahmad, Staff Writer
Mira is a junior at Paly. She plays varsity soccer and joined The Viking staff at the beginning of the 2010-2011 school year. In her free time, Mira enjoys...