No "I" in team (or Sacramento)
In 1849, Sacramento was not a state capital. California wasn't even a state. At this point in time, Native Americans inhabited America's wilderness and gold miners were exclaiming "Eureka!" at the tops of their lungs. (I apologize for that extended amount of background, but being the history buff that I am, I pride myself in my historical accuracy. Mr. Bungarden, I hope I made you proud there, man.) But, readers, we live in 2011. And this past weekend, I didn't experience sports on the field or in the pool. Instead, a group of The Viking's staff took on our state's capital to investigate the writing part of the sports writing world.
Our journey enlightened us on certain travel pointers, including but not limited to: don't take a train all the way PAST your hometown and then backtrack, watch out for any naturally placed logs, take preliminary precautions before escaping up to the top floor balcony of your hotel, and bulk candy priced by weight DOES add up (I happened to buy $23 worth of saltwater taffy). While these are all incredibly helpful tips that we will cherish the rest of our lives, the real purpose of our trip to good ol' Sactown was to participate in the JEANC, or Journalism Education Association of Northern California's conference. Ms. Austin had assigned our Editor-in-Chief Nathan Norimoto ('12) and Managing Editor Mira Ahmad ('12) to compile a power point presentation on how to cover a championship season, and the rest of the staff tagged along to chime in on various slides.
Fresh out of our critique from the evening before, our staff entered the conference room ready to bring it. (The critique was actually incredibly helpful – ever notice how many times we mention "Paly" in our magazine? Well I didn't until this weekend…definitely going to keep an eye out from now on.) According to Ms. Austin, we rocked our session. In fact, we did such a superb job that she decided to have us present at 1:30 in her place. We had an hour and a half to write a brand new power point…need a sports metaphor? Talk about curveballs!
After the initial sense of panic wore off, the group of us pulled up chairs at the convention center's Starbucks (so convenient) and, without much discussion, we put our noses to the grindstone. Sam Borsos ('12) was spewing out feature writing tips at lightning speed while Paige Borsos ('12) expressed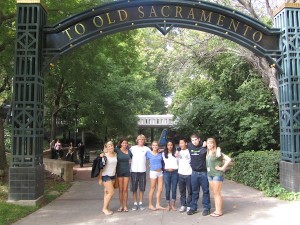 her knowledge on photography with eloquence. Nathan and Mira each contributed their best knowledge as well, and I added to the column writing aspect of the presentation. Honestly, I was so shocked. I had seen all of these people perform outstanding feats on their respective Paly sports teams, but it hadn't dawned on me until this precise moment what a team effort Viking truly is. Just as each of us has a unique role on our sports teams, we each bring something to the table to create a well-rounded and balanced staff team.
After our 1:30 presentation, while we scurried back to the train station using about 18 different modes of public transportation, I couldn't help being pensive. I now knew that teams do exist outside of sports. People who share a similar passion (in this case, sports and writing) and depend on each other's creativity function like teams, fueled by a common energy. This doesn't only occur on The Viking staff, but all the other publications present at the convention as well. Creative power and a passion for journalism motivates each staff to produce purposeful publications, each with a unique message. It is safe to say that this past weekend, aside from the extensive amount of unhealthy food and laughs, I fully was able to understand the real definition of a team.
So, readers, whatever team you play for, play hard. Because your talents are valued.
Until next time…Scheel is out.
Leave a Comment