The Palo Alto Viking's football team dropped a 52-35 decision to the Serra High School Padres in the first round of the Central Coast Section Open Division Playoffs Friday night at Hod Ray Field.
Paly struck first, late in the first quarter with quarterback Keller Chryst ('14) connecting with running back Matt Tolbert ('13) on a 27 yard pass for a touchdown. Serra responded soon after, with a touchdown of its own, but failed to cash in on the two point conversion, leaving the game at 7-6 in favor of the Vikings.
Chryst scored his second touchdown of the night on a quarterback keeper for a two yard rush into the endzone, putting his Vikings up, 14-6. The Padres once again countered, tying up the game at 14 after a touchdown and two point conversion on the ground.
With 7:50 left in the half, Serra made it a seven point game, jumping on top, 21-14 with another rushing touchdown on a long drive. Padre running back Eric Redwood ('13) compiled well over 100 yards on the ground and multiple touchdowns on the night. Defensive back Andrew Frick ('14) and the rest of the Paly defense kept up throughout the night, but struggled at times.
"They got a really fast paced offense and we did everything we could to stop it but we just couldn't keep up," Frick said. "They ran hard and we gave everything we had, but it just wasn't enough"
The Vikings put up back-to-back touchdowns before the half, the first coming an 85-yard touchdown run by Tolbert off a broken screen play. The second, a 25-yard touchdown from Chryst to his tight end De'Antay Williams ('13), who broke multiple tackles and rumbled into the endzone for six points. The efforts however were matched by Serra in the final minute of the half, who tied the game at 28, heading into the half.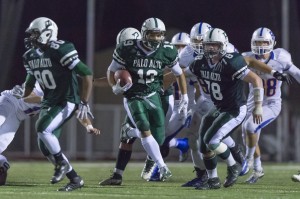 Serra took the lead back with a 35-yard field goal in the third quarter, but the chance for a Viking comeback was broken after two successive Padre touchdowns.
The second half saw zero Paly touchdowns until the last two minutes of the game when
Chryst scrambled out of the pocket to hit paydirt on a 10-yard rush.
In all that time Serra's offense rolled, as Paly's faced constant three and outs and stalled drives. Serra piled up yards through via a talented run game and pinned 24 unanswered points on Palo Alto until the final minutes when the Padres were sitting on a comfortable 52-28 lead.
Despite 14 graduating seniors, the Vikings will have plenty of talent in Chryst, Frick, and the rest of their class.
"I think we had a great season, we gave it all we had in every single game and almost won all of them," Frick said.  "We could have gone great ways but we had one little messup but it was a great season and I'm proud of all my brothers."