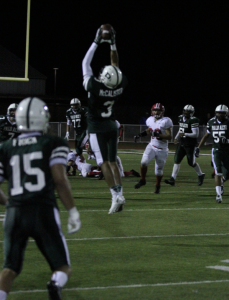 Kicking off its season in the newly constructed Viking Stadium, the Palo Alto High School football team defeated San Benito, 28-7.
The grand opening was celebrated with ribbon cutting, carrying of the American flag, fireworks and a coin toss by 49ers head coach Jim Harbaugh.
 The Vikings started the game off strong after recovering a fumble from the Haybalers at their 20 yard line. Able to capatilize on the turnover, quarterback Keller Chryst ('14) then found Andrew Frick ('14) in the endzone for the first Viking touchdown of the night.
 On the ensuing drive, the Viking defense prevented the Haybalers from scoring.The team's high powered offense was highlighted by multiple connections between Chryst and wide receivers Keesean Johnson ('14) and Malcolm Davis ('14).
Starting the second quarter, Chryst would then connect with Davis for a 70 yard touchdown pass, putting the Vikings up 14-0.
 As the Viking defense pressured the Haybalers further into the quarter, San Benito coughed up another fumble that was recovered by Paly's defensive end, Justin Rittman ('14).
In the red zone, Frick then rushed for a four yard gain to record his second touchdown of the night. Matthew Fogarty ('14) made the extra point, putting the Vikings ahead 21-0 with 6:35 left in the half.
Paly held its lead through the third quarter of the game. Chryst handed the ball off to tight end Marcus Brown (14′) for a rushing touchdown, furthering widening the Vikings' lead, 28-0.
As San Benito started to gain momentum in a series of first downs late in the fourth quarter, a Connor Scheel ('14) interception the Viking's end zone, halted the Haybaler's drive, keeping the score at 28-0.
The Vikings couldn't shut out the Haybalers completely however as San Benito managed to punch in its only touchdown of the night with 1:23 left in the game, resulting in a score of 28-7.
Head coach attests that the Vikings had an advantage of having a bye last week which gave them a chance to watch San Benito film and have more practices to prepare.
"[The bye] gave us another week to mature," Hansen said, "which is very important for this team."
Despite the win, Hansen still saw room for improvement for his Viking squad as they prepare to take on Archbishop Mitty.
"We have to be more intense and better all the way around," Hansen said. "We can't make any of the dumb mistakes we made against a better team. Mitty will be a better team."
Next Friday, the Vikings will travel to Foothill College where they will take on the Archbishop Mitty Monarchs at 7:30.