Palo Alto High School Male Athlete of the Year: Joc Pederson
It is hard to find a good thing to say about a 35-13 loss. Taking a beating in their second game on September 19, 2009 after their 48-21 win over Burlingame a week earlier, the players on the Palo Alto High School varsity football team walked off the field with their heads down after their loss against Archbishop Mitty. The Vikings threw three interceptions to the Monarchs' zero, were outrushed by 260 yards and the Monarchs landed in the end zone three more times than the Vikings did. Joc Pederson ('10), however, kept Paly in the game. After sitting on the bench for the first half of the game, he put the Vikings on the board in the third quarter after receiving a 50-yard pass from quarterback Christoph Bono ('11). He added six more points to the Vikings' total in the fourth quarter with a 60-yard pass from Bono. Similarly, in the Vikings' 34-6 loss against Bellarmine in the first round of Central Coast Section (CCS) playoffs, Pederson kept his team's hopes alive with a 44-yard touchdown in the second quarter.
On the flip side, Pederson also carries his team when things are going well. The Paly varsity baseball team (26-3, 15-1), which is coming into the CCS playoffs as the number one seed in Division II, had to win one out of its two games against Los Gatos to clinch the league title. Paly won both; Pederson contributed six runs out of the 22 that the Vikings scored against Los Gatos in both games and hit two home runs in the two game series. Pederson, with his enormous skill set and even greater dedication to improving his game, has come to be known as the face of Paly athletics. For his numerous achievements on both the football and baseball field, The Viking has named Joc Pederson male athlete of the year.
Pederson's accomplishments throughout his four years on the varsity baseball team as well his success on NorCal Baseball, his club team that he has played on since eighth grade, have qualified him for an opportunity to play professional baseball. Scouts from every single team in Major League Baseball come to watch Pederson during games as well as during batting practice.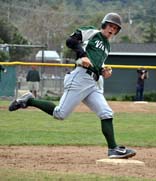 "There's been a scout at every single game," Joc Pederson ('10) said. "The number ranges from one to twenty five. Every game we play on Monday there are twenty to thirty but when we play on Fridays, when college teams have games, they have to scout the college players so there's only like two or three. They even come to our preseason games."
Despite the enormous amount of pressure to perform well in front of the scouts, Pederson finds that it does not distract him during the game.
"It doesn't really affect me," Pederson said. "I don't really get to see that many good pitches, I usually see a lot of curve balls or change ups."
Paly's first year varsity baseball head coach, Erick Raich, commends Pederson on his ability to stay focused and collective despite the critical eye of the scouts.
"I really have to give Joc credit on how well he has handled all of the scouts being at our game this year," Raich said. "For him to be scrutinized on everything he does on the field and then perform the way he has is a true testament to him."
Pederson, who plays center field and leads off for the Vikings, currently leads the team in runs, home runs, steals and has the highest on base percentage as well as the highest slugging percentage on the team.
Looking beyond the statistics, Pederson's biggest job during games is setting the tone for the rest of the team right at the get go.
"Joc's main role on the team is our lead off hitter and center fielder," Raich said. "Having him in the lead off spot really sets the tone for our team offensively. He is our catalyst and when he gets on base the rest of our offense rolls right behind him."
However, his greatest contribution to the team does not come from the runs he puts on the board, but the positive energy and motivation he exudes to his teammates.
"He brings great leadership qualities to the baseball team and keeps everyone loose all the time," teammate and shortstop Scott Witte ('10) said. "He knows when he needs to be serious and when it's okay to have fun."
Pederson put up equally impressive numbers on the Paly football team this year. He led the team with 30 receptions for 650 yards. Witte, who also plays football with Pederson, attributes his success in football to his raw athletic ability.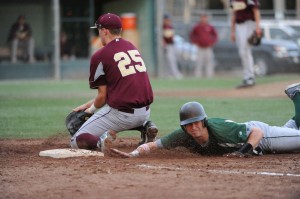 "He's just naturally gifted," Witte said. "No one can lock him down at receiver and he can shut down anyone at cornerback. He could probably start at quarterback for half the teams in our league if he wanted to."
The key factor that sets Pederson apart from the rest of the athletes in the Palo Alto community is his dedication to his sport. He takes batting practice at lunch every day that he has a game and spends an estimated 35 hours a week working out.
"His work ethic is unmatched," Witte said. "No one at Paly even comes close to how hard he works at sports. He knows that he's going to have a career in baseball and he knows how much it takes to get to where he wants to be."
His hard work and devotion to his sport have advanced him to the next level of play; Pederson committed to play baseball at the University of Southern California (USC) in August of 2009. Pederson had been interested in USC since he was a little kid and feels that it will be a great match for him.
"[USC] has been my favorite college since I was younger and they offered me a good scholarship," Pederson said. "I felt the most comfortable with the coaches. It was my dream school."
Pederson also held interest in playing football in college, a decision that he and his family took into consideration when deciding between different colleges. Pederson, however, will not be playing football at USC.
"I'm not going to walk on at USC," Pederson said. "If I would have gone to Oregon or Oregon State I probably would've played both, but at USC, their football is too good. Oregon runs an offense that has six wide receivers and USC runs one that has two and USC has the number one and number two rated wide receivers coming in as freshmen this year, so that's how I made my decision to just focus on baseball."
Another decision that Pederson is now faced with is whether to forego college altogether and go straight to the major leagues or pursue a collegiate career at USC. Pederson must attend professional workouts on June 1 and 2 this summer to see if he will be drafted on the 7 through 9 of June. If he does in fact get drafted, Pederson sees a lot of benefits by going straight to the majors, however, he would miss the college life he would be giving up.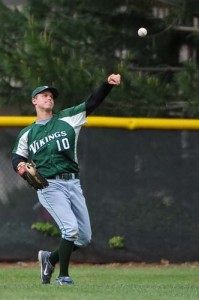 "A pro would be that I would get a lot better," Pederson said. "I would get to play every day and I would be in the line-up every day no matter what if I went pro. But if I missed college I would miss the college atmosphere and all the life that encompasses that, like all the hot girls at USC. But if I want to live out my dream there are a lot more pros to playing professionally straight out of high school rather than out of college. But I wouldn't be mad if I went to college first because it would be a great experience so it's nothing to look down upon."
Whatever decision Pederson makes, whether he goes straight to the big leagues out of high school or plays college ball, he has a bright future ahead of him. Pederson's commitment and enthusiasm for both baseball and football has engrained a solid sense of worth ethic in both programs and his performance on the field has gained him national attention.
"I expect Joc to be sending me gear weekly from whatever pro baseball team he eventually signs with," Witte said. "He has incredible potential and he's going to be successful not just because of his natural talent, but because of his passion for baseball."
Raich holds a similar view, commenting that his dedication is what will ultimately get him to the next level.
"The sky is the limit for Joc and the future," Raich said. "He has all of the ability to play professional baseball and even Major League Baseball. As long as he continues to work to get better everyday I don't see why he wouldn't make it. He is by far the best high school player I have ever coached, but at the next level everyone is extremely good and the players who continue to stay at it and work everyday at getting better are the one's who ultimately make it."
Leave a Comment
About the Contributor
Gracie Marshall, Multimedia Editor
Gracie is a Managing Editor on the Viking Staff. She plays varsity softball and soccer and will be continuing her softball career at Tufts University next...