The Pac-Anticlimactic
Sometimes I get ashamed for living in California. Mind you, that's not very often, what with our low 60's weather in the winter (and we complain for every degree of it), lack of obnoxious accents, sweet catch phrase "West Coast/Best Coast," and just general awesomeness, but still, with our premier collegiate athletic conference looking the way it is right now, I sometimes force myself to root for college basketball teams on the (gasp) East Coast.
How is it that not one team in the Pac-12 is in the top 38 (including the "others receiving votes" section no one ever reads")? Let's look at this for a second. Even Iona got more votes than any Pac-12 team (2). No one even knows who Iona is, much less their mascot (the Gaels), where it is (New Rochelle, NY) or what conference they play in (MAAC).
When your conference's perennial contender, UCLA, is ranked 6th in conference, you've got major problems. Not to mention that two of their nine losses came against, dare I say it, Loyola Marymount and Middle Tennessee. And they lost by 20 to Middle Tennessee. 20. AND they let one Reeves Nelson, who not to long ago was featured on the cover of Sports Illustrated, go, because of "differences with the coach." Whatever that means.
Or the current conference leader, that being Cal, who has already lost to Washington State. Yeah, that same Washington State that's barely over .500 overall and clearly below that threshold in-conference (3-6).
(This isn't to say that both UCLA and Cal aren't terrific schools. I mention this because UC admission decisions don't come out until mid to late March, according to all of the portal/account-thingys I've had to sign up for these past few months, and some of this may be misconstrued into disliking towards these schools which it (mostly) isn't. Keep that in mind admission officers.)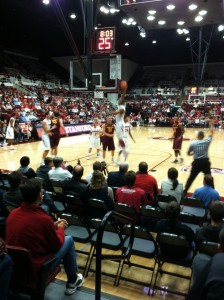 Ok, yes you've got the occasional flirting with upsettery. Yes, Stanford nearly upset then-#1 Syracuse in Madison Square Garden, and yes that would have been simply lovely. But alas, it just wasn't in the Cards. (Pun somewhat intended.)
But to make one's head spin even further, my intense researching (imagine the Wikipedia game, except with links to college team's schedules within ESPN.com) shows me that TCU screws up this entire picture. They were able to come away with a win against Virginia, who is now ranked 16th, but somehow able to lose to USC, who is just 1-8 against its Pac-12 foes. It should also be mentioned that their ranking at 12 is below even that of Utah, the rookie in the conference, which just announced it dismissed its leading scorer, Josh "Jiggy" Watkins (sick nickname, Jiggy is). While you may (or may not, because you probably haven't looked into this as in depth as I have) say that oh! USC's lone win came against Utah, I would then counter with the fact that 1) USC is horrible and no one likes them anyways and 2) Utah was able to scrape away wins against Washington State and Arizona State.
Needless to say, if your conference's bottom team beat the second to last team, which beat the third and fourth to last teams, it just becomes one jumbled mess and all you come up with once it comes out the other end is one big question mark. Which again, makes me continue this love/hate relationship I have with my beloved Pac-12.