The Paly volleyball team (28-6) made quick work of the Sequoia Cherokees (22-7) Saturday night at Paly, rolling in three straight sets, 25-22, 25-11, 25-20. The match lasted a mere 72 minutes.
Paly hasn't lost a playoff match in two years and extended its postseason win streak to 13 matches.
With the win, the top seeded Lady Vikes advance to the semifinals of the Division I Central Coast Section (CCS) tournament where they will face the fourth seeded Homestead Mustangs (21-8) who defeated the fifth seed Carlmont (18-14) in straight sets Saturday.
The Cherokees, on the other hand, saw their season come to a close. After beating the eighth seeded Gunn High School Titans (16-17) Nov. 7 in four tight sets, Sequoia failed to upset Paly and was subsequently eliminated from the tournament.
"A win in the playoffs is always good, it doesn't matter how," Paly head coach Dave Winn said after the match. "We played a good opponent. Sequoia was well coached and they came out ready to play."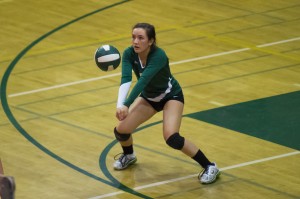 Sequoia jumped out to a quick 5-2 lead early thanks to various unforced errors that plagued the Vikings in the opening set.  After two kills by outside hitter Shelby Knowles ('13) and a roof by middle blockers Lauren Kerr ('14) and Jade Schoenberger ('15), Paly took its first lead of the match, 7-6.
Just when Paly began pulling away, however, the errors resurfaced. After the Cherokees' Natalie Harden ('13) blasted two kills past the Paly defense, libero Keri Gee ('14) and Knowles each committed an unforced error, allowing Sequoia to regain the lead, 19-18.
It was all Paly from there, however, as Paly limited its errors and won seven of the remaining nine points to take the first set 25-22.
Winn attributed the slow start to the many errors his girls committed.
"As soon as we stopped making unforced errors and we made them have to work for points we started doing well," he said.  "When we make unforced errors, anybody can beat us, so we're going to have to work on that because the opponent we're going to play on Wednesday is going to be even stronger."
Knowles, who sliced two cut shot winners at the end of the first game, echoed what Winn had to say.
"It was all about putting balls in," she said. "I think we were a little too aggressive at the beginning, which was unnecessary. The key was just putting our shots in the court and not trying to place them in certain areas."
Knowles and her teammates did just that in the second game, trouncing the Cherokees in a nearly error-free 25-11 victory.
"I thought the second set was like we should play: Nice and clean," Winn pronounced.
The third set was more competitive.  Like the first, the third set was marked by countless unforced errors by the Vikes. Two net violations in three points gave the Cherokees late life in the set and made the score 21-18.  But Paly's defense was too much as back-to-back blocks by Kerr and Schoenberger put the Vikes up 23-20.
After a Sequoia timeout, Knowles fired an ace that dropped in the middle of the court to make the score 24-20. On match point the Cherokees, who were playing to continue their season, mishandled a Knowles hit, sealing the set and match for the Vikes.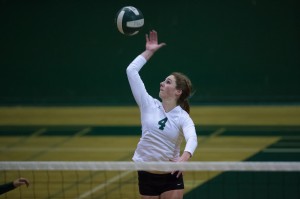 Knowles, one of the team's two captains along with setter Sophia Bono ('13), was very satisfied with the outcome.
"I thought we performed really well," she said. "One of the keys to this match was coming out really strong because we knew Sequoia's a good team and was going to come out strong and had a lot of good hitters.  I thought we served really well.  We struggled a little bit at the beginning of the match keeping the ball in play but that got better throughout the match."
The Vikings need just one more victory to reach the CCS finals, but Knowles isn't thinking about winning Paly's third CCS title in as many years just yet.
"All we're doing now is looking one game at a time," she said. "We're not focusing on CCS championships or anything, only on the next match."
Paly looks to do just that and continue its postseason dominance in the semifinals this Wednesday when it takes on Homestead, a team the Vikings have defeated in each of their three meetings this season. Winn offered his thoughts on his team's upcoming matchup.
"We've beaten [Homestead] three times this year, which makes me really nervous because it's really hard to beat a good team four times in one season," he said. "If you're in the semifinals of CCS you're going to face someone good and hopefully we come out on top."
Paly and Homestead will battle it out for a CCS final berth at Santa Clara High School at 7:30 p.m.
Paly Volleyball Team Box Score 
CCS Quarterfinals: #9 Sequoia vs #1 Paly
(Nov. 10, 2012 at Palo Alto High School)