Earning their stripes
Coming into the fourth quarter down 9-7 to the league-leading Mountain View Spartans, the Paly boys' water polo team was on the verge of working its way back into a close game on Sept. 18. The Vikings scored to make the score 9-8 in the last few minutes, cutting the Spartan lead to one.
The two teams would continue to battle as the clock wound down to the last minute of the game. As they tried to win possession of the ball, a penalty was called on the Vikings, giving the Spartans a penalty shot and the opportunity to widen their lead.
Outraged, the Vikings watched as Mountain View took advantage of the opportunity and scored to win 10-8. Many of the Paly players attributed the close loss to the official's call.
"It's a rule that as a foul shot, the player has to have one swift motion so the goalie is not thrown off, because that'd just be unfair," varsity water polo player Omri Newman ('14) said. "Mountain View got a foul, the player hesitated and then shot and he, of course, scored. My teammates and I were just really angry at how the refs didn't call it and honestly, we could have won if that hadn't happened."
Newman's experience is representative of many Paly athletes who feel that certain referees have robbed their teams of victory.
Athletes at all levels have complaints regarding the officiating. Evidently, officials aren't perfect, and both sides cannot always get favorable calls. It is natural for players, fans and coaches to question decisions that go against them.
"Throughout the whole game there were calls that went against us that pretty much screwed our team over," Newman said. "[Referees] were just calling stuff on us and didn't call anything on them."
Players often point fingers and can be tough on referees and officials when they make questionable calls. This is sensible, since the official can determine the game's outcome of the player's game. Off the field, however, each official has a unique story to tell. High school officials are not in it for the money and are certainly not in it for the negative comments from players and coaches. Rather, it's often the official's love of the game that drives him or her to want to officiate.
Football official Matt Trosper describes his love for football and how officiating still reminds him of his high school playing days.
"My favorite [aspect of officiating] is having the ability to still be on the field on a Friday night," Trosper said. "The electric atmosphere of the players, coaches and fans is awesome."
Often, the role of the official can seemingly feel non-existent until a bad call is made. Many sports fans would agree that the best game is the one with the fewest penalties, where the referees almost go unnoticed. But it's when the figures in black and white start to blow their whistles that everyone starts to notice.
For example, take the 2012 referee lockout in the NFL. Veteran referees, vying for higher pay, held out from officiating, causing the NFL to fill the empty spots with officials from the Division III collegiate level.
Needless to say, the experiment did not go smoothly. As games went on, outraged fans, players and coaches demanded the experienced officials back, forcing NFL commissioner Roger Goodell to make a deal with the veteran referees to bring them back into the picture.
After the scandal, the role of officials was brought into perspective. A game can be decided based off the referees' calls, meaning that having quality officials is necessary at all levels. From NFL games to those called at Paly, referees are trained and hired with extreme caution and precision. So what does it take to referee at the high school level, and specifically at Paly?
Individual high school referees do not, in fact, belong to a specific scholastic organization like the Central Coast Section (CCS) or the Santa Clara Valley Athletic League (SCVAL). All officials actually act as independent contractors for various officiating organizations throughout California. Each of these organizations then creates a contract with specific leagues, delegating individual referees to specific games.
Mike Adam, who works for the Northern California Football Officials Association (NCFOA), helps delegate and train referees to officiate California football games at the high school level. With 78 officials in the organization, the NCFOA services 32 different high schools.
According to Adam, football season for officials truly starts at the end of the spring.
"Each summer we take all of the new officials and break down the rules in a classroom-style setting," Adam said. "It's generally once a week, in the evening, for about two hours.  This happens for about six weeks and then we hit the field."
Training for football officials occurs both indoors and outdoors, as referees learn the written rules of the game as well as how to call real-time physical plays.
"We have arrangements with various schools to bring the officials out to the school's practice," Adam said. "The official gets the feeling of what it will be like to be on the field. We also have them officiate as many scrimmages as possible."
In addition, football officials must pass two written tests concerning mechanics and rules. A score of 75% or higher must be obtained by each official to qualify. Adam is sure that the NCFOA does a quality job of instructing new officials, so they are ready and prepared to handle officiating games.
"For the new officials, we cover everything from rule interpretations to how to wear your uniform and accessories," Adam said.
Volleyball and water polo also require similar training for officials. Volleyball officials are trained by taking and passing tests based on skills work, along with officiating preseason scrimmages. Water polo, on the other hand, forces its officials to attend seminars, take rules tests, participate in online learning and experience real-time games. Newcomers also sha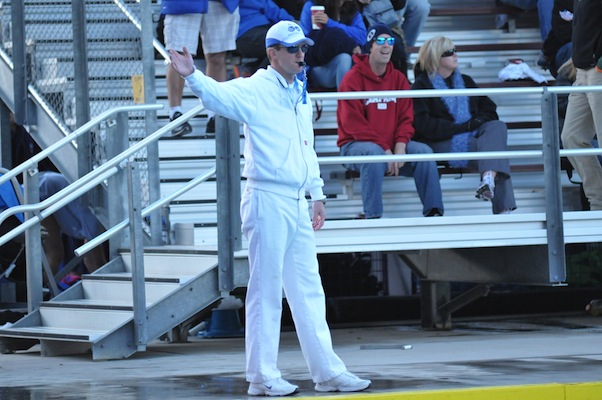 dow veteran officials during games to observe them in a live setting. With an immense amount of training required for every sport, referees' also face other various hardships.
Certainly a difficulty for officials at the high school level is the pay grade. Water polo official Gary Sheerer, who has been officiating for over 15 years, describes some of the financial difficulties concerning officials.
"[Referees] must buy their own uniforms, pay for transportation, training and insurance," Sheerer said. "It really is a labor of love."
Differences in pay also depend on the duration of a game or the difficulty of the rules. According to Adam, the amount of pay for football officials in CCS is about $67 per game for each member of the 4-person varsity crew. In water polo, according to Sheerer, the income for officials in CCS is about $40 per game.
Sheerer also points out that most officials do not officiate for the money or the rewards, but rather a genuine love for the game.
"I played water polo for 12 years growing up, then another five years of Masters water polo more recently," he said. "I wanted to give something back to the sport I love, and didn't have the time to make the huge time commitment in order to coach."
Adam recognizes Sheerer's love for water polo by acknowledging that officiating is usually a part time job, taken on the side of one's daily life.
"Officials come from all walks of life in their 'daytime job," Adam said. "We have teachers, a principal, attorneys, police officers, college students, engineers, sales people, construction workers, welders, etc. You name it and we probably have one in our ranks."
Often, the love and amount of sacrifice that officials such as Sheerer have for their games go underappreciated by players and coaches. The immense amount of time and hard work that go into officiating require a true love and dedication to the sport.
Off the field, officials are just everyday people giving back to the sports they grew up playing and loving. Many players, coaches and fans are unaware of the amount of preparation, effort and time officials put into training to officiate their sport. Though spectators may question an objectionable call, officials are simply striving to make the game safer and more impartial.
However, some coaches do recognize and commend the job of an official.
"They have a real tough job. At high school they're not making a living doing it. They make good wage and guys you know they're there because they love football too, more than other sports," coach Earl Hansen said. "We have a nice mixture of experienced guys and up and coming."
Referees share the love of the sport they officiate, as many individuals do.
"My favorite thing about officiating is being back on the field," lacrosse official Alex Snaider said. "I used to play lacrosse and I love being on the field with the players.  I try not to be a part of the game, which is the goal of all officials, but I love the feeling of stepping on the field."
For many players, referees are just another obstacle to overcome in order to pull off a victory, but for many referees, like Snaider, officiating is a way to get back into the game that they love.
Leave a Comment
About the Contributors
Josh Stern, Editor-in-Chief
Josh is a senior at Palo Alto High School. This is his second year on The Viking. He plays varsity lacrosse and likes watching football.  He is a big...
Grant Shorin, Photo Editor
Grant is a senior and jumps for the Paly track-and-field team. During his free time, he likes to make stickers. He joined The Viking staff at the start...