The Palo Alto High School girls' varsity tennis team lost to Lynbrook High School 8-10 and Aragon High School 7-11 yesterday afternoon in the Paly Invitational Tournament.  They continued the tournament today and against Homestead High School 15-3.
This year, the Lady Vikes are battling with the loss of nine seniors, essentially their whole team from last year.  With a team trying to find its feet with a lot of new players, mainly of which are underclassmen, the last thing they needed was to deal with unusual tournament rules.  Each of the matches were composed of only one set, instead of three.  The sets were won out of six games, and the victor needed to win by two games to take the match.
Number one singles player Aashli Budhiraja ('14) showed her discontent with the tournament format.
"I don't like it at all," Budhiraja said.  "If you are down, it's hard for you to come back because you don't have a chance to start over."
Although there is certainly a lack of seniors on the team, Budhiraja has high hopes for the season.
"We had nine seniors graduating, so we were really scared at the beginning," Budhiraja said.  "But we got a lot of new good players, and so I think we are in good shape actually."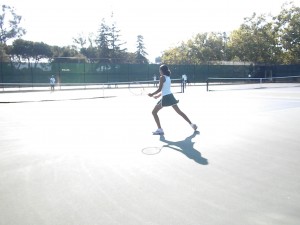 After holding the title of the tournament the previous years, Coach Andy Harader feels like it was time for the Lady Vikes to give up the crown and work out harder.
"We have been the champs of this tournament for so many years, and it is nice to give it to someone else because we have  been spoiled by it," Harader said.  "I think that we are in the rebuilding season, and maybe I expected too much out of the girls, I think we need to go back to the drawing board and practice harder."
The Lady Vikes finished the tournament placing third and will start off their league season away against top contender Monta Vista on Tuesday at 3:30 p.m.