Shameem Jamil astounds many with her rapid progress in water polo
Fog rose from the serene, untouched water's surface as the swimmers slowly marched across the pool deck, reluctant to end their summer. Step by step Shameem Jamil ('10) slowly joined the other players. The other sophomores gathered in a circle, reminiscing about inside jokes and memories from the past season as Jamil sauntered up. Their heads turned to look at her unfamiliar face, then teammate, Kailey Flather ('10), ran up to welcome her to the six a.m. practice. Palo Alto High School girls' varsity water polo coach Cory Olcott quickly greeted the sleepy swimmers and ordered them to jump in the pool as practice commenced.
Determination plays a crucial role in both academics and sports. An athlete's career depends heavily on ones mind set. Many believe that the career of a successful athlete depends on how long they have been playing the sport. Jamil shatters this stereotype.
Jamil joined the Paly swim team her freshman year in spring 2007.
"I was really slow, but I knew I loved the water and I just loved swimming," Jamil said. Jamil quickly fell in love with swimming.
"It was a good experience because it was my introduction into the world of water sports," Jamil said.
Playing on the team helped the young swimmer's speed and agility in the water, as well as expanded her social circle.
After transferring to Paly in 2006 from a private school run by her parents in Sunnyvale, Jamil did not know a single student on campus. Swim team provided an opportunity to bond with swimmers.
"I got to know some people," Jamil said. "I met one of my really good friends Kailey [Flather] now, on the swim team."
When swim season ended, boys' and girls' varsity swim coach Danny Dye recommended that Jamil keep swimming or begin playing water polo. Flather also pushed her to join the team.
"She always talked about water polo, as well, and how fun it was," Jamil said. "She really encouraged me to play."
Water polo jumped out at her when she was forced to choose between swimming or playing water polo.
"She is very athletic, you can just tell by looking at her," Olcott said. "What I didn't know that I know now is that she is one of the toughest people I've ever met."
Olcott met Jamil her sophomore year when she decided to play water polo for Paly. Jamil showed up at Hell Week and never looked back.
"My first impression was that she made the funniest face when shooting," Olcott said.
The sport did not come easily to Jamil, but she was determined to succeed.
"When I first started [water polo], I thought it was a hard work-out and really complicated, but I just kept up with the skills and [stayed] really focused; that's what made it easy so fast," Jamil said.
She quickly picked up and understood the sport, and played on junior varsity as a sophomore. She continued to improve, but socially the team did not accept her immediately.
"All of the water polo girls were very close because we had already had a season together and came into this new sport together," varsity water polo captain June Afshar ('10) said. "She was kind of an outsider, but it took a week, at most, for all of us to get warmed up together and accept her."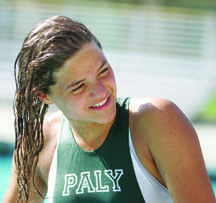 Even with the presence of social exclusiveness, Jamil continued to play water polo.
"I do think I'm athletic, and I like to be competitive," Jamil said. "It was kind of fun, learning something new and trying to master it and getting progressively better at it."
Teammates never questioned her passion or desire to improve.
"You're either going to love [water polo] or hate it after you try it," Afshar said. "I guess she loved the team and the whole environment which is so exciting and fun to be in."
By the time Jamil's junior year rolled around, playing varsity did not prove to be much of a challenge.
"I wanted to work really hard during Hell Week my junior year," Jamil said. "Kailey [Flather] and I made a deal to work hard during Hell Week against each other. That's when I felt I started working really hard and started taking water polo really seriously."
Teammates also began noticing vast improvements from Jamil.
"During Hell Week sets, a lot of the time people slack off because it's really difficult, but she would keep pushing through every single one," Afshar said. "She looked crazy for doing it, but it paid off."
As the expectations became more intense, Jamil stepped up to the challenge.
"I think that what's gotten me far as a player is just really focusing on the game during practice and taking it like an AP class," Jamil said. "It's varsity, a higher level of playing, and if you take it like an AP class you're going to succeed."
Jamil astonished her new senior teammates with her progress.
"As a junior you would have never been able to tell that she had only been playing for such a short time," former captain Tara Murao ('09) said. "I was very impressed by her progress."
Jamil not only made varsity her junior year, but also started for the team, as well.
"She scores a lot of goals, which means she obviously adds a lot of value right away," Olcott said. "Also, she has an intensity that helps everyone else stay focused. She demands a lot of herself, so she leads by example in that regard and everyone else feeds off of that."
This year, Jamil, the team's top scorer, lays a strong foundation for the team in the pool.
"I play on the perimeter, it's also known as a driver," Jamil said. "I like to play the post sometimes, or go in for quick drives and post up [to] try [and] get a shot off there."
Seven players play for each team at once, including five perimeter players. Jamil, a perimeter player, stays on the left side of the cage, utilizing her right arm to shoot.
With many attributions to her success, Jamil remains infamous for her pump fake. She picked it up by watching others, then trying to mimic their moves..
"Her awesome pump fake is what makes Shameem who she really is," perimeter palyer Haley Conner ('11) said.
Although this form may not meet standard requirements, her fake fools opponents. Jamil never learned how to pump fake.
"I guess it's special, but coaches get after me for it because they say I'm doing it wrong, but it works for me," Jamil said.
Not only are her basic skills and fundamentals keys to her success, but her mindset is also. Everyone that knows Jamil, both in the water and out, would agree.
"She's so much more determined than a lot of other people," Olcott said. "She really knows what she wants to do and she goes out and does it."
Her teammates agree that willpower makes up a large part of Jamil's ability in the water.
"She's really dedicated, more than anyone on the team," Afshar said. "She always pushes herself and swims faster than anyone else."
Jamil improved as much as she has over the past two and a half years because of her intensity and aggressiveness.
"She tries so hard when she practices," Conner said. "She puts 110 percent into it. That's what made her the player that she is today."
Competitiveness also pushed Jamil further in her water polo career
"She is competitive and wants to do well and win," teammate Skylar Dorosin ('12) said. "She's a great leader in that way because she gets everyone excited for games."
Jamil's attitude has not changed since she was an intimidated sophomore.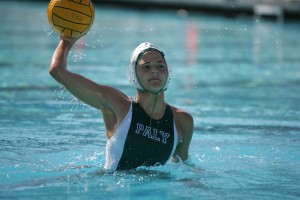 "She's really motivated us to do things and get better," Murao said. "That attitude is ideal. As a captain and as a teammate you want to see everybody have the same passion and drive as she has."
Jamil's overall outlook shapes not only herself, but her team as well.
"What she does affects the rest of the team because they look up to her," Murao said. "She needs to keep a positive outlook. That will reflect in the team's attitude and playing."
In order to advance, Jamil plays water polo every opportunity she gets. During the year, her schedule is also filled with choir and school. Summer and fall provide the time to improve her fundamentals and stay in shape. Jamil has played for Stanford and Norcal club teams, along with various Paly players, practicing twice a day for the entire summer. Many political issues controlled many aspects of the team, including the amount of playtime in games and coaches' overall attention, however, Jamil frowns upon the social aspects of club water polo.
Success in the water during the high school season does, however, pay a price. For example, Jamil often falls asleep before finishing her homework, sacrificing some grades.
"I find myself really thinking about it all the time," Jamil said. "Maybe it's taking too much of my thoughts."
Jamil is surrounded by the love of her fans, teammates and coaches both inside and outside of the water.
"She's embraced and loved by all of the other parents on the team and their siblings too," Afshar said. "She definitely has that group of fan support."
Although her family is unable to come out to every game, her sisters manage to attend some games.
"Water polo has been something that I've done on my own ever since I started," Jamil said. "Its my own thing that I take ownership of. I don't feel that my parents have pushed me into succeeding or my friends have pressured me. It's something that I push myself really hard to do better in and to take ownership of the way I play."
Her fellow water polo players, especially the younger ones, look up to her.
"There is no one-literally no one-crazier, weirder or funnier," Afshar said. "She is one-of-a-kind. She always makes me smile. I love her outlook on life and her being."
Armed with a good sense of humor, Jamil's teammates constantly tease her. Nothing is forgotten from her shot to her voice.
"I get teased for my face when I'm shooting a lot," Jamil said. "Sometimes I'll react and take them down in practice, but other times I'll just joke back, which makes the team fun and makes practice fun and keeps its positive."
With better team chemistry this year compared to last, Jamil hopes that everyone will consistently shoot this season. Her teammates admit to their lack of confidence when shooting.
"Our team sometimes is afraid to shoot and score and she just steps up. She's determined to get the job done and encourage people to do well," Conner said.
Jamil emphasizes the need of every player to shoot.
"I love shooting too, but I love to play a good, strong, frustrating, but effective defense and if you're doing that then other people need to be open for shooting too. I just really wish that everyone is going to shoot this year and not be shy about that."
Her other goals for the season are to receive "First Team All-League" for a second year in a row and to earn a spot on the CCS team. Overall, Jamil hopes to keep improving as a player. She also wants to help the team grow and succeed.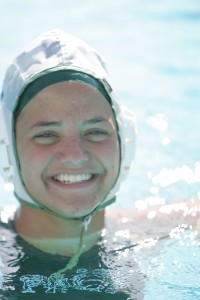 As a senior, Jamil looks forward to college and possibly pursuing water polo.
"It would be really nice to have a team [in college]," Jamil said. "That's what I've found that I love about water polo, that team all working together."
Her coach and teammates also look forward to seeing her fulfill all of her potential in college and in life.
"She's got enough talent to play at the college level if she chooses," Olcott said. "The most important thing for her is that she's enjoying it. As long as she's having fun with it, it's worth her while."
No colleges have signed Jamil because she began the recruiting process considerably late, but her hopes remain high.
"I think that what has gotten me pretty far as a player is my behavior towards the game and wanting to learn how to do everything right," Jamil said.