Girls' tennis finished first day of the Paly Invitational Tournament
The Palo Alto High School Tennis Invitational continues today with even more matches against Aragon, Gunn and Lynbrook. The Lady Vikes started out strong yesterday, despite some lost singles and doubles matches.
Head coach Andy Harader said that the team's greatest achievement yesterday was accumulating playing time.
"The girls are getting a lot of play today and it's going to help us with the rest of the season," he said. "The girls are getting tired [out there] and it's like that when [they] get into a tough match."
This year's young team includes seven sophomores, as compared to last year's seven seniors. Harader explained that they will improve as they mature physically and emotionally.
"Two years from now we're going to be really good because they're all going to be seniors," he said.
That isn't to say, however, that this year's team is weak at all. Sammy Solomon ('13) and Aashli Budhiraja ('14) were both victors in their matches yesterday.
It's still early in the season and the girls will only keep improving.
"We're getting a good look at the strengths and weaknesses," Harader said, "Our goal is to play in CCS [Central Coast Section] and we want as many wins as possible and as few losses as possible."
As for today, Harader hopes the girls will get even more play and improve all the while.
"I'm hoping our doubles improve," he adds.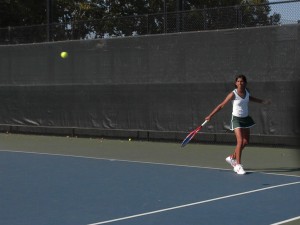 Leave a Comment
About the Contributor
Hilda Huang, Business Manager
Hilda Huang is a senior and joined The Viking in her junior year because of her love for athletics. After serving as a copy editor her junior year, she...