Girls' tennis takes home 5-2 win in second-to-last league match
The Paly girls' tennis team approached the end of its season with a strong 5-2 victory over league opponent Leland. Paly rescheduled the match, which was originally scheduled for Yom Kippur, only to have rain put it at risk again this morning. Thankfully, though, the sun shone wide on Paly Spirit Week's "Color Day" and dried the courts with plenty of time to spare.
Today's lineup featured Caroline Nore ('14) and Sam Dewees ('14) playing No. 3 and No. 4 singles, instead of playing together on a doubles team. Though both lost their matches, Paly swept the No. 1 and No. 2 singles, 6-3, 6-4 and 6-3, 6-3, with No. 1 singles player Aashli Budhiraja ('14) fighting until the very end in a match point won by opponent Stephanie Nguyen's unforced error at the net.
No. 1 doubles Tiffany Nguyen ('13) and Julianne Le ('14) won a quick victory over Caroline Riedstra and Sandy Liang 6-2, 7-5, while sharing plenty of fist bumps and high fives in the setting sun; No. 3 doubles Katy Abbott ('13) and Kelsey Wang ('16) also finished off their opponents 6-3, 6-3.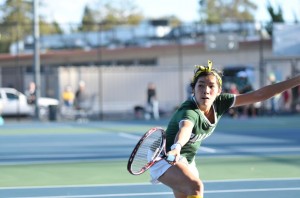 Abbott expressed concerns regarding questionable line calls in her match today and in other matches throughout the season, though she felt more annoyance at the inconsistency of her opponents' behaviors today. She believes that many calls for improper serves were called after the ball hit the net on the return. Confusion surrounding the differences in opinion on line calls reached new heights in the team's match against Lynbrook on Tuesday, as six line judges were called to investigate and monitor the No. 1 singles match. According to Abbott, only in consistently questionable incidents do line judges appear for high school matches, and among many contested circumstances, Budhiraja's opponent allegedly called in a shot that was "a foot out."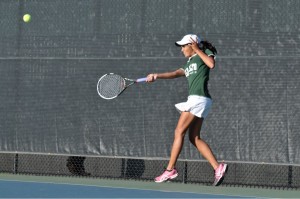 However, Budhiraja today placated her opponent by overlooking several shots that traveled past the baselines. Abbott conceded that although they are not always a determining factor in a match, the calls should be more honestly decided and perhaps more objectively considered without the added subjectivity of a player's aural sensitivity at the baseline.
Today, Abbott felt that overcoming these calls added to her enjoyment in being able to blast her opponents away decisively.
"The one thing I liked about that match [today] was that I hit a lot of shots that I could easily volley and smash in their faces," she added with a chuckle. "Well, not in their faces, but I smashed them and I could hit volleys they couldn't get."
No. 2 doubles Sammy Solomon ('13) and Hollie Kool ('14), who normally compete as the No. 3 and No. 4 singles, played the only three-set match of the whole meet, winning 4-6, 6-0, 6-2 over Julia Wu and Vivian Dinh.
But in joking about their matches today and celebrating with grapes and chocolate macaroons, the girls still took one step closer to fulfilling their season goal of qualifying players to the Central Coast Section (CCS) Championships. The team will face off against its tough competitor Monta Vista tomorrow in its last league match of the season. After that, two singles players and two doubles teams will look to win in the Santa Clara Valley Athletic League Championship tournament, and CCS competitors will be determined on the basis of Palo Alto's standings after all league teams finish competition.
Leave a Comment
About the Contributors
Hilda Huang, Business Manager
Hilda Huang is a senior and joined The Viking in her junior year because of her love for athletics. After serving as a copy editor her junior year, she...
Scotty Bara, Photo Editor

Scotty Bara is a senior at Paly. He likes anything to do with sports.