Palo Alto High School volleyball clinches spot in NorCal finals after 3-1 victory over St. Francis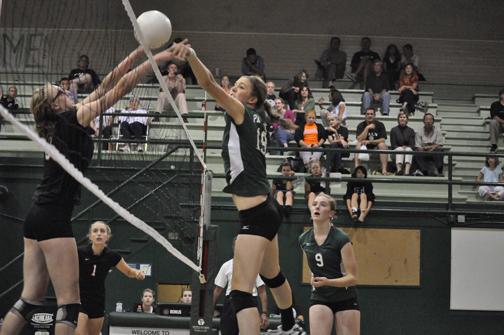 Coming off a 19-25 loss in the first game, a repeat of last year was a mere two games from becoming reality.
"We wanted to come out really hard from the beginning," Paly setter Kimmy Whitson ('12) said. "But that didn't work out quite as we thought."
In typical Paly fashion, two kills from middle blocker Melanie Wade ('12) gave the Lady Vikes an early lead. However, a combination of sloppy play on Paly's end and five kills from the Troubadours' middle blocker Zoe Nightingale ('11) caused Paly to lose its grip on the lead. After Nightingale tied the score at nine with her first kill of the night, Paly would not hold the lead for the rest of the game.
"The first game we had a lot of unforced errors," Paly head coach Dave Winn said. "We got out of our system because they served tough and then we would proceed to make an error right away. We tried to remind ourselves that we have to make them work hard, put our shots in the right spots and we have to make sure that when we do that, we're ready for the ball to come back."
More specifically, the Lady Vikes had to be ready to defend against Nightingale. Nightingale, who committed to UCLA her sophomore year, has 422 kills on the season, and led Saturday night's game with 21. Coming into the game, Paly was well aware that she would be the biggest obstacle.
"We know from playing them in Reno earlier this year that their middle blocker was one of the best around," Winn said. "We tried to stop her tonight. We didn't do such a great job. But we slowed her down just enough and minimized some of the other players so that we could focus more on our offense."
Matt Ersted
Kimberly Whitson ('12, left) and Melanie Wade ('12, right) block an attempted kill in the CIF NorCal semifinals against St. Francis (Sacramento).
Whitson agrees, stating that one of their greatest problems last year was that they paid too much attention to the threat the 6'3" Nightingale posed and not enough on the rest of the Troubadour squad.
"Last year we only focused on her," Whitson said. "She is really good, but it is also really important that we focus on the outsides also."
After a shaky first set, this game plan went into full effect and Paly went to work. Once again, Wade opened up the set with a kill. However, this time the Lady Vikes did not spoil their early 8-3 lead with a multitude of unforced errors. They cracked down on defense and although Nightingale blasted eight kills into the gym floor, the Lady Vikes went on to win the set, 25-21.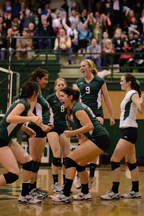 "We were just really hungry to get every point [after the first game]," Wade said. "We came out more aggressive and fought really well. We tightened up our defense and that really helped."
Nightingale seconds Wade's comment, attributing Paly's win in the second game to an upsurge in the amount of energy they came out with.
"Paly came out with a lot more intensity," Nightingale said. "In the first game [the Lady Vikes] figured they could beat us because they won the last match [against us]. But then they came out with the intensity and skill that we knew they had, and they did really well."
The Lady Vikes came out with the same aggressive mentality in the third game and took command with an early 4-0 lead. St. Francis answered back, inching its way towards the lead until Nightingale's 14th kill of the night finally gave the Troubadours a 7-6 lead. Paly outside hitter Maddie Kuppe ('12) stepped in with some crucial blocks and three big kills late in the game to give Paly a 25-22 win.
The Lady Vikes came out even stronger in the fourth game, giving themselves a seven point cushion. Outside hitter Trina Ohms ('11) contributed to the early lead with three consecutive kills. She would finish with 11 kills on the night. On the other side of the net, Nightingale matched Ohms with three kills to take an 11-10 lead later in the game. After Whitson tied it at 11 with a kill on the next play, Nightingale put the Troubadours on top once again with her last kill of the night. After that, it was all Ohms. The co-captain and University of Pennsylvania commit put the game away with six more kills. The Lady Vikes won the fourth game 25-20, sending St. Francis on a long bus ride back to Sacramento.
"This was a team that was ready to beat us and had the potential to beat us," Winn said. "Tonight it was going to take our leaders being leaders and they really did that. Each one of them stepped up at different times. It was a team effort."
Paly will play No. 1 St. Mary's (Stockton) in the NorCal tournament championship at Stockton on Nov. 30.
"They are very offensively powerful," Winn said. "They will probably have more weapons than what we saw tonight. But to get to a state championship it should be tough."
About the Contributor
Gracie Marshall, Multimedia Editor
Gracie is a Managing Editor on the Viking Staff. She plays varsity softball and soccer and will be continuing her softball career at Tufts University next...