Profile: Kalen Gans
Kalen Gans ('12) stepped into the high school sports arena a little bit behind.
"When he came into high school he had a lot of catching up to do," Kalen's younger brother, Jordan Gans ('14) said.
After battling injuries throughout middle school, Kalen started out his high school career as an underdog.
"I broke a part of my back, I broke my elbow, and both my shins," Kalen said. "[I was out] sixth grade, eight grade and part of ninth grade."
Although wrestling Coach David Duran saw significant raw ability in Kalen, he characterized him as "just another guy on the team."
Flash-forward two years, Kalen Gans dominates the wrestling mat.
"He has been in the finals of every tournament we have been in," Duran said.
He has been voted The Palo Alto Weekly Athlete of the Week three times.   As a sophomore Kalen made it to the quarterfinals of Central Coast Section. This year the team expects him to win the section in the 160 pound weight class this year.   He is currently ranked first in CCS for his weight class and recently placed first in the Santa Clara Valley Athletic League championships. It is predicted that Kalen will make is to the State tournament and claim a medal at it.
Duran sees that Kalen has improved tremendously since he first came out for the team freshman year and says that today's Kalen is unrecognizable when compared with one who stepped onto the mat freshman year.
What made Kalen so successful?
The immediate, but incomplete answer would be his athleticism.
"He has been very athletic since he was a very young child," Hayley Gans, Kalens mom said.   "He was able to hit a rock with a stick at age two with accuracy."
Teammate Gabe Landa ('12) who has wrestled and played lacrosse with Gans has seen first hand the advantage that Kalen's athleticism gives him on the mat and on the field.
"He [has] a mixture of strength and speed and together that makes for a good athlete," Landa said.
While his athleticism came naturally, Kalen had to develop his strength gradually.  Between age three and 13, Kalen competed in gymnastics, facilitating his development as an athlete.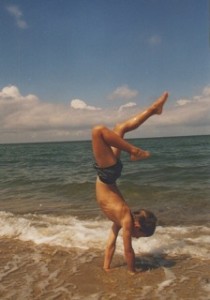 "I think that was the biggest thing that contributed to [my athletics]," Kalen said. "Gymnastics has given me a lot of balance, strength and flexibility that helps in sports.  It also gave me the mindset that I needed in order to compete."
The Schultz brothers, who are the most acclaimed Paly wrestlers in the history of the school were also gymnasts.
More than raw athleticism, what sets Kalen apart from other athletic teenagers however, is his drive to succeed.  Both his coaches and teammates describe Kalen's work ethic as his best quality.
"[Outside of wrestling] I go running, biking, swimming, kayaking, bowling and [I lift]," Kalen said.  "My mom is a real health freak so I eat healthy as well."
Kalen feels that hard work is just part of the process.  It is his will to win that pushes him to do the extra work and exceed all expectations.
"The more work you put in, the better you do and sports are only fun when you do well," Kalen said. "I love winning."
Kalen is a great wrestler, and his work ethic is what got him there, but his ability to lead makes him a great teammate as well.
As one of the wrestling team captains, Kalen leads the Paly wrestling squad.  Younger wrestlers and older teammates alike look up to him for inspiration.
"[Kalen is] the leader of the team and he is a role model," Jake Dagan ('14) said. "You look at him and you see what you could be in a few years if you work hard."
Kalen even takes the time to personally coach his younger brother in the sport.
"He works with me one on one at home," Jordan Gans said. "My mom tapes it and then we go over the tapes and Kalen tells me what I did wrong and what I need to improve on."
While Kalen is intense and competitive on the mat, once he steps off of it  he transforms into an easy going and modest guy.
"Even though Kalen is a really good athlete, he doesn't brag about it," Christian Lonsky ('12), wrestling teammate and longtime friend said.  "Kalen talks to everyone the same.  He doesn't look down on anyone."
As a little kid Kalen demonstrated similar qualities.
"When I first met Kalen in 3rd grade.  I just remember he was really good at everything but he would never talk about it," Lonsky said.
"He would do backflips and stuff and I would ask him, 'how the hell do you do that' and he would say 'you can do it too it's really easy."
Duran also enjoys Kalen's personality.
"You can joke with him," Duran said. "We do a lot of what you guys called roasting out there."
Former wrestling teammate and lacrosse teammate, Michael Cullen ('11) recalls a typical Kalen moment.  This particular time Kalen was playing lacrosse at a tournament in Watsonville.  The team found a fake mustache lying around between games and everyone started trying it on.
"We were all getting a good laugh out of it," Cullen said.  Then Kalen tried it on and it exactly matched his hair color.  It added about 20 years to his face.  He wore it to watch the final match.  He was just sitting there in the stands with a mustache on."
A sense of humor is something Kalen never seems to lack.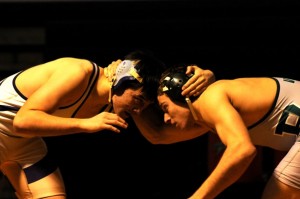 "I think it is always important to balance having fun and goofing off with being serious," Kalen said.
As if being a star and leader in wrestling isn't enough, Kalen also excels in lacrosse.
Last year Kalen was one of the three sophomores on the Varsity lacrosse team. As a midfielder, Kalen added 7 goals for the Vikings.  He also picked up 49 ground balls.
Teammates suspect that Gans will be even more successful in his junior year season.
"[For the coming] season I would not be surprised if he is a starter and wins all-league," Landa said.
Cooper Levitan ('11), a captain of the lacrosse team, sees Kalen as not only a great addition to the team for his skill but also for his positive attitude.
"He is dedicated, cooperative in practice, always listening to the coaches, he has great work ethic and is determined to be the best player that he can be," Levitan said.
Through Kalen's improvement since freshmen year, his accolades, the respect from his teammates, his natural athleticism, his work ethic, and his positive attitude Kalen has become a respected member of the Paly athletic community.
In just two and a half years Gans improved from a mediocre freshmen to an outstanding wrestler and lacrosse player.   With a year and a half still left at Paly, the opportunities that Gans has are impressive on the wrestling mat and on the lacrosse field.
"Who knows what will happen between now and when we start again but he could be a state champion if he puts his time into it," Duran said.  "That is a goal he can obtain."  <<<
About the Writer
Emy Kelty, Staff Writer
Emy is a senior at Paly and is one of two editor-in-chiefs of  The Viking.  She currently plays varsity soccer and lacrosse at Paly.  In her free time...