Helen Butler: Female Athelete of 2010-2011
Though all of Paly's athletes are extremely important to their teams, the defensive players often are overlooked. The glory goes to the offensive players and the teams who win championships.  But on teams that are struggling, there is sometimes a star player who keeps the team's hope alive.
The Viking usually awards the Female Athlete of the Year award to a player on a winning team.  This year there were many of those to choose from, with volleyball winning states and girls' basketball winning Central Coast Sectionals (CCS).  This year however, the award goes to a player who was outstanding in her own right and played her best even when her teams showed otherwise.
Helen Butler ('11) moved to Palo Alto this year from North Carolina and played defense on the girls' varsity soccer team.  She also sprinted the second leg of the four-by-100 on varsity track.  Both teams had disapointing seasons as girls' soccer went 5-11-3 overall and girls' track and field placed fifth in its league.
"[Soccer] was kind of a hard season regarding wins and losses," Butler said.  "In the beginning we were pretty strong and we were getting to know each other as players … towards the middle of the season we didn't win as much.  But even though looking at the stats we didn't do so well, we only lost games one to zero or two to zero.  I think we played really hard in all the games."
With a positive attitude, Butler remained an inspiration to her teammates and helped them maintain hope for the upcoming games.
"She's never negative about anything, she leads by example," track and field head coach Jason Fung said.  "She's a very solid athlete."
Her soccer teammates also mirrored this sentiment.  Butler and Ali Kershner ('11) are friends both on and off the field and Kershner only has positive things to say about Butler's attitude.
"Helen was probably the most positive person on our team, she wasn't extremely emotional either way, but she was very positive consistently", Kershner said.  "She'd be like 'guys, I know it's just a loss, let's move on.'"
Butler's teammates in both soccer and track agree that she leads by example and that she was an integral part of the team.  She braved each loss, remaining upbeat into the next match.
"She was the right teammate to have in that situation, we didn't have a great season, but she never got down on anyone," Kershner said.  "I think that's what made her such a great leader."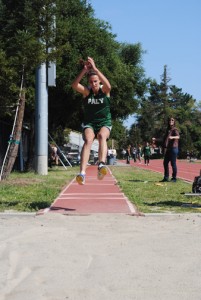 Paly girl's track and field placed fifth out of eight teams with only a handful of members continuing on to Santa Clara Valley Athletic League (SCVAL) qualifiers.  Helen Butler and her younger sister Josie were among those continuing on.  Despite a disappointing regular season, Butler showed the same resilience after losses as she did in soccer.
"She's always positive about [the losses], her and her sister too, they're always smiling, a big bundle of energy, bundle of happiness," sprinting teammate Torie Nielsen ('12) said.  "Helen is really fun to be around, she's a hard worker.  She always does workouts to her best ability and she's always motivating the team."
Although Paly lost many meets early in the season, it did not stop Helen from always trying her best.  After every loss she maintained her personal standard of excellence.
"[She] understands that losing is a part of the game," sprinting teammate Lydia Guo ('12) said.
This was Butler's first year doing track and field, and Fung was not sure what to expect when she first joined the team.  He soon realized what a valuable asset Butler was even before the first meet because of her work ethic and attitude during practices.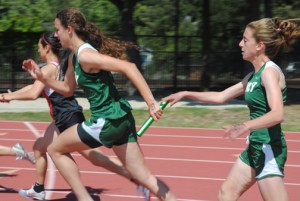 "I didn't really know what to expect until she got out there," Fung said.  Everyone kept talking about her … how she was great at soccer.  When she [started training], there was no nonsense, she got to work, always saying 'what can I do, what can I do.' She's a quick learner, I loved having her on the team."
Guo agrees with Fung regarding Butler's work ethic, and enjoys practicing with her.
"Helen is great to work with," Guo said.  "She has that competitive edge.  But she's also just nice all around.  She can run, she can jump, she definitely adds a lot to our team.  She's consistent, she's willing to work hard"
Even though it was her first year doing track and field, Butler has competed in nearly every section of events.  She runs the second leg of the four by 100 meter relay and other sprinting events along with competing in triple jump.  Both her 4×400 relay team and her personal record of 34-feet nine-inches qualified her for CCS finals.
"She has good speed for someone that tall," Fung said.  "[Track] has helped her become a better athlete, taught her how to use her muscles and technique.  It will help with her soccer too."
Butler came into Paly and joined two teams, playing to the best of her ability on both, making each team better in whatever ways she could.
"You can't teach someone to be a great team player, to keep positive in all circumstances, I think that is something innate [in Helen]," Kershner said.
Kershner will play on the Duke soccer team and will play against Butler's team, but Kershner thinks that because of Butler's attitude, they will remain friends.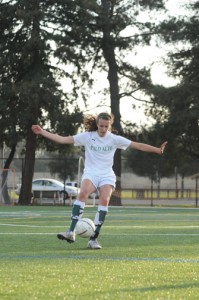 "I'll get to see her on the field and she's not going to change," Kershner said.  "We'll still be friends off the field."
Through the numerous wins and losses Butler has gone through at Paly, the people around her always agree on one thing.
"You always want more of that kind of kid on your team," said Fung.
Runners Up
Gracie Cain ('11) won Female Athlete of the year in 2010 as the unsung hero of the girl's cross-country, soccer, and lacrosse teams.  This year, Cain again played all three, scoring five goals, four assists in soccer and seven goals, two assists and 30 ground balls in lacrosse.
Emilee Osagiede ('12) played Basketball through an ACL injury this year and she and her team made it to CCS Finals for the first time in Paly's history.  Osagiede also throws shot put and jumps long and triple jump in track and field.
About the Writer
Anne Hildebrand, Copy Editor
Anne is currently a senior at Paly.  She enjoys horseback riding and running, and is on Paly's track and cross-country teams.  On The Viking, she is...