Palo Alto High School's new quarterback
With the 2010 State Championship still in the back of Paly minds, Palo Alto High School students and the Palo Alto community are excited for another run at the State title. Last year's team was dominant, clinching a championship that has never been won by Paly. Led by veteran player and quarterback Christoph Bono, the Vikings were flawless, winning all 14 of their games on their way to a season that no one thought was possible. Bono talked with San Jose Mercury News shortly after the amazing victory.
"I'm not the biggest, I'm not the fastest, but I'm a winner," Bono said.
Alas, the previous season is over and it is time to move onto a new season; full of new expectations, new coaches, and a new quarterback. Keller Chryst ('14), a 6-foot-3, 215 pound quarterback towers over the competition. Ever since his first season of tackle football in fourth grade he has impressed coaches and players with his mental toughness and arm-strength.
"Keller has got some great natural abilities," coach Earl Hansen said. "He just needs to work on relaxing and seeing the field…he doesn't quite have that down yet," Coach Earl Hansen said.
Chryst's father, the current 49ers' quarterback coach, has largely influenced how Chryst plays the quarterback position. Geep Chryst has been around the sport of football since he was a young boy, just like his son. He played linebacker for Princeton University from 1981 to 1984. After college, he played pro football in the WFL (World Football League) for the Orlando Thunder.
After his playing career, Geep moved to coaching. He is coaching in his 19th season in the NFL and has recently been given a job as a quarterback coach by Jim Harbaugh and the 49ers organization. For Chryst, having a dad who knows so much about how to be a good quarterback, both mentally and physically, gives him a serious leg-up on the competition.
When Geep got the job as the 49ers quarterback coach this year, the family was forced to make the move from Matthews, North Carolina to Palo Alto. This is not an uncommon thing for the Chryst family, as they have moved six times in the past.
"Coaching is a very unpredictable job," Chryst said. "It's hard to move so much but you get used to it after awhile."
Although Chryst is new to Palo Alto, he does have one friend who is in a similar situation. Matt Tolbert ('13), the strong safety for the Vikings this year, moved from Saline, Michigan this past summer to attend Paly. He to moved to Palo Alto because his dad got a strength and conditioning job on the 49ers' coaching staff.
"Keller is funny and easy to be around," Tolbert said. "I think we are good friends because we are both new so we are in the same situation at Paly, and our dads work together so we met there."
Chryst maybe has an ally in Tolbert, but he still has to build relationships with the rest of the players on the team. As the quarterback, it is essential for Chryst to have the respect and confidence of his teammates. While he possesses all the physical attributes necessary to be great, his leadership skills are still untested.
Gabriel Landa ('12), a veteran captain who plays wide receiver and safety for Paly this year is content with Chryst's performance so far.
"Keller is a new guy," Landa said. "But he is learning the offense and the plays quickly and he knows what he needs to do and he is getting a lot better every day."
Chryst is definitely enjoying the loose and open environment of the Paly football team. But, he does understand that people are expecting not only the team to win, but for Chryst to play well for the Vikings. In a recent loss to Archbishop Mitty (ending a 15 game win streak for the Vikings), Chryst's resiliency and ability to lead was tested.
"We should have finished in the end but we are just going to come back stronger and get better," Chryst said. "We are not going to lose again."
Ron Jaworski, a former NFL quarterback once said, "The heartbeat of a football team is the quarterback position and I think everyone who has any intelligence about the game understands you must have consistency at that position to be a championship team."
His teammates are confident in Chryst, but he is aware of the fact that he can always work to become a better leader like Bono was for the State Championship Vikings.
"A quarterback is someone who knows every position on the field and can lead a team to a victory despite the adversity that comes with being a quarterback," Chryst said.
Chryst, along with many other people at Paly, thinks that he is a good leader and fit for the Vikings team. Chryst admits that he can always work to become a better leader like Bono was for the state championship Vikings.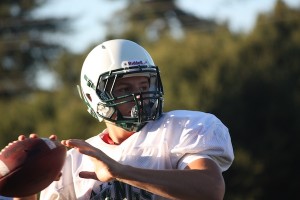 "I need to become a more vocal leader," Chryst said.
Chryst has another thing in common with Bono: he wins. But, sometimes being a good leader isn't defined by the wins and losses. Instead, it means you don't worry about the future, and simply focus on each particular game every week. He is careful not to get too far ahead of
himself with the pressure of winning another state title, as he understands there will be games when he wins and there will be games when he loses.
With the hype of a new quarterback and a new Paly football season, some people have forgotten about one Andre Guzman ('13). Guzman was the quarterback for the junior varsity team at Paly for his freshmen and sophomore seasons. In those two years, he built strong relationships with players and coaches on the team. Guzman was gearing up for his chance to become the starting quarterback for the Vikings varsity squad this past summer.
Towards the end of the summer, Guzman was made aware of the fact that Chryst would be transferring to Paly. Guzman realized that Chryst was a very strong quarterback who was well liked by the coaching staff. Guzman made the difficult decision of transferring to cross-town rival Gunn where he would try to become the starting quarterback for the Titans.
Guzman, in just two months of working with the Titans team, has earned the starting job.
Looking back, Guzman doesn't feel that he was given a fair chance to win the starting quarterback job at Paly.
"I am not angry that Keller got the job at Paly as the starting quarterback," Guzman said. "I'm more disappointed with the way it was handled. If Keller had earned the starting job based on the fact that he was better than me then that's one thing, but he basically got the job once he walked onto that field."
Chryst on the other hand does believe Guzman got a very fair chance to beat him out for the job.
"He did get a fair chance," Keller said. "We split snaps from day one no matter how good or bad we were doing."
Coach Hansen agrees with his starting quarterback.
"It was even all the way through the Stanford thing…at that point Keller was stepping up," Hansen said.
Keller is very excited to get a chance to play Gunn, but not because of the fact that Guzman is Gunn's quarterback. He is simply excited to get a chance to play in the cross-town rivalry against a good football team.
"I'm very excited to get to play Gunn this week. It's always fun to play rivalry games," Chryst said.
Guzman is excited to play his old friends at Paly. Just like Chyrst, Guzman is excited to play in the cross-town rivalry against Paly, even if it will be playing for a different team.
"When we play Paly, it will not be for revenge," Guzman said. "I'm happy because I'm getting a change to play a sport that I have a true passion for. Best of luck to Keller and the rest of the Paly football team."
Chryst doesn't want this season to be any bigger than any other season. Whether it be the atmosphere of the Gunn game, or just another practice at Palo Alto High School, Chryst looks forward to getting better and becoming a better quarterback.
"We expect to stay focused and are determined to win the rest of the games this season and have great practices everyday to prepare us for the games," Chryst said. "I expect to get better as a practice player as in working better during practice so the games can come easy and to put our team in the best position to win the game."
Leave a Comment
About the Contributor
Michael Strong, Business Manager
Michael is a senior at Paly. He plays varsity baseball and joined The Viking magazine last year.