Break away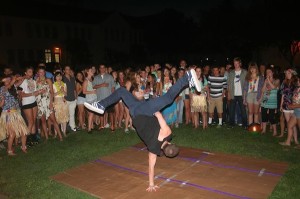 Although backflips, backspins and headspins may be generic words that distinguish breakdancing, but its history and cultural impact are largely unknown.
When breakdancing first gained popularity, the tradition of dance battles had already been established; it was strong among street gangs in New York City, particularly in the Bronx and Harlem. Breakdancing has since spread to the rest of the country and found its way to Paly's very own Elijah Waxman ('14) and has incorporated its way into his life.
"Once people get into it, it really became a lifestyle," Waxman said.
Waxman began his journey into the breakdancing world during middle school after discovering the culture at the Mitchell Park Drop, a teen center in Palo Alto. After watching people who breakdance, more commonly known as b-boys and b-girls, he was impressed and began to experiment with breaking.
"I just kind of found that I enjoyed moving to music and that was about it; when I saw breaking, everything changed," Waxman said. "When I first started I was just doing stupid moves. I didn't know what I was doing, I was just moving. Then I saw breaking and I wanted to learn how to play star slot machine."
Although Waxman has faced setbacks while breaking such as an injury to his shoulder, he has stayed determined to succeed and continues to dance.
"It takes perseverance," Waxman said. "It does take a lot of mental strength, too."
He frequently travels to different parts of the Bay Area in order to further his training and so that he can learn from his teachers.
"I spend one or two nights a week in San Francisco or the East Bay, because I actually have to seek out the right teachers," Waxman said. "At this point, all the best guys that used to be around a few years ago are are gone. They're all doing their own things, they're all searching to become better dancers themselves. But there are still a few teachers in the Bay Area who are dedicated to teaching the next generation, like myself and others in my age range."
Waxman has come a long way since he began his career as a breakdancer, and has taken his dream of becoming a pro b-boy to the next level.
"My goal is to go into the pro leagues, but that takes a long time," Waxman said. "The good thing is I'm learning from some of the best people in the Bay Area and some of the best people in the world. They all tell me I'm on the right path."
B-boying has allowed Waxman to come out of his shell as a person and become more outgoing.
"I was not nearly this social back before I started dancing," Waxman said. "I've gotten way more comfortable being around people. It's just easier to talk to them now."
While dance has a long history dating back milinums ago, breakdancing has a largely unknown history. Beginning with The Good Foot, a dance move first shown first by James Brown in 1969, the dance style was incorporated into battles.
Breakers would form crews that would battle one another through dancing. Breakdancing was an important aspect of street culture, because it replaced a large amount of fighting between gangs.
As it evolved, breakdancing became more complex and dynamic with more dance moves. In the 1980's, it exploded into pop culture with new age hip-hop music as well as movies showing the dramatic and intricate style of dance.
"Breakdancing is actually a misnomer, because that's something that marketers gave it in the 80's," Matt Hall, Paly teacher and long-time breakdancer said. "Really what it's called is b-boying… it's just one aspect of what's called hip-hop culture."
Breakdancing, or b-boying, is just one of the four pillars of hip-hop, with the other three being MCing, DJing and graffiti.
"Hip-hop culture is the big umbrella, and underneath it you have four main tenants: b-boying, which is the dance aspect; MCing, the rapping aspect; DJing, the turntable aspect; and graffiti artists, the writers, the burners," Hall said.
Breakdancing remains an influential part of the hip-hop culture and Waxman has dedicated the past six years of his life to exploring the immense culture of the breakdancing world.
"What people would view as hip hop culture, that's just the commercialized stuff that you hear around," Waxman said. "But if you go deeper, you'll find out where the roots come from."
Although breakdancing has sometimes been negatively associated with violence in the media with movies like Step Up and You Got Served, in actuality it can affect lives in a very positive way and has the ability to enable people to form lifelong friendships.
"A lot of people think it's a hostile underground culture, but it's really not at all," Waxman said. "It's probably one of the most friendly things you could ever be brought into. It's completely family driven, everyone in the culture is really friendly; everyone looks out for everybody. That's one thing that's the best about it. When I say family, it really does become like a tight woven mesh… that's my second family."
Hall agrees with Waxman, believing that breakdancing has a positive effect of people.
"It's definitely about a lifestyle, and you see a lot of people get into b-boying and it transforms their lives in a positive sense," Hall said.
Competitions for breakdancing include one-on-one, two-on-two, and so on as well as full crew battles. The oldest crew battle competition is called Battle of the Year, and has been held since the early 1990's; the US has not won in eighteen years. The largest breakdancing competition is Red Bull BC One, which takes place in a different country every year. There is also a wide variety of battles, including King of the Hill.
"You have eight b-boys, and you all take turns trying to get the point," Waxman said. "Whoever holds the hill for four or more points wins."
Waxman is currently on hiatus from competing due to his teacher's orders, but travelled to Europe this summer for his first international dancing event and had a small glimpse into the life of a travelling b-boy.
Although breakdancing is still prevalent in the hip-hop world, it can sometimes not be seen because the culture is largely underground. Waxman is the only b-boy that has taken his dancing past recreation in competitions at Paly.
"Being the only b-boy in Palo Alto is really isolating, so I really have to work on my own skillset," Waxman said.
In order to make his dream a reality, Waxman has begun watching old videos of other breakdancers as well as meeting with different teachers from around the Bay Area.
"Teaching myself is the biggest challenge," Waxman said.
As for the future, Waxman is planning to attend school while continuing on his path as a breakdancer.
"I plan on doing about six more years of school, and still staying breaking because it's just my life," Waxman said. "I plan on going to LA for two or three years and work with the dancers out there while attending junior college, and then moving to Las Vegas to work with Cirque de Soleil. This is all going towards my main goal of becoming a travelling b-boy."
Waxman stays optimistic about his future in breaking.
"It's the most positive thing I've ever done, and the most fun I've ever had," Waxman said. "I want to get as much out of this as I can."