Juniors beat Sophomores 7-0 in Powderpuff opener
The class of 2012 defended its Powderpuff championship title with a tight 7-0 victory over the class of 2013.
The game was a close one, with neither side thriving offensively against the others' stiff defenses. The Juniors got off to a slow start with offensive confusion and incomplete passes. The Sophomores gave the Juniors a run for their money with Stephanie Allen and Nina Kelty leading the way with important offensive plays.
"We were doing our job," Sophomore coach Tyrus Whitehead said. "If they had given us 30 more seconds we probably would have scored and tied the game up."
Finally, an opportunity appeared the the Juniors when quarterback Keyanna Campbell passed the ball down the middle to Shamelia Clay setting the Juniors up in a good scoring position. After a failed run play, Campbell passed to the corner of the end zone to open Kimmy Whitson for the game winning touchdown.
"It didn't go quite how we would have liked," Junior coach Ben Sneider said. "Our offense struggled a bit, but our defense did a great job, and I feel that as long as we can score a couple touchdowns next game we can defend our championship."
The Juniors will take on the winner of the Freshmen-Senior match up, which will take place on Tuesday May 24th.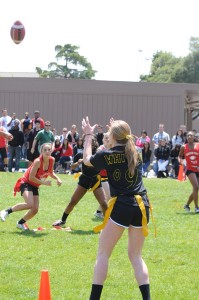 About the Writer
Mira Ahmad, Staff Writer
Mira is a junior at Paly. She plays varsity soccer and joined The Viking staff at the beginning of the 2010-2011 school year. In her free time, Mira enjoys...