Palo Alto High School baseball coaches Dick Held and Dave Goldman model consistency, dedication
At the end of a Paly baseball practice on a brisk Friday night in mid-March, there are three people who remain on the quickly darkening field when all others have left. All three are coaches, clad in green windbreakers, Paly baseball hats and gray baseball pants. The tall, wiry, mustached Dick Held leans on a bat as he chats with head coach Eric Raich. His counterpart, the shorter, spectacled, soft-spoken Dave Goldman diligently maneuvers a tractor around the infield, grooming the dirt surface to perfection.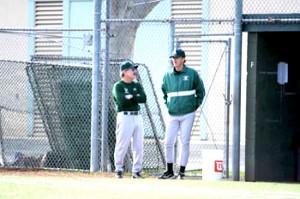 Held and Goldman enter their 10th and fourth years at Paly, respectively, and have become beloved in much of the Palo Alto baseball community. Their selfless dedication and passion for the game make the baseball program what it is today.
"They're volunteering their time, they're helping out, working on the diamond, doing everything they can to just be there and have a good time and help," Paly Athletic Director Earl Hansen said.
The effect that the two coaches have on the baseball team is more than any ordinary coach. Goldman and Held are not only teachers of the game, but also of life in general.
"They've influenced me through the lessons that they teach," infielder Graham Marchant, who has known Dave since Marchant was nine, said. "Whatever they say, I take it all in."
Center fielder Joc Pederson ('10), who has committed to play baseball at the University of Southern California next year, agrees that there is more to coach Held than just knowing baseball. The way that a coach carries himself and interacts with the players and the community can be just as important.
"He's so dedicated and spends lots of time on Palo Alto baseball," Pederson said. "He teaches life lessons, not just baseball. He's the best coach I've ever had."
At a Paly home game in late March against Wilcox, Kurt Swezey announces the Paly coaches' names. Head coach Eric Raich, Dick Held and Steve Bono. Goldman's name is absent from the list. Today, Goldman lies at home in bed, unable to walk, and unable to coach baseball for the time being.
While both Held and Goldman came to coach out of love of the game, their paths to this point are entirely different. Held's journey began when his daughter attended Jordan Middle School and played on the basketball team.
"I helped out with girls' basketball at Jordan where my daughter played basketball to try to sneak into her life," Held said. "I was trying to pay my dues by volunteering and I got to know coach [Peter] Colombo."
Held asked Peter Colombo, who at the time was the head coach of the Paly baseball team as well as a Physical Education teacher at Jordan, if he needed any help coaching. Colombo accepted the offer – and Held certainly had the prerequisites for the position. He played first base as well as basketball at the University of Montana, and had also coached girls' basketball and American Legion baseball. After starting his coaching tenure at Paly, Held could not stop.
"I wanted to be with my own daughter, but then I found I so enjoyed the kids, and I had time, so I could continue," Held said. "The kids are tremendous."
Before coming to Paly, Goldman had been coaching in the Palo Alto Little League for 19 years before giving it up for the high school game. He was no ordinary Little League coach. Away from team operations, Goldman would maintain the fields on his own time, a task that he continues to perform today, even after leaving.
"He spends countless hours with the fields for Little League and he hasn't had a kid there for 15 years," Held said.
After the Little League season ended, Goldman had not yet had enough, so he coached all-star teams into the summers.
"I had [coached Little League] for so long, so I was looking for a change," Goldman said.
He added that he had known many of the current Paly players for much of their lives.
"I have been around many of these players before, some of them for almost half of their lives," Goldman said. "I like to watch them mature as young adults and as baseball players."
Players can be sure that they will see the same familiar face of coach Held waving them around first base.
"At first, I'm telling runners what to do, talking to hitters about pitchers, things they're doing right, and things to watch for," Held said.
Despite not being on the field during the game, Goldman plays an integral role in the team's success. From his seat just inside the Paly dugout, Goldman helps by talking to players on the bench, or who are about to go up to bat. During a game, a spectator can clearly hear the incessant baseball lingo encouraging hitters. Think, "Whaddayasay now kid!" On the defensive side, he analyzes Paly pitchers to help them make mid-game adjustments. For both coaches, note-taking is an important part of improvement.
Neither coach expects publicity or praise; they both just want to coach baseball. In response to being interviewed, Goldman said, "You must be running out of ideas."
However, ask the players and one will hear a different story. Second baseman Wade Hauser ('10) has played under five different coaches over the past three plus years, and attributes much of his success to the consistency of Goldman and Held.
"They have been the only two constant coaches, and without them I wouldn't be the player that I am today," Hauser said. "They spend more time on Palo Alto baseball than anyone."
Outfielder Jeff Cohen ('11), who played for four years under Goldman in Little League as well as the latter part of last season at Paly, echoes Hauser's gratitude.
"He [Goldman] is a role model," Cohen said. "He looks after me and makes sure I get good grades and do the right things. He's a coach, but also a friend."
Since Held began coaching in 2001, seven different head coaches have led the team, and five have done so since Goldman joined the team in 2007. There has been little that the coaches and players have seen eye to eye on. One would think that such complete and utter disarray would destroy a team. However, the duo has helped keep the program running with their unwavering devotion to Paly baseball.
"They are very solid people that the kids count on. It gives a little stability to the kids," Hansen said.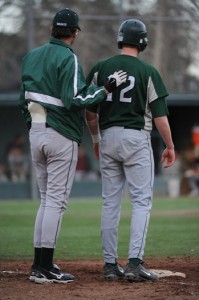 Held cites the players as the reason that he returns to the team year after year in the midst of such disorganization.
"These are all great kids, and I've so enjoyed all of them," Held said.
As Goldman continues to drag the field, Held comments on his dedication.
"He's so devoted, even now on a Friday night, he's out dragging the field," Held said. "He's a huge support for these young athletes."
On March 24, Goldman underwent surgery to correct a knee problem stemming from bowed legs. He cannot put weight on his right leg for three to four months. After that, he will have to repeat the process on the other leg. However, Goldman is coping. To pass the time, he reads and performs exercises to avoid stiffness. Not surprisingly, he is reading about the Giant great, Willie Mays, among a stack of 11 other books.
"It's alright," Goldman said. "It [the leg] hurt the first day, but not after."
Just under a week later, nearly the entire team crowds around Goldman's bed to show their support for their injured coach. They talk about school, each other and, most of all, baseball.
"How are you doing?" asks second baseman Jack Smale ('11) as he enters the bedroom.
Goldman's response epitomizes his attitude about Paly baseball.
"We're in first place," he says. "That's how I'm doing."
On the field, Goldman's absense is noticed.
"Dave is good with raising the morale, which we miss," infielder Graham Marchant ('11) said. "He's also just fun to have around in the dugout."
As always, the appreciation is mutual. The team visit had a monumental effect on Goldman.
"It is extremely complimentary," Goldman said. "It's better than any medicine."
Despite the numerous coaching changes, neither of the two has taken a shot at the head coaching position. According to Hansen, he has considered hiring them, but neither is interested. He believes that as assistants, Goldman and Held have more freedom, and a closer relationship with the players.
"We [Goldman and I] are more than just player-coach," Marchant said. "We're like friends."
"I like what I'm doing," Goldman said. "Personally, I think that the head coach should be someone younger who brings energy."
The relationship between Goldman and Held is not strictly a professional one. While they first met on the diamond, the two are now friends off the field as well.
"We sometimes discuss history or politics," Goldman said. "We also have children the same age who do similar things."
Through their years of coaching in Palo Alto, and at Paly, the two assistant coaches have impacted numerous athletes to move through the system. Their hard work and dedication rub off on those around them. And, of course, they love the game of baseball. That fact is undeniable. It is evident in the way Held carries his bat wherever he goes, sometimes pausing to take a practice swing at an imaginary ball. It is evident in the excitement in Goldman's voice on a drive to park the tractor, still going strong after all the years, and all the hours on the diamond. And it is evident in the way others talk about and respect the two.
In his first season as head coach, Raich already appreciates what Held and Goldman do for the team.
"They are two great men who treat these kids like their own sons," Raich said. "There's not a thing they wouldn't do for these young men."