A Beginner's Guide to Backpacking
Hang on for a minute...we're trying to find some more stories you might like.

No one can resist blue skies, campfires, lakes, beaches, enormous Redwoods and Sequoias. Backpacking is the perfect way to experience the beauty of nature while having fun with friends and family.
If you want to try backpacking, you can rough it independently or stay for a few nights in 'hikers huts' along the way through trails in California. But before you grab your school backpack, old shoes and leave with nothing but the clothes on your back and a sleeping bag, there are many things to consider.
The first step to backpacking is planning out your trip. Do you want to go on a round-trip so you don't have to drive back to your starting point? Or would you rather go on a one-way trip and catch a bus or have a friend drive you home? Once you decide that, pull up the weather forecast and calculate how many miles your feet can handle every day. Figure out if you need reservations and finally, get the right gear.
That old school backpack that weighs an obscene amount and barely fits your binder – scrap it. To go backpacking for any length of time, a backpack that weighs less than six pounds empty should fit one or two changes of clothes, a sleeping bag, lots of water, a water purifier and tons of food. After hiking for hours, every ounce drags you down so you want one that weighs as little as possible.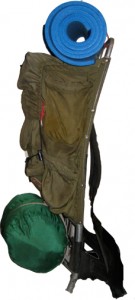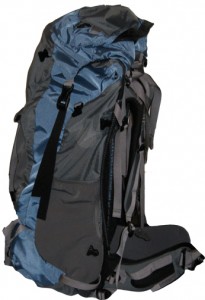 There are two main options for backpacks: Internal and external frames. Internal frames are generally more expensive, and lack outside storage space. The upside is that they are usually lighter and easier to spread out and distribute the weight. This makes them better for off-trail backpacking because they are sturdier and can withstand more. With external frames, there is always the option to tie a sleeping bag or whatever else you realize you can no longer fit into your pack mid-trip, to the top, side or bottom of the aluminum frame. External frames were much more common until recently, when the internal frame was re-designed to better withstand rough use.
Sleeping bags are also important for a backpacking trip. Depending on the weather, there are many different options in price, material, and temperatures that they can withstand. It is usually safe to assume that the ranges labeled on any given sleeping bag are accurate to about 10 degrees warmer or colder than written. The prices range from $50 to over $800 depending what temperatures the bag can withstand, and the materials with which they are made. The weight can also factor into the price, as trekkers prefer to maintain the lightest load possible. Keep in mind that a backpack should weigh no more than a third of your body weight with all of your food and gear.
The synthetic and natural resources needed to develop these necessary articles play an important role for the consumers. Some people wear stiff hiking boots, but the weight and inflexibility can lead to blisters. Others wear running shoes like cross-trainers, some buy special backpacking shoes with more durable, grippy soles that are lightweight and dry quickly. Whatever shoe you choose, it should fit well and be broken in. A trip is not the time to worry about blisters and sore feet. Cotton, silk, polyester and wool blends are the most common material for shirts, with the seam on the shoulder often moved down to the chest or under the arm to prevent chafing from the backpack straps. Stretchy pants that will not rip easily are the best. The decision to wear shorts or pants and the thickness of shirts and pants depends on the environment.
When people backpack, they can burn up to 6,000 calories a day. That means that when you pack food, make sure you pack enough because hiking on an empty stomach is unpleasant and can be dangerous. Pack things that are light and easy to prepare, like pasta, dried mashed potatoes, trail mix, energy bars, mixed nuts, beef jerky, dry cereals, powdered milk, and anything with peanut butter. Canned and fresh foods are too heavy and do not keep well. Also, it is vital to bring a fast, reliable water purifier if you plan on going anywhere without filtered water. Boiling water is also an option, but can be difficult because of the need to carry pots.
In California, there are multiple 'hikers huts' along the coast in some parks. There is one in Sam MacDonald Park that can be rented out for up to 14 people for $10 per person per day. This allows you to have a stove and beds for a night on your trip. If you go backpacking nearly anywhere on public land, you are required to purchase a permit, which usually costs between three and $20 per person. Often these permits will have a designated area that you need to stay in each night, and if one area "fills up" then you may have to hike to get to an open area.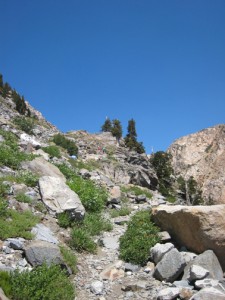 Also consider how many miles you want to hike in a day. If you have never been on a backpacking trip, you may want to only hike five or six miles a day so that you can go on shorter hikes or scenic areas after setting up your camp. Experienced backpackers can hike up to 20 miles a day.
No matter your experience level, backpacking can be a fun and inexpensive vacation. It is always enjoyable to spend time with friends and family in a place where the rules are more relaxed. Backpacking is a great way to exercise while having tons of fun. <<<

Top five things to leave behind
When backpacking, it is best to be aware of your surroundings at all times, and the battery will not last long anyway.
There is nearly never reception and expensive cell phones are likely to get lost or broken.  If you need to communicate with people, walkie talkies work better.
Who needs to know the time? The sun can guide you as to the relative time of day and jewlery gets in the way and can get lost.
Glass is a hazard because it breaks and leaves shards that can hurt you, future backpackers and wildlife.
Backpacking is the perfect way to leave problems behind and focus on relaxing and having fun
Top five things to bring
You never know when these will come in handy, but they nearly always do.
Can be used for everythng from cutting food to tweezering out splinters.
Moleskin or Blister Bandaids
Even one blister can ruin a trip.  Prevent or solve the problem by putting moleskin on hot spots before they turn ugly.
Wide-brim Hat and Sunscreen
Everyone wants to tan, but carrying a pack on sunburned shoulders is painful, and at higher altitudes skin will burn harshly.
The possibility of wading through creeks or slipping into puddles explains the need for these.