Dynamic Duos
Paly athletes competing with a sibling on a varsity sport have a unique relationship unlike those of other siblings.
When looking at a Paly roster, sometimes it catches the eye that two players have the same last name, and it turns out that they are siblings on the same varsity team. These two brothers or sisters have something special between them because they are on the same Paly team.
Famous sibling athletes include tennis stars Serena and Venus Williams and National Football League (NFL) quarterbacks Peyton and Eli Manning. The Williams sisters have competed against each other in many tournaments, but have also won 13 doubles titles together. The Manning brothers have each won awards for their respective records, and their teams have matched up three times in games each dubbed, "The Manning Bowl."
Similarly, Paly has many of these dynamic duos who are taking Paly sports by storm. No matter what sport or the age difference, the two find a way to connect through playing the same sport and being on the same varsity team at Paly, each pair with their unique relationships.
No matter how young or how old they were when they started playing, the fact that the two have stuck with the same sport has given them a special connection.
"Most siblings don't do the same sports, and I think it's something special that we both do it," Alex Liang ('17) said.
Alex and his brother Andrew ('14) are swimmers for Paly who began swimming at Palo Alto Stanford Aquatics (PASA) together when Alex was seven and Andrew was 10. In his first year at Paly, Alex is on the varsity team with his brother.
Often it is the older sibling who introduces the younger sibling to the sport, as was the case for sisters Kelsey Wang ('16) and Felicia ('14). They both started playing tennis at the same age of nine, Felicia just two years older.
"I started playing, and she came to watch me a few times and she liked the sport, so she also started playing," Felicia said.
As the two have continued with their tennis careers, Felicia's skill is something that Kelsey has aspired to reach since she began playing.
"Because she's better than me, she motivates me to do better," Kelsey said. "When I was younger I used to not like tennis that much, but I'd think 'No, Felicia is still doing it; I should try harder.' I was inspired by her."
The story is a little different for track sprinters Alec Sullivan ('15) and Nick ('14). Both of them started track on the later side (Alec when he was in seventh grade, and Nick when he was a freshman) running track just as a side sport, but it has developed into something that they are both passionate about. Nick is a key member of the track team as a 400-meter runner, and his focus on the sport resonates with his brother, much like Kelsey looks up to Felicia for motivation.
"He's definitely more committed than I am at this point, but he does inspire me, so I do want to be that committed at a certain stage," Alec said.
An older sibling can make being on the varsity team a better experience for their younger brother or sister, as shown with the experiences from Kelsey and Felicia, and Alex and Andrew.
"It was nice [to have a sister on the team as a freshman] because I got to know the team better," Kelsey said. "It was easier to transition because she was on the team. She connected me to the team more in the beginning."
Alex anticipates a good experience swimming on the Viking team.
"He makes [the transition] easier," Alex said. "He tells me the social norms and stuff like that. … He definitely makes the team a lot better. I heard he's one of the guys everybody likes to be around."
Andrew also is looking forward to how the season will be with his brother on the team.
"I think it will be fun," Andrew said. "It's only going to happen this one year since he's a freshman and I'm a senior. Unless we end up at the same college, it won't happen again. I'm looking forward to it. I don't know how it will turn out, but hopefully it will be good."
By sticking with their respective sports, many hours have been spent at practices. Now, in high school, on the same varsity team, that great amount of time is spent together, and the strong relationship between siblings develops. Even though track is less of a team sport, Nick appreciates that Alec is on the track with him.
"It was nice [when Alec joined the team] to have someone extra out there I knew," Nick said. "Track is an individual sport aside from the relays, so besides working out together it's not that big of a difference, but it's nice having him out there."
However, with time before, during, and after practice, a great deal of time is actually spent together.
"We get to talk about different things about the sport," Nick said. "We go to track practice together and go home together and get to talk about practice: what we like, what we don't like. That's a nice thing to have."
Because Alec went to Pinewood School for middle school, being on the same track team at Paly has allowed for the two brothers to spend more time together than was possible when they were at different schools.
"We didn't go to middle school together, so I think in high school we've definitely gotten a lot closer," Alec said. "Track has helped us get closer."
Sisters Lena Chang ('15) and Paly graduate Erin ('13) were on the varsity soccer team together for two years, but have always worked together on skills during the club soccer seasons. Erin believes that their relationship would not be the same if they were athletes in different sports and were not able to spend so much time practicing soccer.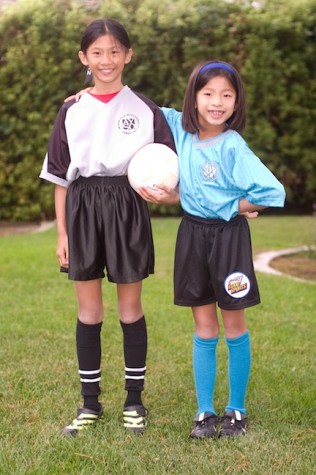 "Since we've played soccer together I'd always make her go out and juggle with me or kick a ball around whenever I want to get extra touches," Erin said. "I think it would be harder if we played different sports just because we wouldn't know each other's abilities as well. Since we're playing soccer together I play with her on the field and know what she's capable of, and she knows what I'm capable of, so we can work together on that. If we were in different sports it would be more like a different language and probably harder to understand."
As siblings go to practice and work out together, they are able to push each other to become better athletes. Felicia is a singles player and Kelsey is a doubles player, and despite that they never play together in match, the two sisters still practice with each other to become better players.
"I definitely think [tennis brings us closer]," Felicia said. "During the season we get to spend a lot of time together. … We practice together, so I give her tips and she can help me with tips too."
There is a special teammate connection that comes with being on the same team and working every day together, as well as just being siblings.
"It was really great [being on the same team at Paly] because you have a special bond with your sibling, so you know them a lot better," Lena said. "The teamwork is really great and it motivates you to work harder too."
In every sport, practice is preparation for games or races. Andrew believes that his relationship between his brother is rooted in competition.
"At practices we're normally not in the same lane, so there's no too much dynamic because swimming is pretty individual when it comes to practice," Andrew said. "If we end up racing each other I'll end up pushing him a little harder than maybe he'll like or want to get pushed at the time."
In soccer, there are also clear benefits of working with a sibling in the games, even if the two siblings are different types of players.
"I don't actually go to a lot of [Lena's] games, but I feel like I know her better as a player," Erin said. "Growing up with her, and we trained together for a while, and I feel like I do know her a little bit better on the field better than some of my teammates do. And I guess it's different when I'm in the goal, too, because I can see everything from there. When I see her I think I direct her a little bit differently than when I direct other people, because I know her strengths and weaknesses a little bit more."
The great relationship that siblings create extends beyond just the two siblings. Soccer has made the whole Chang family closer, with trips to tournaments that Erin, Lena, their parents and younger brother Ryan all attend.
"Soccer has always been a big, common, thing for us," Erin said. "Our family has just been in soccer for so long because we both started at a pretty young age. We're always going to tournaments together  for Thanksgiving; all of our family holidays revolve around soccer; vacation plans revolve around soccer and everything. I think it's not just brought Lena and I together, but the rest of our family together, just because they have to deal with it."
It goes further to keep siblings connected as they are away from each other. With Erin studying at Boston University and Lena still in her junior year at Paly, they connect over discussing their teams.
"I keep her updated with Paly soccer, and she tells me about her club team in BU," Lena said.
Even as the other siblings might also go their separate ways for college, they will be able to stay close with their sport similarity. Siblings inherently have a special connection, but being in the same sport allows for an even deeper relationship. <<<