Football thrashes cross-town rival Gunn, 45-14
Scotty Bara and Charlotte Biffar, Staff Writers
September 24, 2011
The Palo Alto Viking football team (2-1) captured a win against cross-town rival Gunn High School (0-3), defeating the Titans 45-14.
The Viking offense started the game with a 10-play, 66 yard drive into Titan territory, finished off with a Morris Gates-Mouton ('12) touchdown at the 1-yard line. Running backs Dre Hill ('12) and Bj Boyd ('12) also contributed strong yardage on drive.
The Titans were unable to advance the ball as the offense was continually stopped by linebackers Brennan Miller ('12) and Austin Braff ('12), and defensive back Gabe Landa ('12).
"Our defense never gave up, we never stopped, we punished them the whole game." Morris Mouton said.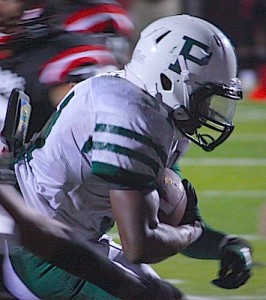 Paly quarterback Keller Chryst ended the quarter with a 61-yard touchdown pass to Boyd, with 1:52 to go, to extend the Viking lead to 13.
Justin Grey ('12) scored on a punt return early on in the second quarter for a 20-0 lead. The Titans' offensive struggles continued, this time as a result of sacks from Landa and lineman Tori Prati ('12) on Titan quarterback Andre Guzman ('13).
The Vikings began to lose their rhythm just before the second quarter ended as Chryst was sacked and the ball ripped loose of his fingertips which was recovered by the Titan defense.
Gunn's offense was able to get the ball moving after the fumble, with a pass from Guzman to wide reciever Skylar Larson ('12) for six points.
However, the Vikings were able to bounce back with 2:15 minutes left in the half, as Boyd ran 72 yards to the end zone, bringing the score to 39-7.
During the third quarter, the Viking second team struggled to move the ball up the field as another fumble was recovered by the Titans, this time by Mike Jorgensen ('13).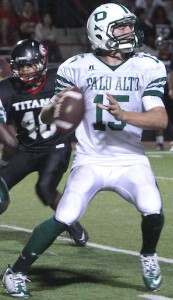 "We did a little bit better in the second half, they [ the Titans] wanted to do the best they could but we were outmatched by their speed and size." Gunn head coach Dan Naverro said.
Early on in the fourth quarter, the Viking offensive line had trouble holding their ground, leading a couple of Gunn sacks on backup quarterback Andrew Frick ('14). The Viking defense however,  stepped up as Jayshawn Gates-Mouton ('13) intercepted the ball for the second time on the night.
Guzman found Kareem Farwal ('12) in the left corner of the end zone setting the score at 39-14, Paly.
In the Titan effort to recover the ball on a kickoff, the ball was softly kicked by Graham Fisher ('12) only to realize that it ended up in the hands of Boyd who ran it in for six more points, to seal a 45-14 win for the Vikings.
The Palo Alto Vikings will face the Homestead Mustangs at home next week, Oct. 1 at 7 p.m.