The Palo Alto High School baseball team ( 3-1) defeated Tracy High School (1-2) 3-1 in a non-league match at home on Thursday. Ben Sneider ('12) got the complete game win.
The game started off with third baseman Michael Strong ('13) charging and cleanly fielding a leadoff bunt. Between that and the next out, Sneider took only four pitches to get the first two outs. Sneider retired the Bulldogs' cleanup hitter after a small battle.
"First play of the game, beautiful drag bunt and Michael Strong makes an incredible play," Sneider said. "And again, how you start the game is really as important as how you finish, so I would definitely say that [was one of] the big moments."
In the bottom of the first, the Vikings struck. Centerfielder B.J Boyd ('12) beat out a grounder to short, and following a flyout by second baseman Jack Witte ('12), Boyd stole second. Shortstop Ozzy Braff ('12) got on first with a blooper over the pitcher. On a backpick to first, the ball was overthrown, which allowed Boyd to score standing up from second and Braff to take his place.
"I think definitely the play where we had first and second and they overthrew the ball at [first] base and then BJ went from second to home on that, I thought that was a great momentum swing right there," Sneider said. "It was an 0-0 game and we put 1-0 up on the board right there and that kind of sets the tempo for the rest of the game."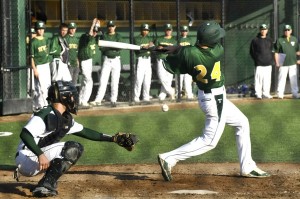 Starting off the top of the second, Sneider easily handled the first two batters he faced, and induced a flyball out of the eight hitter to end the inning.
In the top of the third for Tracy , Tanner Turner ('12) led off and took Sneider yard to left-center to even the score. Sneider then calmed down and ended his jam, striking out Tracy first baseman Cody Daniel ('12) looking to end the inning.
The bottom of the third started just like the first, with Boyd doubling off the left field wall and easily stealing third with no throw on the ensuing at-bat for Braff. Braff's RBI single put the Vikings on top 2-1, and he then stole both second and third during left fielder John Dickerson's ('12) at-bat. Dickerson's RBI single put the Vikings ahead 3-1, which would be the final score.
The Bulldogs threatened to answer back in the top of the fourth, though. However, a flyout to Dickerson turned into a double play after the runner at first was unable to tag up, which ended the damage.
Paly attempted to respond in the bottom half, after right fielder Justin Grey's ('12) loaded the bases for Boyd. The Bulldogs then changed pitchers, and Boyd struck out looking on a fastball outside, a questionable call. Witte was unable to spark a two out rally with a groundout to second.
Sneider took care of business in the top of five with a 1-2-3 inning. The sixth was the same after a three pitch strikeout looking to start things off.
"We got another good non-league matchup with a West Catholic [Athletic League] in Serra this Saturday," Sneider said. "They've got a good lefty, I don't know if he'll be coming out, but he may throw against us. And again, beating good CCS [Central Coast Section] competition is good. These guys are NCS [North Coast Section], I mean the two NCS teams we've played, these guys and Campo [Campolindo] are really really talented, but we start league next week with Wilcox, and as always, our first goal is to win league and I think we have a very good shot. Los Altos is playing very well, their ace is throwing really well, but everyone [is playing well]. People I thought would be playing very well, like Los Gatos, are playing great baseball, so I think we just gotta take it day by day and really just keep playing good team baseball."
Paly next plays at Serra on Saturday, March 3rd at 3:30 p.m.